Features
Cinema's most iconic items of knitwear
In honour of Tom Hardy's cardigan in Depression-era bootlegging flick Lawless, we salute some of cinema's most memorable knitwear…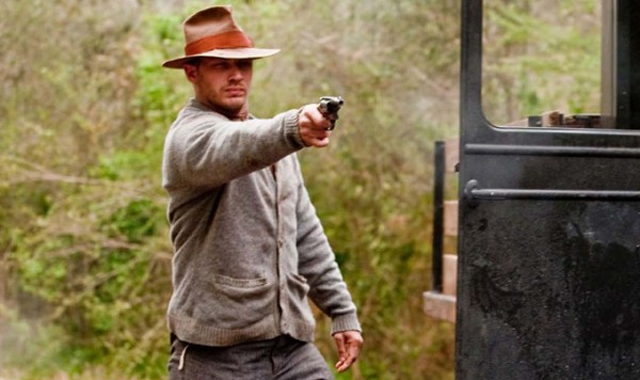 Though we remain sceptical on the matter, we've been reliably informed that it's now September. Time in all his slow chap't power is making fast work of 2012, chomping it down like a cartoon cat swallowing a fish whole, preparing to taunt us all by producing an intact silvery skeleton come New Year's Eve.
The arrival of autumn and winter may mean a steady parade of unending colds, cancelled trains, insufferably peppy Boots ads on telly and injuries sustained from satsuma nets, but there's one thing at least that makes the hardship worthwhile: knitwear.
Inspired by Tom Hardy's talk-of-the-town cardigan (or Hardigan, if you will) in Lawless, and to mark the passage into autumn, we'd like to take a moment to salute some of cinema's finest knitwear items. Wrap up nice and warm now, s'chilly out…
Colin Firth's reindeer jumper in Bridget Jones's Diary
When Bridget first encounters Mark Darcy over a Boxing Day turkey curry, he's dressed in a "fun" jumper his literary namesake would no doubt run a mile from. Shame really, as having the original Mr Darcy glower at frivolous Derbyshire society with a beaming reindeer slapped on his torso might have been a bit of a laugh.
Even the suavest of suave, Mr Colin Firth, couldn't quite pull this one off, but its status as iconic cinematic knitwear is undeniable.
Tog value: We have to be looking at a good 5 togs right there.
Will Ferrell's Mugatu jumper in Zoolander 
2001's fashion-mocking Zoolander is, if the rumour mill is to be believed, about to get a second instalment. Whatever the costumiers throw at the sequel, topping Will Ferrell's costumes from the first film will be a tall order.
This knitwear/corset combo makes quite the statement, though we feel fashionistas may see adding the mini-me dog as a little too "matchy matchy".
Tog value: We'd be surprised if there are even 2 togs' worth of cosy in that construction, but then, fashion was never supposed to be practical.
Shaun the Sheep's jumper in A Close Shave 
The ultimate in ironic accessories: a woollen jumper for a sheep. The Aardman people showed they knew good knitwear long before they got their CGI mits on Arthur Christmas' wardrobe with this natty little number for Shaun the sheep.
Tog value: Looks mighty cosy, we think that could be a 6-togger.
Matthew Broderick's geometric print sweater vest in Ferris Bueller's Day Off 
80s movies more than deserve to be represented in the cinematic knitwear hall of fame, indeed, narrowing it down was the tricky part here. From the John Hughes canon off-the-shoulder mohair look, to some impressive entries from the girls in Heathers, 80s movies were quite the knitwear picnic.
The winner for chutzpah and verve though, has to be Matthew Broderick's geometric print sleeveless cardigan here. What can we say, that Ferris Bueller just knew how to put a look together.
Tog value: Oh low, very low, this is Californian summertime after all. We'll go for a 1.5.
Clint Eastwood's poncho in The Good, The Bad And The Ugly

 
You'd think wandering around wrapped in a blanket like a self-pitying schoolchild on a sick day would detract from Eastwood's character's enigmatic machismo, but no, the cheroot, hat and poncho combo are a winner all day long. The poncho functions like a superhero cape, just one he bought for a tenner from the sofa section in Homebase.
Tog value: Good and high for those cold desert nights, that's at least a 7 by anyone's standards.
Michael Douglas' deep V-neck in Basic Instinct 
Iconic more for its "Huh. He's wearing a jumper to an erotic rave" status than its success as a style statement, this deep V-neck most probably needed a good wash after Sharon Stone rubbed herself up against it all sexy in that club. Reshape whilst damp, remember.
Tog value: Low. We'll say a 2. This baby may provide manoeuvrability and easy access to Michael Douglas' man nipples, but it's hardly a practical choice.
E.T's blanket 
Not strictly designed as "wear" for anyone over six months, this has to be the most iconic blanket since Mary swaddled the litle baby Jesus in that donkey shed. In fact, it actually gives E.T something of a religious glow here, with the alien and Elliott forming a modern take on the Madonna and child (and bike basket) in this shot.
Tog value: Nothing heavy, those guys are about to take off after all, we think a nice 4.5
Robert Englund's stripy jumper in A Nightmare On Elm Street 
No Hellraiser-style floor-length bondage gowns for Freddy Krueger, this particular monster's garb is more Dennis the Menace than actual, er, menace. That knife-hand also seems to have made made hand-washing and proper knitwear maintenance a devil of a job for Freddy, leaving his winter warmer bobbly, threadbare, and holey. An undeniably iconic entry, all the same.
Tog value: He's up at night a lot, so he'd need some insulating. Somewhere around a nice 6.
Johnny Depp's angora jersey in Ed Wood 
Tim Burton's Ed Wood was a strong early entry on the filmmaker's CV, and further proof that Johnny Depp was evolving into a much more interesting prospect than his 21 Jump Street days suggested. This sweater is actually a pretty central plot point in Ed Wood, the story of the B-moviemaker with a penchant for ladieswear and an angora fetish, and Depp proved himself a game choice for the cross-dressing hack director.
Tog value: A lightweight design for the girl about town, nothing higher than a 3 here.
Matthew Lewis' hooded cardy in Harry Potter And The Deathly Hallows Part 2 
If cardigans could talk, this one would roar. Quite simply the most heroic cardigan ever to be captured on the big-screen, wrapped around Neville Longbottom, the unlikely hero of the final Potter film.
We won't spoil anything for those yet to see it, but suffice to say we are in the presence of some heroic motherflipping knitwear.
Tog value: It's an action cardigan, making manoeuvrability a priority. A safe 4.
Jeff Bridges' chunky sweater in The Big Lebowski 
The Dude's cardigan really needs no introduction, save to say that it has elevated chunky knits into a new realm of cool. Like Leia's golden bikini or Frank'n'furter's silky basque, Jeff Bridges' jumper goes down in the costume hall of fame. Wool has literally never looked this good.