News
Christopher Robin Trailer: Ewan McGregor Stars in Winnie the Pooh Movie
Ewan McGregor stars in Disney's Christopher Robin, playing an adult version of Winnie the Pooh's pal.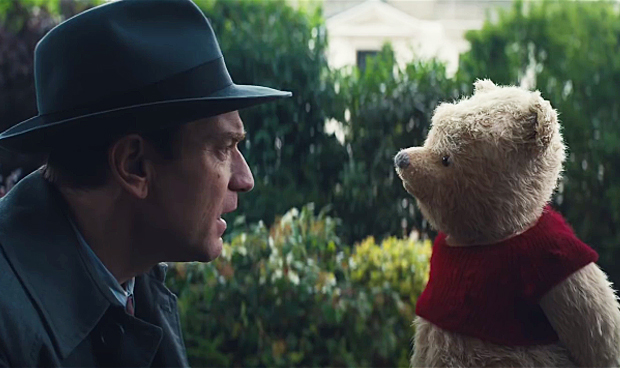 Christopher Robin, Disney's live-action film continuation of the Winnie the Pooh story, helmed by World War Z and Finding Neverland director Marc Forster, will have to make its case as the Christopher Robin-branded movie that you'll want to see, since the existence of the 2017 biopic, Goodbye Christopher Robin, may have prospective moviegoers confused.
However, this particular Christopher Robin movie distinguishes itself as a continuity sequel to the classic children's mythology.
Christopher Robin Trailer
A new Christopher Robin trailer has arrived!
Disney used the occasion of said new trailer to release a new poster (included below), which shows Ewan McGregor's title character looking a bit impatient as he's joined by Pooh, along with his childhood stuffed animal friends. That image matches the theme of the accompanying trailer, which provides the first look at the entire Pooh gang. Together, they'll help the now-adult Christopher Robin in his worklife crisis and pass on the imagination-fueled friendship to the next generation through his young daughter, Madeline (Bronte Carmichael). 
You can also check out the first trailer below…
There's no denying it, the Christopher Robin trailer goes right for the feels. The live-action film directly draws from author A.A. Milne's Winnie the Pooh stories. However, this particular Pooh project will see Ewan McGregor play an adult version of Christopher Robin, who's stuck in an especially humdrum period in his life, focused on his career as a businessman and far-removed from his halcyon childhood days of imagination-fueled pastoral hijinks with anthropomorphic stuffed animals such as Pooh Bear, Tigger, Eeyore, Piglet and Rabbit. Consequently, the trailer's build to Christopher Robin's reunion with Pooh – presumably for the first time since childhood – is an emotionally powerful moment, even as the incredulous adult thinks it's because he's "cracked."
Christopher Robin Release Date
Christopher Robin is currently scheduled to arrive at theaters on August 3.
Curiously enough, the trailer simply states that it's "coming soon," which could hint that a release date shift is in the works.
Christopher Robin Poster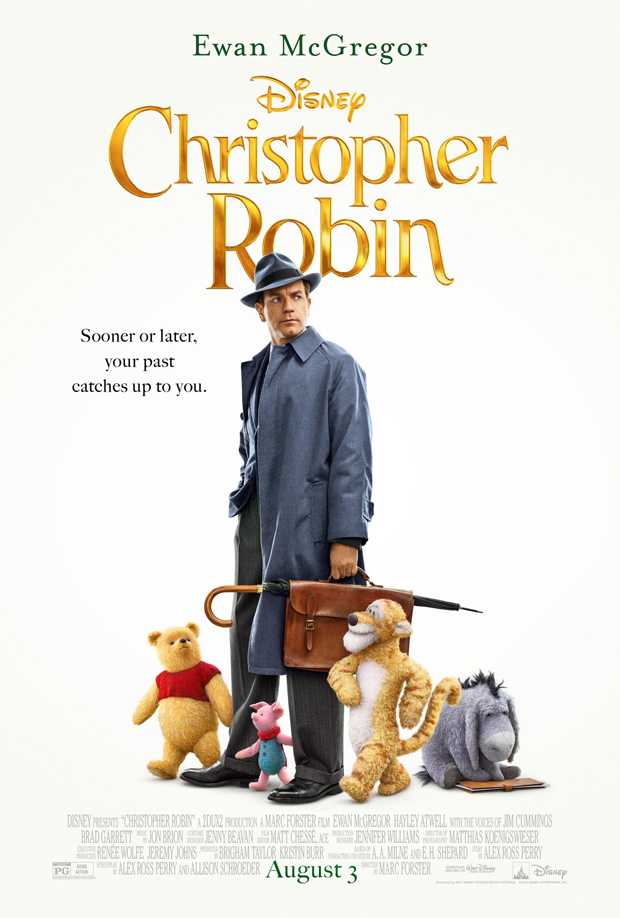 Christopher Robin Details
Christopher Robin is directed by Marc Forster, a German helmer behind a diverse array of films. His resume includes high-profile action pictures such as 2013's World War Z and 2008 James Bond sequel Quantum of Solace, along with 2011 crime drama Machine Gun Preacher and 2006 surreal comedy Stranger than Fiction and the 2001 drama Monster's Ball, which famously yielded star Halle Berry a Best Actress Oscar win. However, Forster's work on the 2004 biographically-based film Finding Neverland in which Johnny Depp played Peter Pan creator J.M. Barrie seems to be the genre offering that brought him to the table for Christopher Robin.
Forster works off a script by Allison Schroeder (Hidden Figure, Mean Girls 2), who was brought onboard to give the screenplay another rewrite after it was originally written by Alex Ross Perry (Golden Exits) and later revised by Tom McCarthy (Spotlight), who moved on to co-write/direct another Disney film project called Timmy Failure. With the film, clearly an adult drama, bordering on the fantastical with its earnest inclusion of a reemerged Pooh Bear, it could be the case that deciding the proper tone was a tougher task than anticipated.
Christopher Robin should be an interesting project for the former Star Wars Prequel Trilogy Obi-Wan Kenobi actor Ewan McGregor, who recently appeared in nearly unrecognizable form on Season 3 of FX's Fargo, also coming off 2017's release of the two-decades-awaited sequel, T2 Trainspotting, and provided the voice of candle Lumière in 2017's box-office-dominating live-action adaptation of Disney's Beauty and the Beast.