News
Christopher Nolan's Interstellar: Everything You Need to Know in one place
Christopher Nolan's Interstellar is in theaters tomorrow (and in some places tonight), so here is everything you need to know...
Tomorrow welcomes the most anticipated movie of 2014 for those who ever looked to the stars and wondered (or at least questioned where Christopher Nolan could possibly go after Inception and three Batman movies). Interstellar is hours away from its IMAX debut and its nationwide release on the 7th, and we couldn't be more excited.
 The science fiction event, which you can
read our review of here
, is also the first directorial project for Nolan since completing his 
Dark Knight Trilogy
 two years ago. And it almost certainly is the time and space-bending sci-fi that many have been waiting for. Dealing with everything from wormholes to theories of relativity on steroids, this out-of-this-galaxy blockbuster is appears to be as ambitious in its scope as it is in its secrets. But what exactly is it? If you watched 
the cryptic teaser
 or only 
slightly more detailed trailer
, or the still mysterious but finally
plot-driven third trailer
, you may have been as painfully confused as the rest of us about what this movie is about (besides space and corn). But despite secrecy so vague that it left
San Diego Comic-Con perplexed
, there is too much of a paper trail for it to remain this elusive. Join us as we keep you updated revelation to revelation about what lies underneath that studio mist. 
Set for a November 7, 2014 release date, the ninth Christopher Nolan film is based on the theories of real life theoretical physicist Kip Thorne. However, it was not initially Nolan's movie. Originally developed in 2006 at Paramount Pictures by producers Lynda Obst and Steven Spielberg, the project was an intended science fiction vehicle for the legendary blockbuster auteur to one day helm.
The trippy and obviously complicated quantum mechanics-themed narrative needed an equally intricate hand, and Paramount found it in March 2007 when they hired Jonathan Nolan to pen the screenplay. Jonah Nolan, brother of Chris, was at the time best known for writing the story upon which Memento was based, as well as co-writing with Chris Nolan the screenplay for The Prestige. Obviously, his bonafides only increased the following year after the juggernaut success of The Dark Knight.
The film remained in development for a number of years, though Spielberg quietly dropped out of the project, as was learned when Christopher Nolan's involvement was announced. While still based on the multiple drafts and ideas that Jonathan Nolan hatched for the intended Spielberg film, it was quickly established that Christopher Nolan would be rewriting a new draft of the screenplay that would merge an original idea of his own with the existing sci-fi narrative based around wormholes.
Nolan's involvement also brought along the producing powers of Warner Brothers, as well as Nolan's own production company Syncopy. Indeed, to get a slice of Interstellar, WB agreed to give up its rights to co-finance the Friday the 13th  franchise, as well as its stake in any upcoming South Park movie to Paramount Pictures. Legendary Pictures is also negotiated a stake in the picture following the ending of its eight-year relationship with WB.
Beyond the tantalizing premise and the behind-the-scenes hands that have come aboard, one of the most impressive aspects of Interstellar is its deep casting bench of thespian talent. It was first announced in April 2013 that Matthew McConaughey would star as the lead in the picture with very few details given about his character at the time. In less than a month, Anne Hathaway and Jessica Chastain were also confirmed to star in the picture. Set photos of McConaughey and Hathaway after what appears to be a troubling sci-fi misadventure below: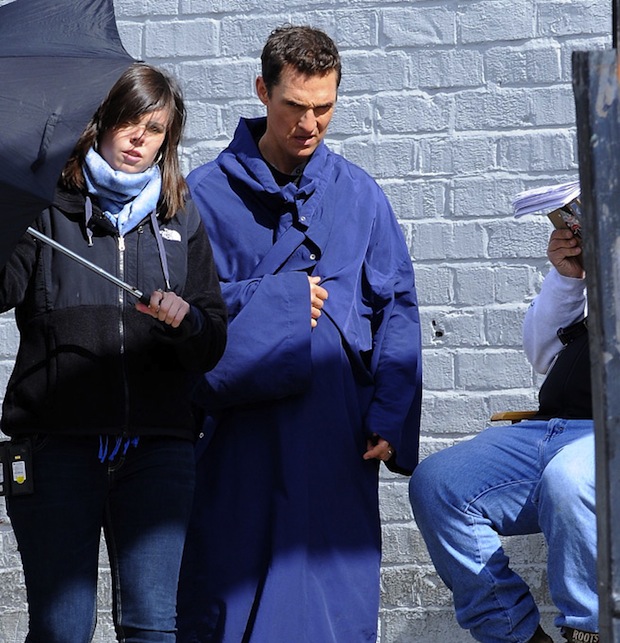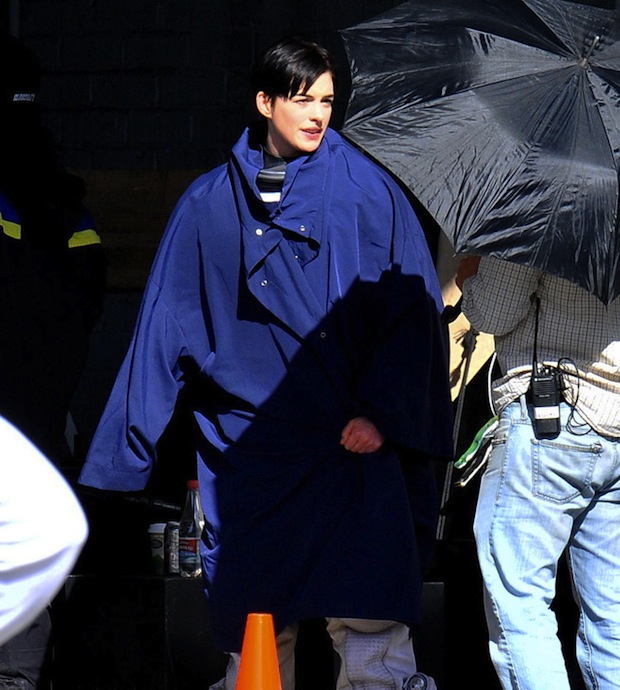 Hathaway also represented the first confirmed reunion of Nolan with one of his recurring "troupe" of actors, as he worked with Hathaway before in The Dark Knight Rises. Of course, she wasn't the last as Michael Caine was quickly cast in his sixth consecutive Nolan production. Caine has since let slip that he is playing a college physics professor of some sort, which trailers later confirmed. 
Also cast in the ensuing months were John Lithgow, Topher Grace, Wes Bentley, Casey Affleck, Matt Damon, and Mackenzie Foy.
Worth noting is that this will mark Nolan's first film since Memento which will not feature Wally Pfister as his DP. Pfister has seemingly retired from cinematography at the moment in pursuit of his first feature film as
a director
: Transcendence, which Nolan and wife Emma Thomas

 

also produced. Nolan is instead working for the first time with cinematographer Hoyte van Hoytema, DP of such films like Let the Right One In, The Fighter and 2013's Her.
But rest assured, Interstellar will still be the third Nolan film to be partially shot in IMAX (a trick he pioneered for Hollywood big budget cinema in The Dark Knight). Indeed, the man loves IMAX cameras so much that he made hay when he strapped one onto a Learjet. For maximum vertigo, undoubtedly.
However, what exactly is all this technical wizardry and casting wish list in service to? In classic Nolan brother fashion (and really most big budget sci-fi films of late), it has remained incredibly mysterious. Indeed, wrap your head around this first studio-approved official synopsis (the only one we have to date):
The new script chronicles the adventures of a group of explorers who make use of a newly discovered wormhole to surpass the limitations on human space travel and conquer the vast distances involved in an interstellar voyage.
Vague enough for you? Luckily, as production began on August 13, 2013, details have dribbled out around the edges. Thank goodness for The Fort Macleod Gazette of Fort Macleod, Alberta. The weekly chronicle was the first to report on Interstellar shooting in the area (the film is also shooting in Iceland and Hollywood's Culver City). In an August write-up, the Gazette revealed that Interstellar is really, at least in part, all about corn. Writes the paper, "Set in the future, corn is the last crop to be cultivated on earth and the scientists embark on a journey through a worm hole into other dimensions in search of somewhere other crops can be grown." That ties nicely into the first image of the teaser.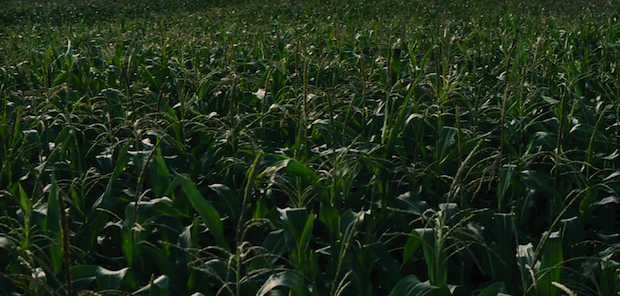 In other words, the motivation of our heroes, led by McConaughey as Cooper, the officially defined protagonist, is to find a new intergalactic location to grow food for a dwindling world population ravaged by the effects of climate change. Thus, it is also about finding a new home for humanity. This is a bold and appropriately topical subject matter for a genre that always plays fast and loose with the issues of the day. Indeed, it is not exactly a revelatory focus when the UN's World Food Programme is predicting increased "political destabilization" in the next 40 years, as the number of "food-insecure" persons living in agricultural areas of drought and arid climates could increase by as many as 200 million people by 2050.
This likely plays into reports that scenes have been filmed that include McConaughey "driving…to outrun a dust storm which eventually catches up to him and overtakes the truck in the town," as detailed by Interstellar Location Manager Lazlo Uhrik. Enjoy pictures of that shoot, including images of McConaughey, Lithgow, Chastain, and Nolan, below: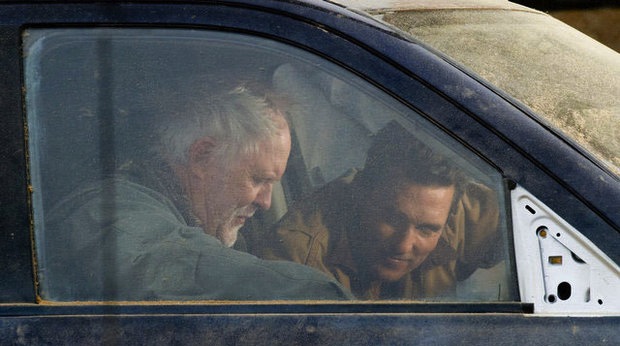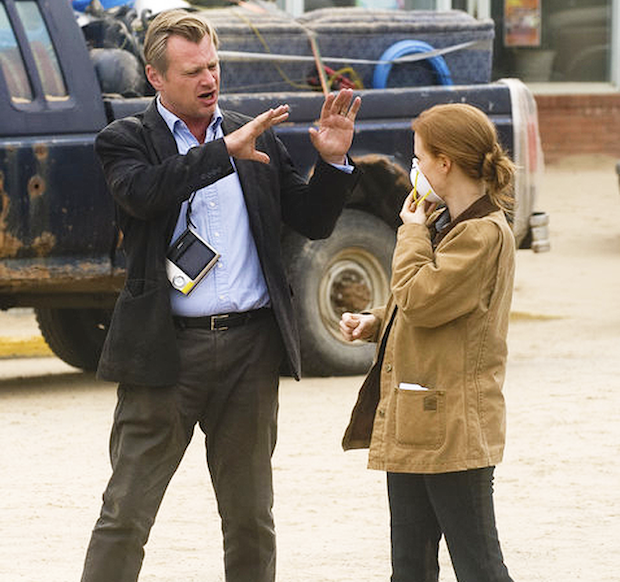 ***The article will contain spoilers from this point on.***
Okay, without going into detail about the depth of our knowledge pertaining to Interstellar, the truth is that we have a fairly accurate understanding about what the plot of the movie will be, even if the details have changed since Jonah Nolan's first draft for Spielberg. With that in mind, we will not spoil it here for the uninitiated or the unrelentingly curious…but we will contextualize a few images from the first full trailer released earlier this year.
The first thing we should note is that almost all of the images in this trailer come from what will likely be only the first act of the movie. That's right, 2/3 of the film has not even been teased yet by the marketing of this movie, and we will not discuss that shrouded portion of the movie here.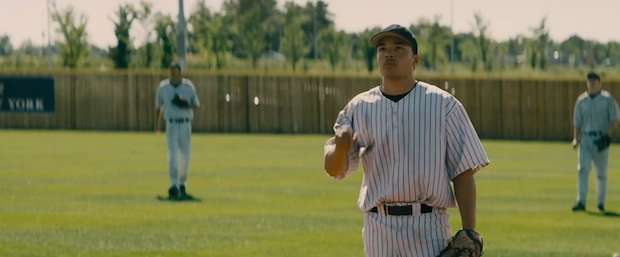 We start with not the first image of the trailer, but what very well may be the first scene of the movie: baseball. Yep, much like Nolan's previous Dark Knight films, Interstellar promises to explore and unpack the state of the union, except if not now, then in roughly 50 years. Nolan's second Batman picture dealt with the costs of the War on Terror, and his third considered the greatest phobias of first-world economic collapse.
However, Interstellar looks to a future that might negatively be effected by climate change and growing population. In fact, it is hardly science fiction anymore to imagine this future according to this week's timely government report on climate change. Which brings to this first scene in question. If you notice the pinstripes on those uniforms, the movie opens with Cooper taking his children to see the all-American pastime of an antiquated yesteryear: he takes them to see the Yankees (or, quite literally, a farm team).
But how much money is there in professional baseball in a world where sandstorms lay waste to the heartland? In this the second shot, you may see why the MLB has downsized to AA ballparks.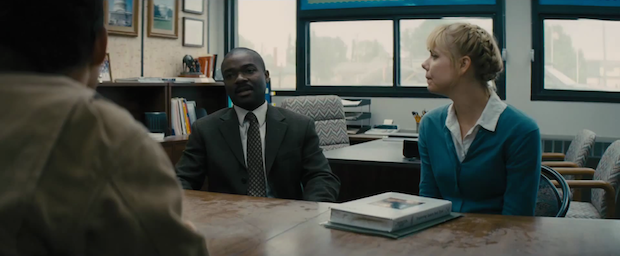 Which is probably why Cooper can be so openly chastized by fellow instructors when he goes to (presumably) his daughter's school. It appears that Cooper being "well educated" and an engineer has made him a hard case for newer educators attempting to point children toward more practical and obtainable pursuits in a world of diminished expectations. Whatever Cooper has been teaching his children, likely in regards to the 20th century's space race, it has left their teachers perplexed. Like so many people today in 2014, they do not see the need of dreaming of the stars or anything larger than muddling through the economic realities of now…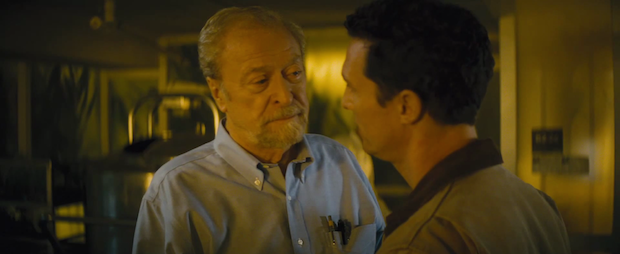 This is probably exactly why Cooper is such an attractive candidate to Michael Caine's physics professor, a role Caine confirmed himself last October. It is safe to say that he is recruiting Coop, even if he is a farmer, for an intergalactic mission to discover an alternative to the dying planet of earth. It can also be said that he is th
e father of Anne Hathaway's character in the movie.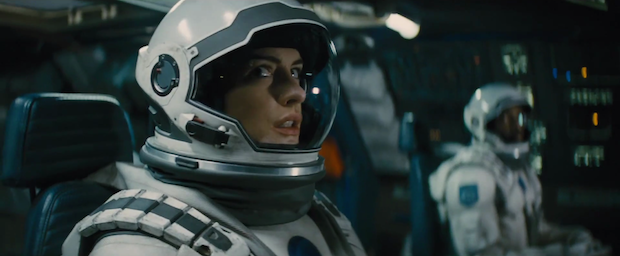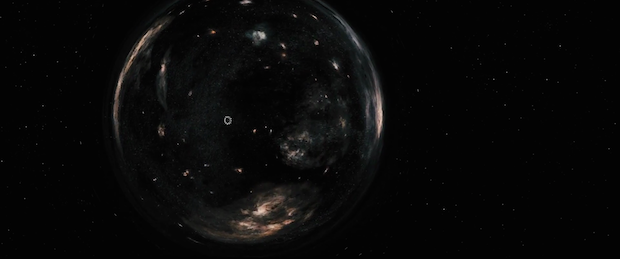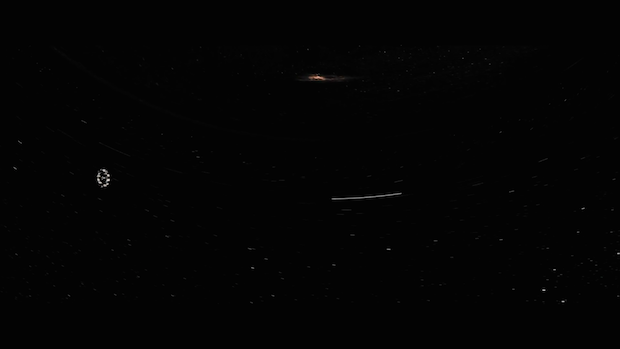 Speaking of Hathaway, we see her character, along with the rest of the astronauts Cooper joins, embarking on just our first glimpse of interstellar space travel. This is made possible by Thorne's theories in relation to closed timelike curves (further detailed after the spoilers end), which allows space travelers to circumvent time and space by traveling through the motion of a maintained wormhole.
This may occur only a fraction of the way through the film. However, the madness it will play on time relativity can be glimpsed in the character of Murphy…Played by Mackenzie Foy throughout most of the trailer but possibly embodied by an older, more famous actress later in the trailer…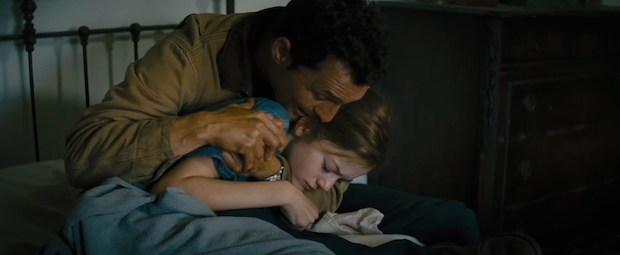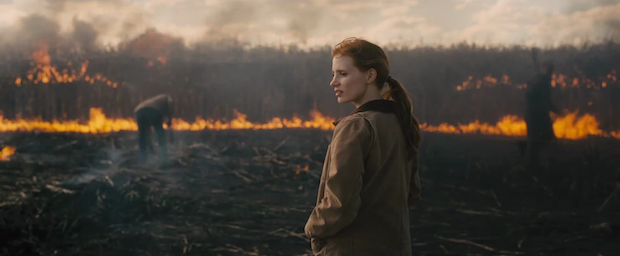 ***End Spoilers***
Of course, the details of how this will exactly play out—at least for those who have not read the leaked script, which reportedly is a very old Jonah Nolan draft dated from when Spielberg was still on the project—remain maddeningly opaque. Though any fan can theorize about the multiple possibilities simply from Thorne's dense and ponderous work, which in part ultimately suggests that time travel 
MIGHT be possible
 if one had technology to master black holes, thereby turning them into wormholes, which could connect two points in time and space—or the same space at different times—for traversable travel through closed timelike curves. However, the ability to travel backwards in time in such a scenario is still even more remote.
But putting mind-numbing theoretical physics aside for a moment, fear not about learning more of the secrets hidden within Interstellar, as more will come just as surely as a fourth trailer with more sci-fi imagery of scientists bending the rules of physics as they traverse the mythical wormhole.
In fact, the third one that screened at San Diego Comic-Con this year (
and is now online
) allowed Nolan to make his first pilgrimage to the Hall H stage ever. Accompanied by star Matthew McConaughey, Nolan unveiled the new footage, which included images of possible alien life, and McConaughey and Anne Hathaway on an alien planet. Nolan said at Comic-Con that he was most inspired, among many films and stories, by Stanley Kubrick's 
2001: A Space Odyssey
. For his part, McConaughey promised that this is the most ambitious film of Nolan's career. 
Our Don Kaye
 was certainly impressed!
The final trailer
for the film's release came out earlier this month. What we can say about it is that Paramount is very cryptically showing images of the alien world never before seen. The tidal wave featured in the trailer is not from the original Jonah Nolan screenplay, however, what can be confirmed for the morbidly curious is that the below image features a human space traveler not adorned in the NASA gear of Cooper and Hathaway's Brand. We will confirm that there is more than one space flight to this strange world that has mastered wormholes.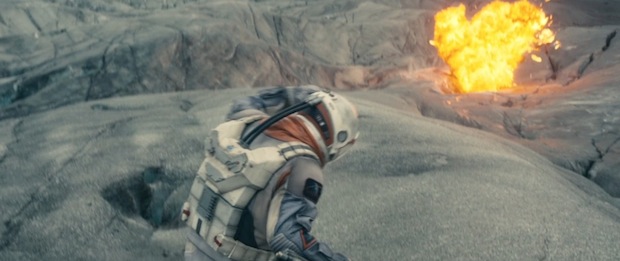 Interstellar will be making an early IMAX debut in selected cities throughout North America on Nov. 5th that will screen the film in glorious 70mm and 35mm prints. However, if you want to stay well cornfed before then, we have collected all of the trailers for your viewing pleasure below![minireel version="1″ exp="e-0d90de746aacaa" splash="img-text-overlay:3/2″ width="620px" height="522px"]Like us on Facebook and follow us on Twitter for all news updates related to the world of geek. And Google+, if that's your thing!