News
Christopher Nolan Talks Disappointment in Industry After The Dark Knight
Christopher Nolan explains why even after The Dark Knight and his other successes, he's been disappointed to see the industry abandon film.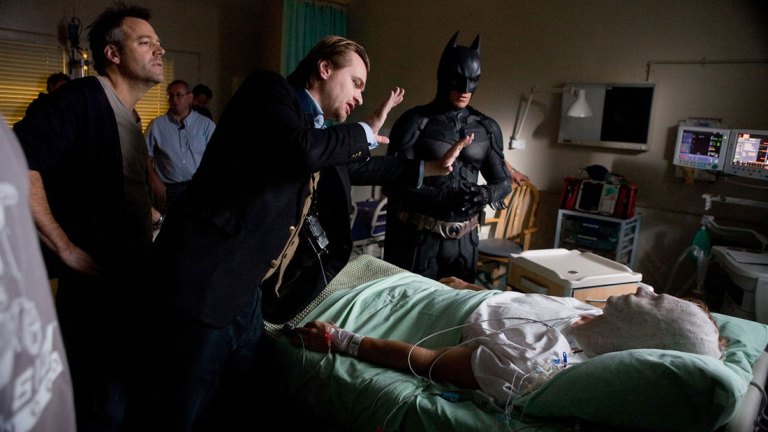 It is easy to say that Christopher Nolan remains one of the few auteurs left whose film releases are a must-see event for all moviegoers. Who else can open an original, non-franchisable World War II epic in the height of July these days? The fact that he, along with Quentin Tarantino and a few notable others, is also keeping celluloid exhibition alive only increases his rarity.
Indeed, Dunkirk will have the biggest 70mm distribution in 25 years, playing on over 200 screens in celluloid glory, many of which will be in IMAX. This detail has been a feature of nearly every Nolan movie since 2008's The Dark Knight, which shot most of its action scenes with 65mm IMAX cameras, then a novelty for blockbusters. In the ensuing years, Nolan has increased the amount of scenes he's filmed in IMAX, including in The Dark Knight Rises and Interstellar. Some filmmakers have followed suit, and Tarantino in 2015 made Dunkirk's 70mm expansion possible by shooting The Hateful Eight in retro 70mm Panavision. And yet, Nolan is fairly disappointed with how the industry has evolved since 2008 regarding film exhibition, and IMAX in particular.
While talking with Entertainment Weekly, Nolan confessed a disappointment with the direction of things within the industry following The Dark Knight's trailblazing efforts.
"I think I always believed that if we won, if we succeeded, that would enable more filmmakers to carry on working that way and that would go some way to stop the electronics companies and studios from chipping away at the technical way in which myself and a lot of filmmakers want to keep working," Nolan explained. "And it didn't make a damn bit of difference."
It is easy to understand where Nolan's frustration is borne from. Despite shooting in IMAX two of the highest grossing movies of all-time (his final Batman pictures), only a handful of blockbusters have followed suit in shooting action sequences with IMAX film cameras, including Transformers: Dark of the Moon, The Hunger Games: Catching Fire, Star Wars: The Force Awakens, and Batman v Superman: Dawn of Justice. However, almost none of them had 70mm presentations. Instead, emphasis on IMAX 3D screenings (with an even larger surcharge than just merely IMAX) took precedence. Consequently, IMAX has pursued digital IMAX cameras which shoot in a similar ratio and scale as 70mm (although without the depth), and more blockbusters like Captain America: Civil War and Transformers: The Last Knight have opted for this digital alternative.
Eventually, even films that shoot in celluloid as a selling point—such as last year's La La Land, which Nolan has called a personal favorite—still are screened almost exclusively in the digital format.
Other than Christopher Nolan, Quentin Tarantino, and Paul Thomas Anderson movies, 35mm and 70mm presentations primarily remain a memory.
"If filmmakers want to work on digital, terrific," Nolan said. "That's their choice. I don't want my choice to shoot on film taken away. We found ourselves needing to enlist a wide range of filmmakers to talk to the studios, because I talk to somebody and they say, 'Oh yeah, because that's your thing,' like it was some little exception or quirk rather than a very mainstream methodology that we had proven time and again."
And he'll more than likely prove it once more when Dunkirk opens in 70mm IMAX and on other film print formats on July 16.