News
Christian Bale: Donald Trump Once Thought 'I Was Bruce Wayne'
While promoting Vice, Christian Bale recalls the time on The Dark Knight Rises he met Donald Trump... and how he treated the actor.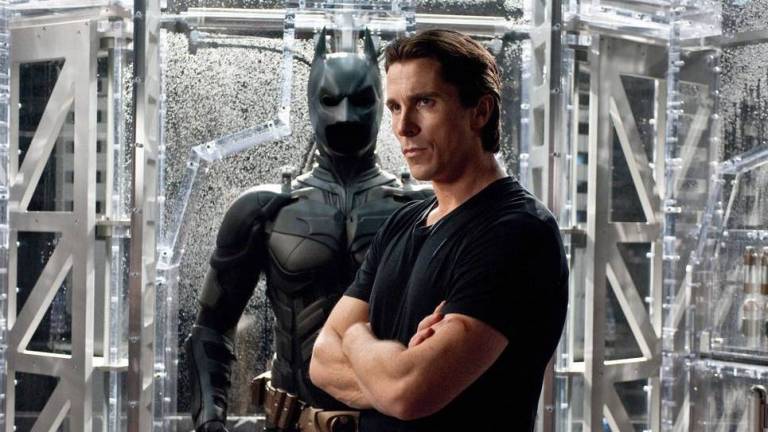 For some Christian Bale will always be the definitive Batman. His caged anger, yet noble commitment, the grandiose growl in his voice, but subtler sense of trauma, it's only looked to be a more everlasting rendering of the Caped Crusader in the years since The Dark Knight Trilogy completed in 2012. And it was on his last adventure in the cape, The Dark Knight Rises, where Bale met the fiercest threat to society, and one who has long since prospered: Donald Trump.
Then merely the celebrity TV host blowhard that dabbled in political race-baiting by stating again and again that Barack Obama might not have been born in the United States, Trump was apparently elated to hear that the third Christopher Nolan Batman film was shooting in his Trump Tower. Seven years later, Bale is himself wading into more political waters with Adam McKay's wicked sendup of Vice President Dick Cheney, Vice, and used the moment to recall the time Trump apparently treated Bale like the Batman.
"I met him, one time," Bale told Variety. "We were filming on Batman in Trump Tower and he said, 'Come on up to the office.'" Bale added as an apparent joke, "I think he thought I was Bruce Wayne, because I was dressed as Bruce Wayne. So he talked to me like I was Bruce Wayne and I just went along with it, really. It was quite entertaining. I had no idea at the time that he would think about running for president."
It's a bizarre moment, but perhaps understandable for the soon-to-be 45th President of the United States. Consider that after all his bankruptcies, he probably has some notion about what it's like to play a billionaire even though his bank accounts don't reflect that reality. In any case, it would not be the last time Trump was inexplicably linked to The Dark Knight Rises. During his presidential inauguration in 2017, Trump inadvertently quoted Tom Hardy's Bane from that movie, a garish faux-populist who speaks in platitudes about breaking down the system while he is manipulating Gotham to feed his own interests.
Said President Trump, "We are not merely transferring power from one administration to another, or from one party to another, but we are transferring power from Washington D.C. and giving it back to you, the people."
Coincidentally, this bit of feigned populist outrage was also used in the film when Bane said, "We take Gotham from the corrupt, the rich, the oppressors of generations who have kept you down with myths of opportunity, and we give it back to you, the people!"
As Bale's Vice will help chronicle, the 21st century has turned into batty times, indeed.
David Crow is the Film Section Editor at Den of Geek. He's also a member of the Online Film Critics Society. Read more of his work here. You can follow him on Twitter @DCrowsNest.