News
Christian Bale Thinks Donald Trump is "Less Dangerous" Than Dick Cheney
Christian Bale compared President Donald Trump with Vice subject Dick Cheney, suggesting the 45th POTUS is a clown by contrast.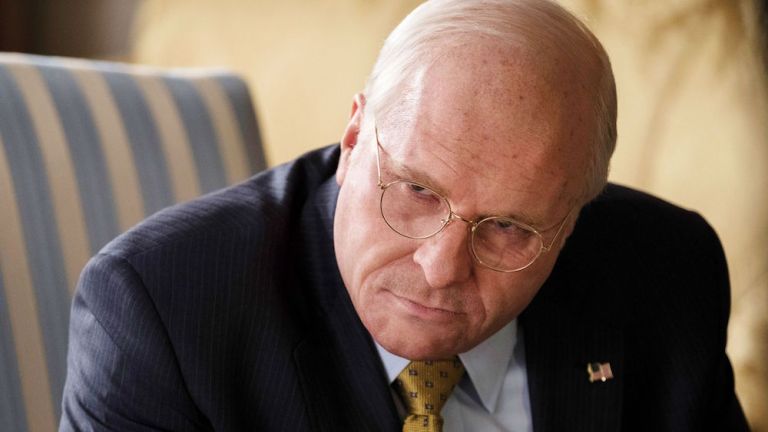 Christian Bale's performance as Dick Cheney in Vice (and the awards campaign it's generated) is one for the ages. After all, he is the first actor in Golden Globes history to thank Satan—in this case for for the inspiration to play George W. Bush's vice president from 2001 to 2009. Indeed, writer/director  Adam McKay would suggest in the film that Cheney is responsible for much of the 21st century dysfunction and tragedy emanating from American policy. It's also something Bale suggests Cheney remains unparalleled in despite the recent acrimony surrounding President Donald Trump's scandal-plagued administration.
On the same 35th day of a government shutdown that has begun producing a shortage of air traffic controllers—as well as the same day that former senior adviser to the Trump campaign, Roger Stone, was indicted by Robert Mueller's special counsel investigation—the UK Press Association (via Huffington Post) released a video interview Bale gave for Vice in which he describes Trump as "a clown." The Oscar winning actor also suggested that Trump's enormous ego might make him more ineffectual than the shrewdly competent Cheney was during his time in the White House.
"Trump's bombastic, he's loud," Bale said. "Cheney was quiet and secretive, and far more capable and far more brilliant. I mean, in terms of their ability to understand government, there is no comparison. Trump doesn't understand it, Cheney did, that's what made him so powerful: his decades within the government."
As Bale surmises, Trump's perceived ineptitude might make him less effective than Cheney, who spearheaded an effort to persuasively convince a majority of American citizens that Iraq was either directly or tangentially connected with al-Qaeda in the lead-up to the Sept. 11, 2001 attacks. Recent polls, meanwhile, show Trump has failed to convince a majority of Americans that there is a crisis on the southern border requiring a wall.
"Trump is a clown by comparison," Bale said. "Clowns can do a lot of damage. Fingers crossed for the next two years that doesn't happen." The actor added, "I would say because of his whole enormous ego, Trump is far less dangerous, provided he doesn't go bloody pushing the button."