News
Chrissy Teigen and Joe Jonas Join Hotel Transylvania 3
Chrissy Teigen, Joe Jonas, and Jim Gaffigan have been cast in Hotel Transylvania 3, with the latter playing an evil Abraham Van Helsing!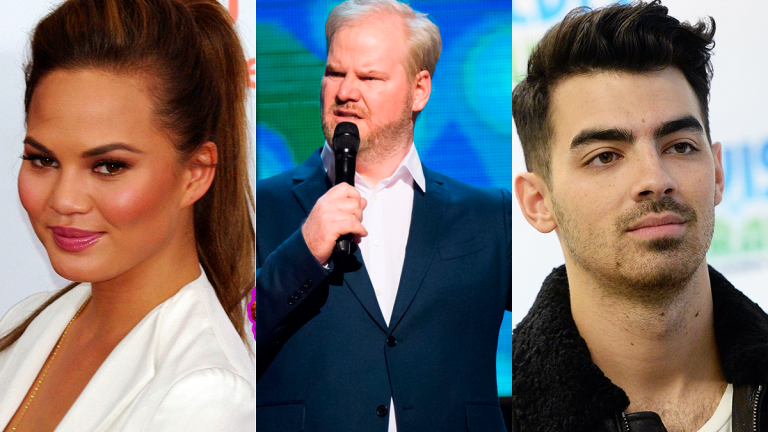 There was a time when legendary animator Genndy Tartakovsky was convinced he wouldn't make a Hotel Transylvania 3. After directing and helping write both of the first two movies, which put pop culture's favorite creatures into Sony Animation's animated monster mash series with family values, he had said he would "never ever do a third one." Yet standing in front of the press during a Manhattan event for Hotel Transylvania 3: Summer Vacation, he had to admit that as soon as that previous 2015 family movie completed its press tour in 2015, the idea of a third one began to take ghoulish shape due to a real (and maybe horrific?) experience of his own.
"That year, as it so happens," the director begins, "my in-laws surprised my family with a little cruise, just locally. And who doesn't love being trapped on a boat with their in-laws? And as I was getting on the boat and starting to have the experience, I thought, 'Right this is the perfect setting for our monster family.'" And thus the newest monster extravaganza headlined by Adam Sandler as Count Dracula was born.
During the Hotel Transylvania 3 presentation, plenty of familiar faces were reconfirmed as returning, including Kevin James as Frank (the Frankenstein Monster), Selena Gomez as Mavis (Dracula's daughter), and Steve Buscemi as Wayne (the werewolf). But three new additions sure to raise some fandoms' eyebrows are the inclusion of Chrissy Teigen, Joe Jonas, and Jim Gaffigan. The reveal came during a cast listing that included the whole line-up, during which time Tartakovsky revealed Teigen is joining Hotel Transylvania 3 in the role of Crystal, the Invisible Man's invisible girlfriend. (Get it?) The transparent Romeo is still voiced by David Spade, but he is bringing along an equally translucent friend for what is ostensibly a large family vacation aboard a cruise ship that looks an awful lot like the Titanic.
Additionally, Jonas will be playing a much more mysterious "kraken character," who Tartakovsky says "becomes pivotal at the end" of the movie. However, the biggest addition is Jim Gaffigan as Dr. Abraham Van Helsing, who appears likely to be the antagonist of the film.
These new inclusions will likely be a fun opportunity for the first two celebrities to dip their toes further into acting. Teigen, who is an internationally famous model, has of course appeared in music videos, but most of her acting credits thus far include TV show appearances on Inside Amy Schumer and The Mindy Project. Musician and pop star Joe Jonas meanwhile has his roots already in acting, having appeared on the Disney Channel alongside his siblings in Jonas, as well as Disney TV movies like Camp Rock. He also has made sitcom appearances on Hot in Cleveland and Angie Tribeca.
Comedian and actor Gaffigan appears likely to have a larger role, which is unsurprising given his versatile career in film and television, which just recently included appearances in The Bleeder, Bob's Burgers, and political drama/tragedy Chappaquiddick, the latter of which we interviewed Gaffigan for this month.
Their casting reveals were just part of our Hotel Transylvania 3 preview, which included footage from the film that confirms it opens on a prologue in 1897 (the year Bram Stoker's literary Dracula was published, FYI) as Sandler's Dracula and friends are traveling incognito on a train when they're attacked by new character of Abraham Van Helsing, who reveals himself as a mad scientist who desires to kill the monsters, and most especially Dracula. The prologue ends with Van Helsing failing (rather comically) time and again throughout the 20th century in his pursuit of the fanged one.
Hence the conflict of the film, as the cruise ship they are on, the Legacy, is captained by Erika Van Helsing (Kathryn Hahn), who desires to secretly kill the monsters. However, given the context of Gaffigan's classic old professor, and no confirmation that he died during the film's earlier montage, we have a hunch he'll show up on the ship too, especially as Dracula is smitten (or "zinged," as Tartakovsky calls it) at first sight with Erika.
Other highlights include a reveal that Mel Brooks is back in the film, and we screened a scene of his Vampire Grandpa with the whole family on "Gremlins Airlines" on (it's taking them to their cruise ship), which results in some old fashioned Looney Tunes goodness with a hell of a "landing."
Hotel Transylvania 3: Summer Vacation opens July 18.