Reviews
Chitty Chitty Bang Bang DVD review
A live-action kids classic that has stayed truly scrumptious after forty years is given a comprehensive disc release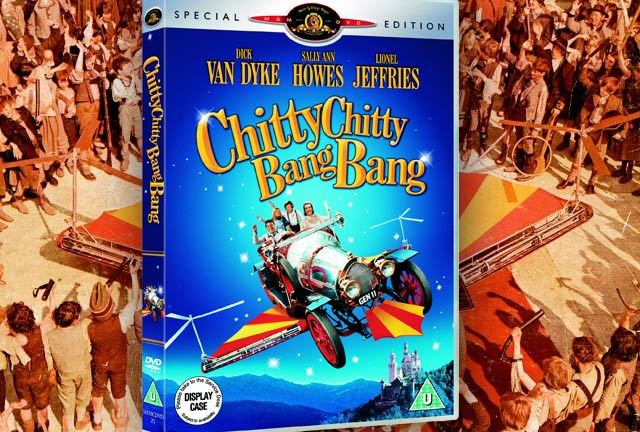 Chitty Chitty Bang Bang, as everyone knows, is our fine four-fendered friend, a steampunk work of aerodynamic improbability that's the vehicle of choice for a typically energetic Dick Van Dyke, his potential beau Truly Scrumptious and his two moppet kids. A trip to Vulgaria helps to bring a vicious kidnapper and an evil monarchy to justice through the medium of primary colours and hoppity dancing.
Still, like all films you think you know, watching it back reveals things you had largely forgotten. Chitty the car is really something of an afterthought in the film. The Child Catcher is a successful study in what happens when you invest in a dancer to bring a role to life, bringing physical menace to the role with a gnarled energy. Dick Van Dyke brings a similar gusto to his unhinged but well-meaning inventor, which is pleasingly exhausting to sit back and behold. Perhaps even most surprising for this era of Disney, the kids also hold back from over-acting brattitude that floods Mary Poppins.
As for the script, it is far more detailed than memory allowed – and laugh-out-loud funny in a lot of places. I didn't even notice as a child that Truly Scrumptious drives her car into the centre of the lake several times, abandons it, and never retrieves it. The king and queen are in a blissfully deluded world of their own. (The king, incidentally, is played by Auric Goldfinger.) And that's without even mentioning the Van Dyke. It's a very, very funny film.
The detail also extends to the set design – the enormous sets are similarly pieced together ingeniously for the major dance acts, particularly in the castle towards the end.
A decent film apparently requires more extras than you can shake a fine fender at. Aside from the expected bilge there are some decent documentaries here, included vintage featurettes about the film, and Dick himself having a meander down memory lane. You can, if you're that way inclined, also fire up the sing-along version of the film (although I will judge you if you do); and if you've got kids, there's an incredibly well pieced-together read-along version of the film.
It's not all good. There are extracts from the stage version of Chitty, which looks like an attempt to amputate all the careful humour and turn it into a typically high-kicking migraine musical – something the film so carefully skirts around. And the games are terrible. Although that may be just because I couldn't win the Toots Sweets game.
Still, ignore any features that star the sen-sational Michael Ball and this is a remarkably well thought out package. Great film, solid extras.