News
Chicken Run 2 is Officially Happening
A sequel to the 2000 Claymation hit, Chicken Run, is in the works at Aardman Animations.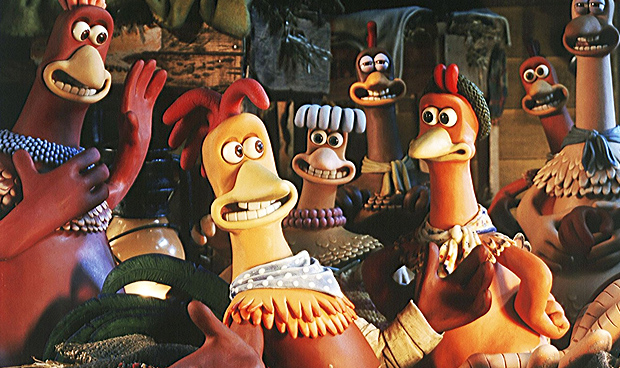 Chicken Run was a bit of a box office dark horse. The 2000 Claymation film arrived at the table brandishing bizarre aesthetics and not exactly the flashiest of visuals. However, the British production had a secret weapon, namely the stealthy success of co-creator Nick Park's Wallace and Gromit on VHS, which quietly created an audience that led Chicken Run to a $106.8 million take in U.S., and, ultimately, a $224.8 million worldwide total. Now, at long last, it has laid the egg of sequel.
Chicken Run 2 is finally about to become a reality at Aardman Animations, reports THR. It will be the completion of a circle for the British animation studio, which, on the back of its internationally successful television series, Wallace and Gromit, made its feature film debut (partnered with DreamWorks,) with 2000's Chicken Run, continuing with an array of stop-motion hits, notably with 2015's Shaun the Sheep Movie. However, no details have been provided on the long-belated sequel project, which is still in the earliest of stages.
Sam Fell will serve as director for Chicken Run 2. His resume of animated projects includes the 2012 Oscar and BAFTA-nominated ParaNorman, as well as The Tale of Despereaux and Flushed Away. Here, Fell will work off a screenplay by original Chicken Run writers Karey Kirkpatrick and John O'Farrell. Additionally, Aardman co-founders Peter Lord (the original film's co-director,) and David Sproxton are onboard as executive producers.
The original Chicken Run, directed by Peter Lord and Nick Park, depicts the story of (you guessed it,) a group of chickens at the Yorkshire farm of Mr. and Mrs. Tweedy, where failure to produce enough eggs will lead a chicken to bit of a resource shift, if you will, to a dinner plate. With the Tweedy's about to switch their business model from egg collecting to an automated chicken pot pie factory, the chickens go on their titular run. Despite that morbid premise, the film is a family comedy, featuring voice talent such as Mel Gibson, Miranda Richardson, Tony Haygarth, Julia Sawalha, Timothy Spall, Jane Horrocks, Imelda Staunton and Lynn Ferguson.
The Chicken Run 2 news arrives shortly after original co-visionary, Nick Park, unveiled his return to the stop-motion feature scene, with Aardman's Early Man, which was released back in February. That film was the first feature-length project that Park directed since 2005 Wallace and Gromit film, The Curse of the Were-Rabbit. While Early Man (which featured voice stars like Eddie Redmayne, Tom Hiddleston and Maisie Williams,) only performed modestly at the box office ($48.9 million worldwide as of this writing), the project may have proved to be creatively invigorating for the folks at Aardman, evidenced by the Chicken Run revival.
We'll be sure to update you here on the latest Chicken Run 2 news as it occurs.