News
Chewbacca Actor Peter Mayhew Dies at 74
Peter Mayhew, the actor who portrayed Chewbacca through nearly all of the Star Wars franchise, has died.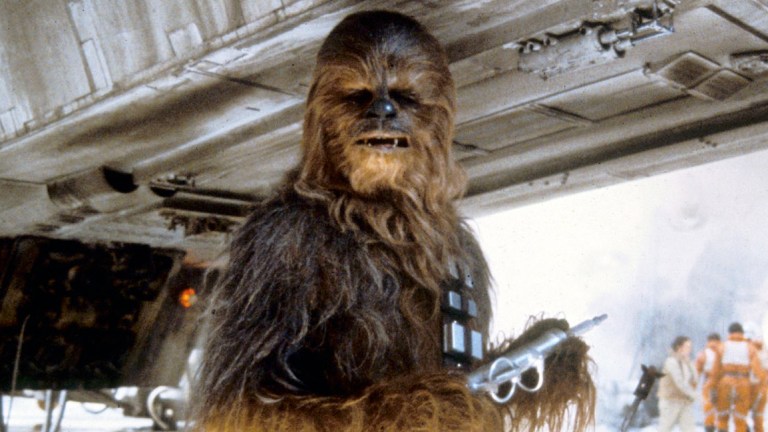 Peter Mayhew, the actor best known for portraying Chewbacca through most of the Star Wars saga, has died at age 74. Mayhew's family made the announcement that the actor passed away on April 30 in his North Texas home. 
Mayhew was the first actor to embody the beloved 200-year-old Wookiee, Chewbacca, in Star Wars. He continued to appear as Chewie in every installment of the original trilogy, along with prequel Revenge of the Sith and the first episode of the new trilogy.
Though he became a naturalized American citizen in 2005, Mayhew was born and raised in London borough Barnes. He got his first acting job when producers of 1976's Sinbad and the Eye of the Tiger saw him in a newspaper article about men with large feet. After George Lucas's first choice for Chewbacca, David Prowse, opted to play Darth Vader instead, Lucas embarked on a search for an actor tall enough to fill out the role of Chewie. That search led to the 7 foot 3 inch Mayhew, who was working as an orderly at a London hospital at the time. Mayhew kept that orderly job until Return of the Jedi premiered.
In addition to appearing as Chewbacca in a total of five Star Wars films, Mayhew reprised the famous role in other mediums, including TV shows Donny & Marie and The Muppet Show. He also recorded dialogue for the "Wookiee Hunt" finale episode of Star Wars: The Clone Wars Season 3. Though Wookiees infamously speak the roaring language Shyriiwook created by sound designer Ben Burtt, Mayhew recently revealed that he would speak his lines in English on set for the ease of the other actors. 
Mayhew worked intensively to get into a physical condition to be able to appear one last time as Chewbacca in The Force Awakens, sharing the role with Finnish actor Joonas Suotamo. Suotamo took over the role full time as of Solo: A Star Wars Story, appearing also in The Last Jedi and the upcoming The Rise of Skywalker. Mayhew served as "Chewbacca Consultant" on all three movies. 
He was a consistent and welcome presence at conventions and other Star Wars fan circuits before his health began to deteriorate in later years. He is survived by his wife Angie and their three children. 
The family has announced that there will be a memorial service for friends and family held on June 29 and another one in December for fans with his family in attendance.
Alec Bojalad is TV Editor at Den of Geek and TCA member. Read more of his stuff here. Follow him at his creatively-named Twitter handle @alecbojalad