Reviews
Chappelle's Show Season One DVD review
All twelve episodes of Chappelle's Show first season come together in a DVD set. Which we gave to Michael to review...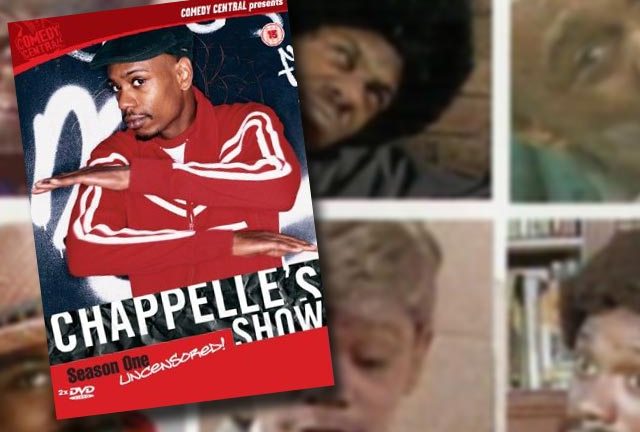 It's hard to know where to start with Dave Chappelle. A hot ticket on the stand up circuit with an impressive film CV to his name, Chappelle's Show – a sketch and stand up comedy affair for Comedy Central – seemed the natural next step on his road from cult figure to household name. But, despite its increasing popularity, three years after it first aired, Chappelle quit the show mid-way through filming the third series, citing exhaustion, lack of creative control and a bad working relationship amongst his reasons.
And it's difficult to keep that out of mind when reviewing this, the first series. This boxset presents all twelve episodes of series one alongside a handful of bonus features, including audio commentaries, deleted scenes and extended cuts, and the obligatory gag reel. Each episode takes the form of half a dozen sketches linked by in-studio stand up introductions delivered by Chappelle himself.
Like his idol, Richard Pryor, Chappelle uses his comedy to tackle issues of race, particularly the relationships between black and white people in America, with an eye to the hip hop community and the commercialisation – almost fetishisation – of black/hip hop culture.
Standout sketches include Wu-Tang Financial, using the well-worn trope of the parodied advert to present a dystopian near-future where the proverbial Clan have created a financial planning empire with the tagline, "Wu Tang Clan ain't nuthin to fuck with". Shuffle aside the belly laughs of the ludicrous street speak – cameo Clan members RZA and GZA advising their white American clients with such gems as "You gotta know how to jack this shit" – there's something much more interesting going on beneath the surface. With lines such as "Nowadays, we all know that cash rules everything around us," Chappelle takes a wry, witty route to critiquing the country he lives in whilst not being afraid to get his hands dirty playing with overblown stereotypes.
Recurring character Clayton Bigsby – a notorious blind white supremacist unaware that he's actually a black man – is similarly notable for his critique of black/white relationships. Characteristics of Chappelle's leaning towards the controversial, the original Clayton Bigsby sketch takes on the dreaded 'N word' with a schoolboy glee.
Elsewhere, however, some of the material falls down for lack of subtlety: there's very little to be said about Blackzilla, for example, a giant black man who attacks Tokyo, Japan with his "one-eyed brown snake"; a three minute social commentary on the fact that, apparently, Japanese people are short.
It's in the stand up sections that Chappelle shines, working his laid back delivery over some whipsmart lines. Equal parts Richard Pryor and Snoop Dogg, he's charming, personable, offering up commentary on himself, the show and the sketches he's introducing.
The show suffers, however, from being on commercial television – "It's not HBO, it's just regular ass TV" – with Chappelle being cut off in his prime, perpetually teetering on the edge of a commercial break. And even Chappelle's considerable talent as a wit is stretched to breaking point over the course of the series, and some of the material offered up here verges close to unsavoury. Women, it would be fair to say, don't get much of a fair deal.
Amongst the hoopla surrounding Chappelle's quitting his own show, Chappelle himself admitted to wondering whether the show reinforced the stereotypes he wanted to critique, and that the long working hours were taking him away from the stand up he loved.
Comparing this series to Chappelle's previous stand up DVDs – raucous, wry, always on the money – and his more recent work, this reviewer thinks he made the right choice in calling it a day.
Chappelle's Show Season One is released on February 1 and can be pre-ordered from the Den Of Geek Store.