News
Celebrating the finest Dolph Lundgren movie: Rocky IV
On the eve of The Expendables, we salute the first on-screen meeting of Sylvester Stallone and Dolph Lundgren. It's the peerless Rocky IV…
"I guess what I'm trying to say is, if I can change, and you can change, everybody can change."
First things first. Please don't look at the title of this piece and think that it's being churlish in any sense. It's not. I could easily have proclaimed many others of Dolph Lundgren's movies, from Masters Of The Universe and The Punisher, through to Showdown In Little Tokyo and Universal Soldier. I'm a fan of the man, let's make no mistake.
But, let's be clear too that, in my mind, there's one film that he's made that towers above them all. A movie that's the epitome of 80s cinema. A movie that takes pride of place on the resume of everybody concerned. That, ladies and gentlemen, is Rocky IV, a film as beloved to me as The Goonies and Back To The Future, all of which will be playing on loop in my dream 80s cinema that I've yet to buy.
For is there a film that more succinctly sums up the decade than Rocky IV? Wall Street, perhaps, can build a case, but the gleefully enjoyable third sequel to Best Picture Oscar winner Rocky is, for many, the absolute highlight of the franchise, and as representative a film of the 80s as you're ever likely to find.
Few critics would argue, of course, that Rocky IV is a better film than the original. Yet, for sheer, brash, outlandish fun, it surely got no better. Blockbuster entertainment in the 80s was no more flag-waving, no more vacuous and no more fun than the film where Sylvester Stallone's slurring boxer meets Dolph Lundgren's machine of an opponent.
It's the poster child for a throw-everything-at-the-wall sequel, no matter how daft, and for sitting back looking surprised when so much manages to stick.
This, ladies and gentlemen, is as good an 89 minutes of fun as the decade delivered.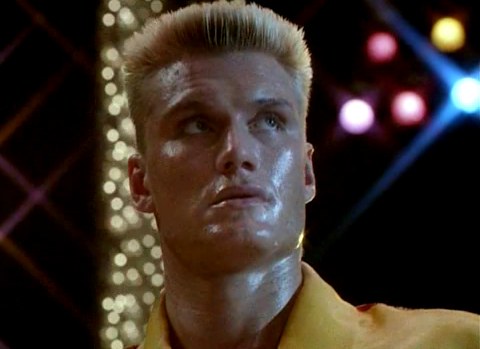 "I win for me! FOR ME!"
The plot of the film is all but incidental, save for the whole thing is an excuse to pit Rocky against a seemingly eight foot robot from Russia, which is where the mighty Dolphster comes in.
Trained with the aid of technology that'd give Clive Sinclair the shivers, it's established early on that Lundgren's Ivan Drago can hit harder than anyone in the world.
Clearly feeling the need to pad out the journey to the ultimate East vs West showdown, Stallone, the writer (for he penned and directed the film too, of course), bumps off Carl Weathers' Apollo Creed in an exhibition bout (not before James Brown has come along and sung Living In America, one of many memorable songs that contributed to the best selling soundtrack to the film), but uses this, too, to give Lundgren's Ivan Drago one of his few lines in the film.
The beauty of such lines, however, is, from what I can tell, pretty much every one of them has made it onto a t-shirt somewhere. Taking pride of place? The heartless, frankly scary Drago uttering "If he dies, he dies."
You're a beast of a man, Ivan. And we like it.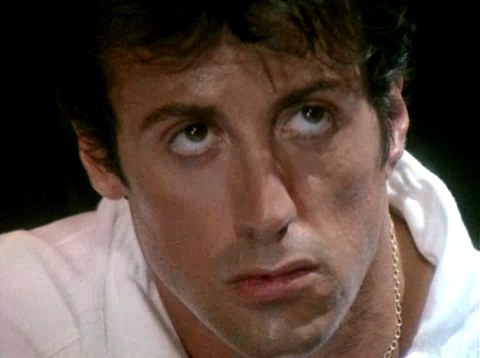 "You Will Lose"
The demolition of Creed clearly establishes that Drago is a man who can kill in one punch, a trick we didn't really see on the screen again until Bruce Willis perfected it in the early 90s action flick The Last Boy Scout. It also means that, surely, Rocky is facing his toughest opponent ever, replete with undertones of serious steroid abuse on behalf of the Russia.
Brilliantly, then, in a script full of logical narrative choices, Rocky agrees to the bout. On Christmas Day. In the middle of Russia.
Naturally, all of Russia hates Rocky, and naturally, the KGB trail him while he goes through the obligatory training regime. Meanwhile, Drago remains plugged into assorted machines and smashes seven shades of shit out of anything put in the way of his fists.
And then comes the genius of Rocky IV, the masterstroke that defines the film and guaranteed the film its spot in this book. We're talking about that fight.
On the one hand, you can't help but love it, because the two actors are clearly smacking the shit out of each other for real (one Lundgren punch sent Stallone scurrying off to hospital, while also in the midst of the production, Carl Weathers had to be persuaded not to quit after Dolph reportedly smacked him unconscious).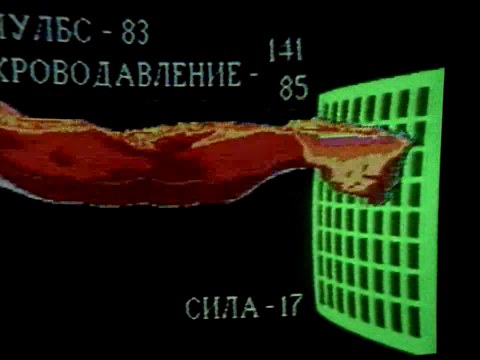 "He's not human. He's like a piece of iron."
But there's a further joy here, and it's goosebump cinema of the highest order. For we're talking about the part where the hostile Russian crowd suddenly, and for no apparent reason aside from the fact that Rocky's landed a few punches on Drago, turns in Balboa's favour.
Yup, the whole of Russia – who would have feasted on his corpse not ten minutes earlier – seem to be chanting Rocky's name. Sylvester Stallone solved the Cold War in 89 minutes, where world leaders took years.
The beauty of Rocky IV, of course (which is the most commercially successful film in the entire saga), is that plausibility is chucked out the window so early on that you've no choice but to enjoy it all. And Ivan Drago, surely, is the best fighter – Mr T included – that the series' sequels dreamed up to throw at the Italian Stallion.
Played with Terminator-like ice by Lundgren, the first four-fifths of the film build him up as an undefeatable Colossus, only to practically have him crying like a baby after a few good rounds with Balboa.
America wins, Russia blubs, and blockbuster cinema of the 1980s has its poster child. And Mr Lundgren has his most iconic role, two films into his movie career.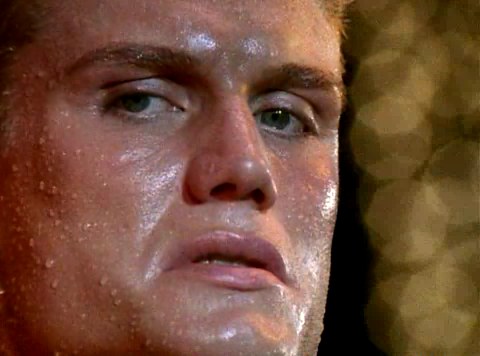 "To The End" 
Of course, the Rocky franchise took a half-decade hiatus after Rocky IV, with the fifth film turning up in 1990 to universal derision, and rightly so. It chucked away the gloss and the razzamatazz that had crept into the series, went all gritty and melancholy, and paid the price for it. It did try and inject some realism, to be fair, by noting the Drago fight had left Rocky with the potential of brain damage, but that was as much as it managed.
And while the franchise ended on a far more impressive note with the surprisingly good Rocky Balboa in 2006, it never stood a chance of once again capturing the majesty of the fourth outing. 
Because Rocky IV is, we contend, one of the most downright fun blockbuster sequels that Hollywood has ever produced. Stallone was at the height of his powers, could get away with any batty idea that went through his head, and pretty much did. Plus he found the perfect foil in Dolph Lundgren, putting together a wonderfully implausible boxing match in the process. By any measure of realism, Rocky would be taken out in the first round. But realism is not what Stallone was aiming for here.
What's more, whether he meant it or not, Stallone delivered a film that leaves as big a cheesy grin on your face as any other film of the same decade. And while there are oddities – the 80s movie robot that bizarrely pops up early on, and Talia Shire's Adrian looking for something to, well, do – this is slam-bang entertainment par excellence.
Now bring on the Drago movie. Even today, we'd still pay good money to see it…