News
Celebrating Ron Howard: Child actor who made good
Yesterday was Ron Howard's birthday. Join Gaye in celebrating an actor-turned-director who doesn't always get the credit he deserves...
We recently helped spread the good news that an eagerly anticipated film of Arrested Development has improved its odds of success substantially by bringing Michael Cera back into the Bluth family fold.
Director Ron Howard, who had been involved with the show as narrator, has been linked with the big screen version from its earliest rumored whisperings. And we think a film project of Arrested couldn't be in better hands.
We're extremely partial to a few of Mr Howard's directorial efforts, Night Shift, Willow and Parenthood being three favourites, and can recognise his talent even in those films we're less impressed with: The Da Vinci Code. But we can't think much of a film based on a book with such a faulty, flimsy premise, so we're willing to go very slack with any criticism there, except in choice of material.
Of all his achievements, perhaps the most significant is the least visible. And that's simply that Ron Howard seems to have remained such a nice, normal guy in an industry that often spins youths into flawed adults generation after generation. 
What can we base that impression on? Well, in truth, nothing concrete: a few interview clips through the years where he comes across as a very likeable, good-natured guy, a marriage lasting since 1975 (certainly a feat in itself in and around Tinsel Town), his inclusion of his less high profile younger brother in nearly everything he does, and that he also wrote the story for Parenthood (with Lowell Ganz and Babaloo Mandel). It's hard to imagine anyone unstable being able to write about families with such candor, humour and, for this writer, grace.
There are far, far too many stories of child actors gone wrong, either during their fame or afterward when the flame flickers, with addictions to drugs and alcohol, careers that dived and slid into skin flicks and crimes ranging from disorderly conduct, DUI offences, assault and abduction to murder. Some have died of overdoses, intentional or accidental, others in shootouts with police.
There are, as well, child stars who've gone on to become talented, respected actors in adulthood, and those that triumphed over their addictions and mistakes.
If Mr Howard isn't currently writing his autobiography, we sure hope he does one day because, unless there are some very well-concealed skeletons in what would have to be a very cavernous closet, he's done everything right – from a much earlier start than most UK audiences may realise – and we'd hope he'd share his secret of maintaining integrity and grit in what can be a grim and grimy business.
This side of the Atlantic, most may know Ron Howard from either his Happy Days role as Richie Cunningham, or the 1973 movie that inspired it, American Graffiti. But for millions of Americans, Ronny Howard was Opie Taylor, son of a sheriff of a small, rural town in North Carolina on the The Andy Griffith Show.
The show originally aired from 1960 to 1968, beginning when Ron Howard was about five years old and, due to the long run of eight seasons, was guaranteed to be known for decades past its 60s sell-by date, in rerun heaven.
That's how most Americans will know the show, and Ron Howard. In syndication it became a staple of afterschool TV, shown at about 3:00pm, before the cartoon block when kids could sneak in a few hours of boob tube viewing before dinner and homework. With the explosion of cable channels a decade or two after that, the show, which never fell out of favour with the public, enjoyed a revival and resurgence in popularity during Nick at Nite's TV Land spots.
The sitcom, as dated as it may seem and with its simple, uncomplicated storylines of discovering moonshine stills in the hills, county fairs and blue ribbon pickle recipes, has remained popular even in this high-tech age. No doubt, in part, because every cast member was the loveable sort, including Andy Griffith as involved dad, Andy Taylor and Frances Bavier as huggable Aunt Bea. It's also the program for which the brilliant Don Knotts was first and best known. The show is among the few, now considered 'classics', that have become a sort of haven from the headlines of the current crop of child and adult actors and what they get up to.
The Andy Griffith Show is, very likely, running on some channel somewhere as you read this.
As a mini celebration of the good news of Mr Howard's next project (after Angels & Demons which we're happy to ignore), we'll share a bit of early Ron Howard and his remarkably natural talent at a very young age. It's a personal favourite scene of this writer's – one of many that demonstrated an inborn ability in front of the camera that most UK fans might not get a chance to see of someone they know primarily as a teenage actor and adult director/producer.
From the first season (1960), Episode 8, Opie's Charity:
And let's not forget Clint Howard – Ron never does – pictured here in a very early, non-speaking and uncredited appearance onThe Andy Griffith Show (1962), Season 2, Episode 17, The Jinx: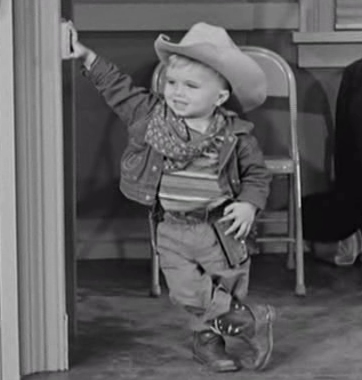 Thanks to a clerical oversight, some of the full episodes of The Andy Griffith Show with Ron Howard are copyright-free and in the public domain.
They're available to download or watch streamed here if you're still curious about the earliest days of Ron Howard's career that endeared him to a nation long before he was friends with the Fonz or floated cocooned aliens in indoor swimming pools.
Sadly, the clips don't include the famously familiar (to Americans) whistled intro music, The Fishing Hole, which is still under copyright.