News
Celebrating Ferris Bueller's Day Off
"Bueller…Bueller". Carley's tribute to John Hughes continues, as she takes the day off, Ferris Bueller style...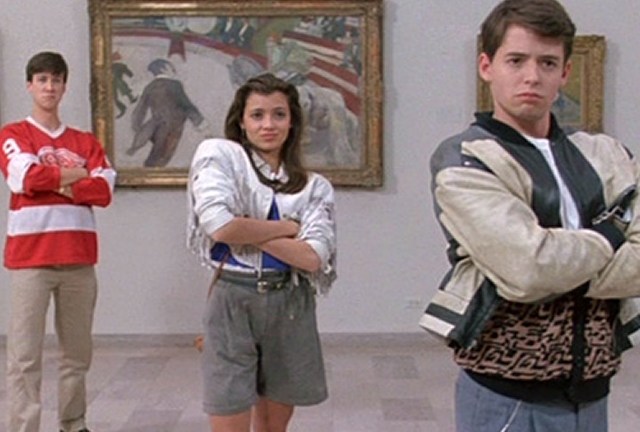 "Life moves pretty fast. If you don't stop and look around once in awhile, you could miss it."
This is the mantra for Ferris Bueller, the oddly, yet fantastically, named high school senior who thinks that to waste a sunny Chicago day in school would be a crime and instead ropes his hypochondriac best friend Cameron and his girlfriend Slone into kicking back and spending the day taking in everything the city has to offer.
After dolling himself up and convincing Cameron not only to go with him, but to take his father's Ferrari for the ride, he sneaks Slone out of class by telling the school her grandfather has just died. Cue Ferris and the gang speeding off from the suburbs to spend the day taking in a baseball game, sightseeing and having lunch in the fanciest restaurant in town ("You're Abe Froman…The Sausage King of Chicago.").
If only life was that simple? Well in Ferris' world it is; he is adored by his parents and all the kids at school love him and start a 'Save Ferris' campaign after the reason for his day off becomes a bit of an urban legend. However, there are two people who want to rain on his parade: his sister Jeanie and the school principle Ed Rooney.
Jeanie cannot get over the fact her brother can do no wrong and spends the day trying to prove to everybody Ferris isn't the saint they all think he is. But she ends up getting herself into trouble, gets arrested and meets up with an very young Charlie Sheen who seems to make her day improve vastly.
Rooney doesn't have such luck though. Determined to catch Ferris out he spends the day chasing his tail and having a number of run-ins, including one with the family dog.
The simple joy of this film is that Ferris gets to do what we all wanted to when we were in school and escape, even if it is just for the day, and do whatever we want.
Broderick's portrayal for Ferris is more than likeable; he is the best friend you wished you had when you were a teenager, making the best of every situation and making sure whatever happens, the end result always favours him.
Although Hughes slips in moments of slapstick comedy, especially around Jeanie and Rooney's failed attempts to catch Ferris out, there is another side to this movie which Martin observed in his article recently. This movie is about getting the early preview of what freedom is going to be like. Once you're out of school you can enjoy it every day but it just doesn't mean as much to you.
There is also the fact the all three of the escapees are about to move on with their lives: Ferris and Cameron are about to go to college and who knows if their friendship will stand the test of time. There is also the fact that Ferris and Slone's relationship probably is not going to last out of high school, so taking the day gives these bonds of friendship and love one big final hurrah.
After Ferris Bueller's Day Off, Hughes only released one more teen-centred film, the rather tepid Some Kind Of Wonderful, but I do like to think of this as his swan song. Goodbye to the teenage years and onto something completely different.