News
Carrie Fisher Was to Have Key Scenes in Star Wars: Episode IX
Carrie Fisher's recent passing has reportedly affected 2019's Star Wars: Episode IX, since she her role was allegedly bigger.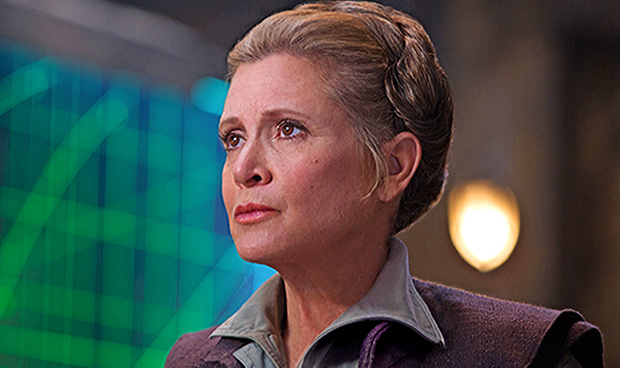 The tragic passing of Carrie Fisher on December 27 remains one of the most heartbreaking events to hit the Star Wars fandom. Fortunately, a modicum of solace stemmed from the revelation that Fisher's role reprisal as (former princess) General Leia Organa for this December's Star Wars: Episode VIII was sufficiently completed. However, the plans for 2019's Star Wars: Episode IX will not get off quite that easy, since Leia was apparently set for a bigger role.
Insiders close to the Star Wars bigwigs at Disney are telling The Hollywood Reporter, that meetings are occurring to help decide the fate of Carrie Fisher's iconic character. While Leia's return in 2015's Star Wars: The Force Awakens was strictly in a supporting capacity with a few fleeting moments of nostalgia, her role in follow-up Episode VIII was going to be larger, especially after the death of Han Solo. Moreover, in what might have formerly been a spoiler for Episode VIII, Leia's role was reportedly set to be even bigger in Episode IX.
According to the report, two key scenes were in the works regarding Leia's arc in the remaining two films in the current Sequel Trilogy. Firstly, and obviously, a big reunion was planned with her twin brother and reclusive Jedi Master Luke Skywalker, who would presumably reemerge from his voluntary hermitage on the planet Ach-To with new ally Rey in tow. Secondly, Leia was to have a fateful confrontation of some kind with her son Ben Solo/Kylo Ren; the kind of thing that tends to happen with families after a creepy case of patricide. Whether some of those beats were planned to occur in Episode VIII or Episode IX is still unclear.
Disney's ultimate decision will certainly pique the interest of director Rian Johnson, who completed shooting Episode VIII back in July 2016, now facing the possibility of the post-production process becoming a lot more chaotic in the buildup to the film's December release. However, it also deeply affects appointed Episode IX director Colin Trevorrow, who will reportedly arrive in Los Angeles the week of January 10 to meet with Lucasfilm president Kathleen Kennedy regarding options for what could be a seismic shift in the established story for the 2019 Sequel Trilogy closer.
Indeed, if Carrie Fisher's Episode VIII footage represents a fragmented arc, then the quandary could center on whether it's worth completing in Episode IX by way of the same amazing, but morbid digital techniques that revived the long-dead Peter Cushing for an impressive (and noteworthy) role reprisal in the recent Rogue One: A Star Wars Story and, coincidentally, gave the film a brief glimpse of a de-aged version of Fisher's character as she appeared in 1977's A New Hope. Or, will Episode VIII require a bittersweet alteration to Leia's fate?
Fortunately, unlike the mad scramble on the production of 2015's Furious 7 in the aftermath of the late-2013 death of its star Paul Walker, the Star Wars team have the luxury of time to decide how to proceed with the Leia dilemma. It's a situation that's not exactly unprecedented in the Star Wars sphere, especially after director Rian Johnson had to adjust his Episode VIII plans after late changes made to The Force Awakens by its director J.J. Abrams. Plus, there was the highly-publicized reshoots of Rogue One, which, among other things, not only added a crucial prologue, but saw serious changes to the film's ending.
Star Wars: Episode VIII is, nevertheless, still scheduled to complete its hyperspace jump to theaters on December 15.