News
Captive State Trailer and Release Date
Rupert Wyatt gives us both sides of an alien invasion in Captive State.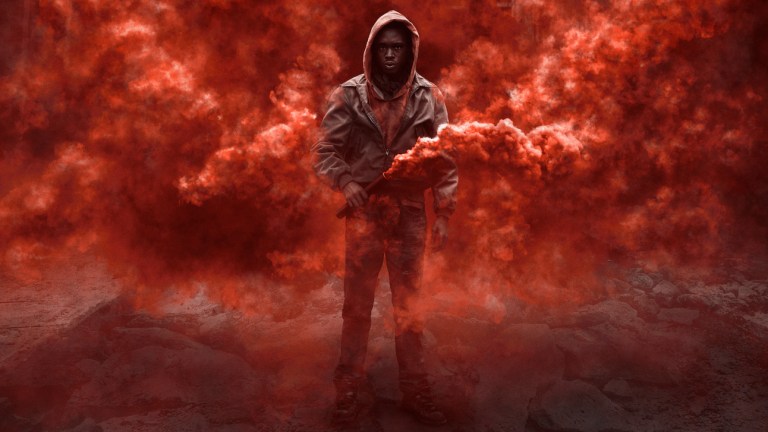 Captive State is an alien invasion movie that carries elements from films like The Purge, Cloverfield, Children of Men, V for Vendetta, colliding with an array of other sci-fi (and TV viewers may, in the very least, find plot parallels to the recently cancelled USA Network series, Colony).
Rupert Wyatt returns to sci-fi with the film after he followed up 2011's Rise of the Planet of the Apes with 2014 crime movie The Gambler. Indeed, Captive State is set 10 years after a successful alien invasion in a world controlled by propaganda. Crime and poverty have been wiped out (apparently) and – per said propaganda – there's absolutely no reason to fear the giant space rock that hovers above the city. 
Captive State Trailer
The first full Captive State trailer has arrived.
As we have seen in the previous Captive State teasers, human "collaborators" and "dissidents" duke it out whilst the alien overlords watch from the sky. This time, however, we get brief glimpses of the frightening protean alien invaders amongst what looks like a fairly charged commentary on our own current political climate.
Here are the two teaser trailers, which each embody the propaganda messages utilized by the occupying alien invaders.
Captive State Release Date
Captive State is scheduled to arrive at theaters on March 29, 2019.
If you're marking your movie calendar, you can also check out our list of must-see movies of 2019.
Captive State Details
Wyatt wrote the film alongside Erica Beeney (The Battle of Shaker Heights), and John Goodman stars alongside Vera Farmiga and Ashton Sanders (Moonlight). Plot details are still thin on the ground – but the film has a new viral website for us to hunt for clues. Standing in front of a bank of screens showing The White House, Goodman appears to be an authority figure of some kind, and it seems like Sanders is on the run for the rebellion, but it's hard to tell from a trailer that's all about misinformation.  
The film seems to be touting the line, "the phoenix will rise." – While that's a conventional metaphor in just about any genre, this is the kind of movie that could very well mean that literally.
Joseph Baxter is a contributor for Den of Geek and Syfy Wire. You can find his work here. Follow him on Twitter @josbaxter.