News
Captain Underpants Movie: Trailer, Release Date, Cast, & Everything Else We Know
Captain Underpants is being adapted for the big screen with Kevin Hart, Ed Helms, and more. Here's everything else.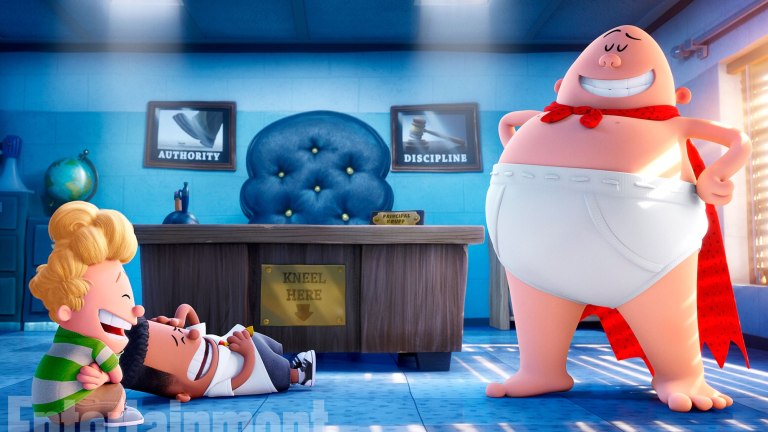 If you're DreamWorks Animation, what would be the greatest sounding thing to you in 2017? How about an animated film starring the voice of Kevin Hart?! Yeah, that works for us too, and that is before we realized that it's based on Dav Pilkey's popular children's book series of the same name, Captain Underpants; this clearly isn't going to exactly be a Disney animated film.
Captain Underpants Trailer
The first trailer for Captain Underpants has arrived! Check it out below:
Captain Underpants Release Date
This animated gift will drop on June 2, 2017.
Captain Underpants Story
The official synopsis for the film goes as follows:
Two mischievous kids hypnotize their mean high school principal and turn him into their comic book creation, the kind-hearted and elastic-banded Captain Underpants.
Captain Underpants Cast and Crew
In the titular role of Captain Underpants/Mr. Krupp is Ed Helms. He will also face off against his antagonist Professor Poopypants, voiced by Nick Kroll. However, the film's marquee name is likely Kevin Hart in the part of George Beard, one of two children who hypnotize their authoritarian principal into making an utter arse of himself. The other child is voiced by Thomas Middleditch. The picture also features the voices of Kristen Schaal and Jordan Peele.
Captain Underpants is additionally directed by David Soren, who is best known for also helming the DreamWorks Animation film, Turbo. More eye-catching though is that the screenplay is from Nicholas Stoller who wrote the last two Muppets movies, and wrote and directed the Neighbors films, Forgetting Sarah Marshall, and Get Him to the Greek.