News
Captain Marvel: Release Date, Trailer, Cast, Powers, Story Details, and News
The Captain Marvel movie will bring back some familiar faces to the MCU. Here's everything you need to know!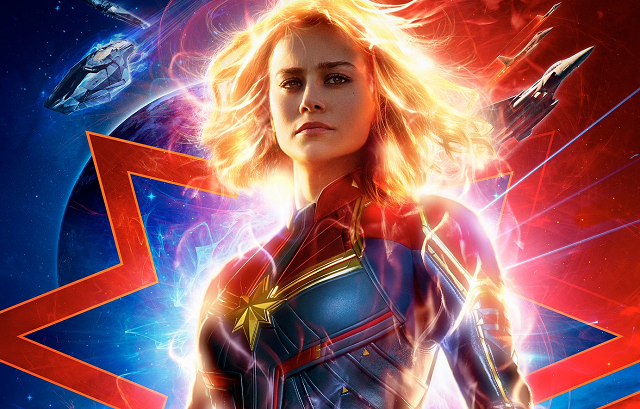 Carol Corps, assemble! After far too long, Captain Marvel finally arrives in March 2019 as the Marvel Cinematic Universe's first movie headlined solely by a woman. Anna Boden and Ryan Fleck (Mississippi Grind) will direct the Captain Marvel movie from a script by Geneva Robertson-Dworet, Nicole Perlman (who famously helped develop Guardians of the Galaxy for the screen) and Meg LeFauve (The Dangerous Lives of Altar Boys, Inside Out).
So where does this movie fit in the Marvel timeline? Easy, it's a prequel set in the 1990s, which makes it basically immune to the tricky ending of Avengers: Infinity War (even though she was teased by that post-credits scene). Steve Rogers is still on ice and Tony has yet to become Iron Man, giving Carol plenty of room to develop as a hero in her own right.
Higher, further, faster, more.
Captain Marvel Trailer
Check out all the Captain Marvel footage that has been released so far…
We went into detail about some of the questions raised by this trailer right here.
We broke down all the cool Marvel Easter Eggs and history hiding in the trailer right here.
Captain Marvel Release Date
Captain Marvel opens on March 8, 2019, which just so happens to be International Women's Day, a global day celebrating the achievements of women and calling for equality. A Coincidence? We think not.
The full schedule of upcoming Marvel superhero movies can be found here.
Captain Marvel Review
The official review embargo for Captain Marvel lifts on March 5. We have a roundup of social media reactions from the first screenings here.
Here's a preview of Kayti Burt's thoughts…
Captain Marvel Cast
The full Captain Marvel cast includes: Brie Larson, Samuel L. Jackson (with both eyes!), Ben Mendelsohn, Djimon Hounsou, Lee Pace, Lashana Lynch, Gemma Chan, Algenis Perez Soto, Rune Temte, McKenna Grace, with Clark Gregg, and Jude Law.
Check this proof out, though…
This will be Clark Gregg's first appearance in a big screen Marvel movie since The Avengers. This makes sense since Captain Marvel is a period piece that takes place in the 1990s. Including Djimon Hounsou and Lee Pace, who both played Kree warriors in Guardians of the Galaxy is a nice touch, too. It looks like we're going to learn quite a bit about the Kree in this movie.
Jude Law is Dr. Walter Lawson, who will be a mentor to Larson's Carol Danvers as she comes into her superhero powers. However, if you know your comic lore, you already guessed that the Walter Lawson who identifies as Mar-Vell is also not the original Dr. Lawson. That is an identity assumed by the superpowered and heroic Captain Mar-Vell, another member of the Kree. That being said, the clips that we've seen of Law's character in the trailer have raised more questions than answers.
And he might not be the only other Captain Marvel joining the party. As we suspected, Lashana Lynch joined the cast as Maria Rambeau, the mother of Monica Rambeau, another character who has taken the mantle of Captain Marvel. In fact, she was the first women to do so. While Maria doesn't have any powers, she is a fellow US Air Force pilot. It sounds like Maria will be an important part of Captain Marvel, as one of Carol's oldest and most trusted friends. While Monica is just a kid in this movie, it's set in the mid-1990s, which positions her to be an adult in time for future Avengers movies. Any guesses on what she's been up to in the meantime?
Ben Mendelsohn is apparently the film's villain, a Skrull leader named Talos.
Gemma Chan (Humans) is Minn-Erva, a Kree spy who was first introduced as an enemy to Captain Mar-Vell, Carol Danver's predecessor. Minn-Erva was created by Scott Edelman and Al Milgrom in 1977's Captain Marvel #50. 
McKenna Grace will play a young Carol Danvers.
Annette Bening will play a Kree scientist, and it's rumored that she will be Carol Danvers' mother. Perhaps that's meant in a more symbolic sense, and Bening's character will be the one who fused Kree DNA to Carol's.
Stan Lee will make one of his posthumous cameos. Captain Marvel writer Kelly Sue DeConnick will make a cameo as well.
In decidedly less human news, Carol's beloved alien cat, Chewie, will be going by Goose in this movie. We assume it's an issue of rights to the name. It's a bummer that the Flerken's name had to change, but at least it's still a cool reference!
Kenneth Mitchell will play Joseph Danvers, Carol's father, and Colin Ford was cast as Steve Danvers, Carol's younger brother. Comic fans will recall that Carol's family hasn't played a major role in her life, and with good reason. Her father, a military officer, was abusive. When he had to choose one child to go to college, he opted to send Carol's (less-academically-promising) brother Steve over her, which influenced her decision to join the military. It will be interesting to see how much of that carries over. The movie has already made Steve younger and trimmed away a third sibling, Joe Jr., so expect more edits to Danvers family life.
Robert Kazinsky, Vik Sahay, Ana Ayora, and Chuku Modu have all been cast as characters that have yet to be announced.
Captain Marvel Powers
So who is Carol Danvers and what are her powers?
Well, Marvel Studios head Kevin Feige told us to get ready, because the MCU version of Captain Marvel is "a hero who is more powerful than any hero we've ever introduced."
And he's right. Captain Marvel has Thor-level strength and relative invulnerability, energy projection, and the ability to fly – even in space. Look at it this way, Carol Danvers is an Air Force officer with air combat experience. She's already a badass in the skies. Now someone who has the training to fly combat missions in advanced fighter jets will be able to kick ass in the air…and she won't need a plane to do it.
Very few flying characters have that particular kind of skill set, so she should be a welcome addition to the Marvel Cinematic Universe.
Captain Marvel Story Details
Here's the official synopsis from Marvel:
Set in the 1990s, Marvel Studios' Captain Marvel is an all-new adventure from a previously unseen period in the history of the Marvel Cinematic Universe that follows the journey of Carol Danvers as she becomes one of the universe's most powerful heroes. While a galactic war between two alien races reaches Earth, Danvers finds herself and a small cadre of allies at the center of the maelstrom. 
We know that this movie is an origin story for Carol, but don't let that fool you – we won't be watching her acquire and explore her powers in the same old tired beats. The creators made a concerted effort to subvert the usual origin story, in an effort to provide a story as fresh and exciting as its hero.
The movie is being positioned as a standalone film, as much as anything in the MCU can be. Carol Danvers is slated to appear in Avengers: Endgame, so Captain Marvel will function as her introduction to the audience, as well as a chance to get some long-awaited answers on characters we already know and love, like finding out what happened to Nick Fury's eye and seeing Coulson as a young operative. In fact, we'll get to see Fury and Coulson's meet-cute, as Clark Gregg called it. Samuel L. Jackson has been teasing some other potential elements of the story, too.
We're also getting the chance to see Ronan the Accuser in his younger days, and a chance to learn more about the Kree, as that Kree-Skrull war plays a major role in the film. The movie has also been described as a '90s action movie, so we can expect big action set pieces.
There will be some of the elements that longtime fans are used to, like Carol's background as an Air Force pilot and part-human, part-Kree DNA. But it seems the movie will be shaking things up a bit, too, as Carol is shown in the trailer as having no real memory of her human life, just brief flashes. There is some basis for Carol having memory problems, as she had blackouts when her Ms. Marvel identity was split off from her personality as Carol Danvers and later briefly lost her memories in a fight with Rogue and again from her brain lesion. While no X-Men will show up in this movie, it will be interesting to see how this movie does something new and different with a familiar concept.
We have more details about how Captain Marvel connects to the other Avengers movies right here.
Captain Marvel Poster
Check out these Captain Marvel posters…We've got alien ships, the Captain Marvel star logo, some Princess Sparkle Fist action, and of course, an alien overlord in the form of a cat.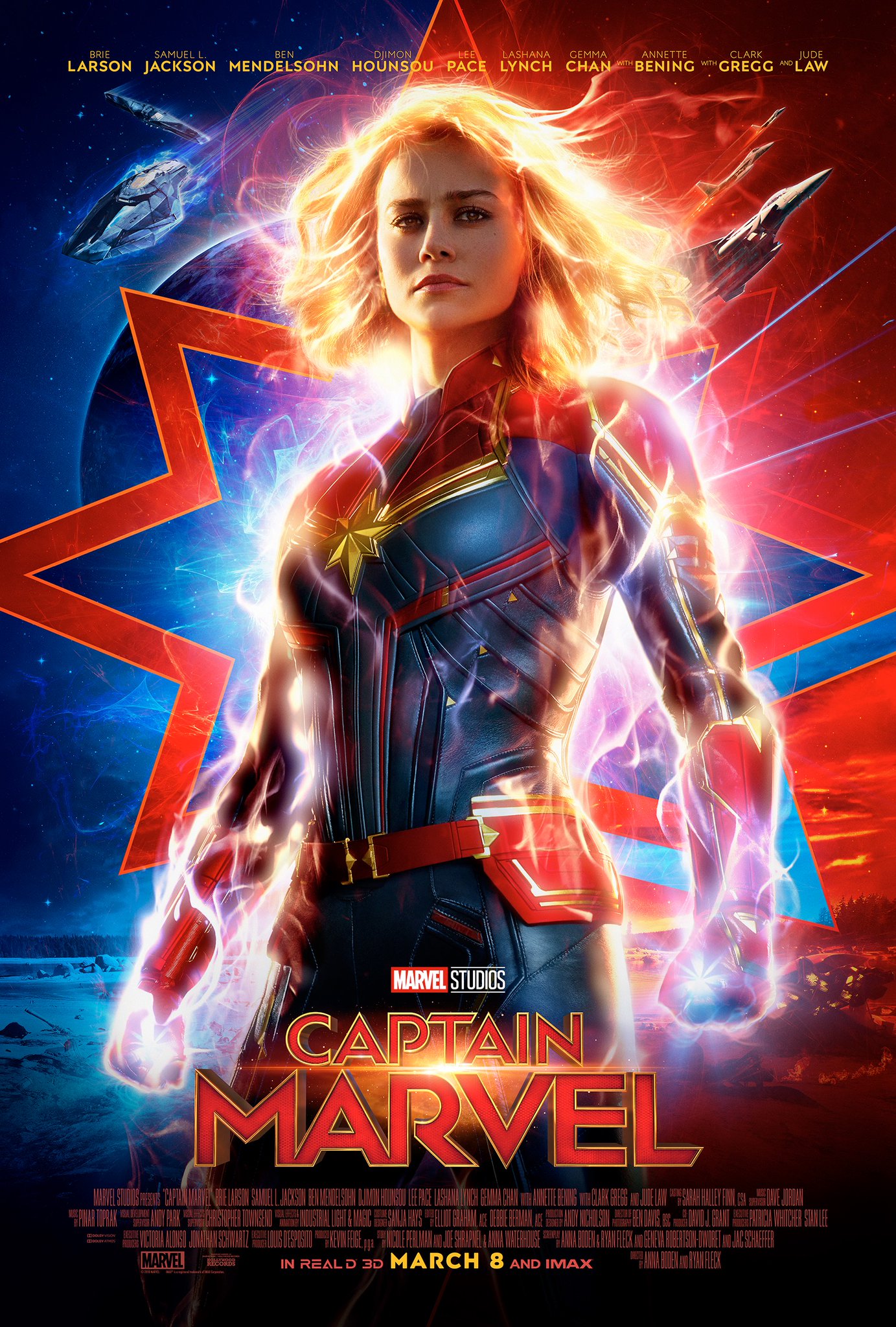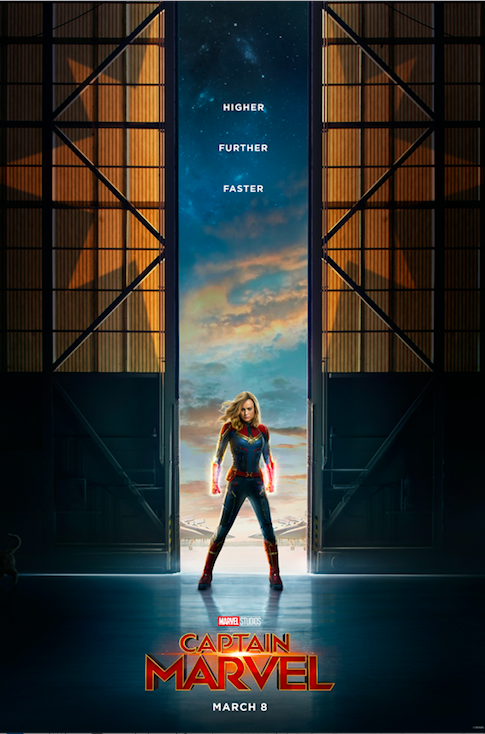 We'll update this with more information as we get it!
Mike Cecchini is the Editor in Chief of Den of Geek. You can read more of his work here. Follow him on Twitter @wayoutstuff.