News
Captain Marvel Opening Weekend Box Office Numbers Blast to Glory
Marvel has another hit on its hands with Captain Marvel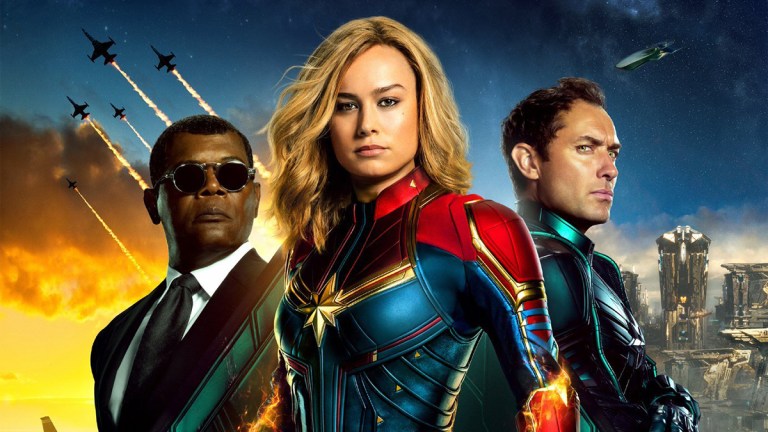 Sadly, despite so many people who were excited to see Captain Marvel in her very first MCU film before it opened last week, Marvel's latest blockbuster gamble didn't pay off – the film tanked at the box office, proving all the gentlemen who staged a boycott and review-bombed the Rotten Tomatoes audience score right once and for all.
Wait, sorry. I was looking at the wrong monitor, that's what went down in Didn't Happen World – Captain Marvel was a huge hit, and loads of people went to check out Carol Danvers and Co. Vs Some Bad Guys in the 90s. Let's crunch doze numbaz!
read more: Complete Guide to Captain Marvel Easter Eggs
Captain Marvel ended up scoring the sixth biggest opening weekend in history with $455 million worldwide. The Brie Larson-starring solo adventure came second to Avengers: Infinity War, which racked up an eye-watering $640.50 million last year. Captain Marvel opened to over $150 million in the US alone, and these figures all but assure Disney and Marvel another $1 billion box office smash, highly impressive for a character the general public knew very little about until her marketing campaign kicked off in earnest.
read more: Captain Marvel Post-Credits Scenes Explained
Domestically (see: U.S.), Captain Marvel's $153 million weekend makes it the seventh highest for the MCU so far, but we're likely to see it drop to eighth place next month, when Avengers: Engame is released.
Here's the domestic MCU ranking:
Avengers: Infinity War – $257 millionThe Avengers – $207 millionBlack Panther – $202 millionAvengers: Age of Ultron – $191 millionCaptain America: Civil War – $179 millionIron Man 3 – $174 millionCaptain Marvel – $153 millionGuardians of The Galaxy Vol. 2 – $146 millionIron Man 2 – $128 millionThor: Ragnarok – $122 million
Captain Marvel also left Warner Bros and DC's 2017 hit Wonder Woman $50 million behind. Patty Jenkins' first Diana Prince project opened to $103 million domestically, with a worldwide total of $228 million. There are no hard feelings there, though – Jenkins tweeted her support for the new Marvel film as it opened, showcasing some art of both Diana and Carol flying high together. "Congratulations team Captain Marvel!" she wrote. "Can't wait to see it and our whole WW crew wish you a great weekend."
The new MCU offering is currently the highest-grossing female-led worldwide opening ever, behind Star Wars: The Force Awakens, which had a massive global opening weekend of $529 million back in 2015.
Critics seemed to enjoy the film, too. Most cited it as a solid effort that left us excited to see what pilot Carol Danvers will bring to the Avengers team dynamic in April.
Only if the very end credits promised "Goose the cat will return in Avengers: Endgame" could the hype be greater than it is right now…
We wrote a little more about what to expect from a Captain Marvel sequel right here.