News
Can Aardman crack America?
Will The Pirates! be the film that gives Aardman the big box office breakthrough in the US that it richly deserves?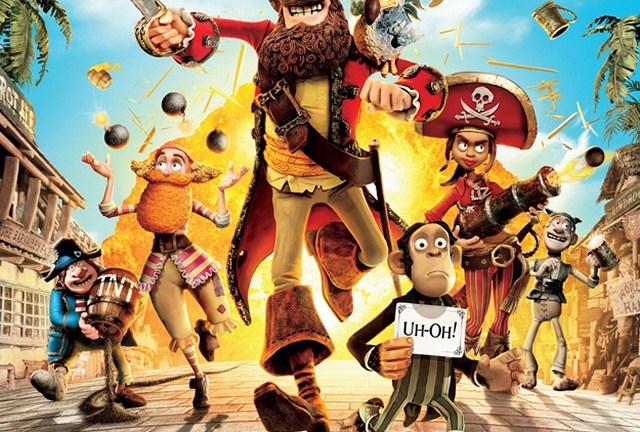 If you ever get an opportunity to talk to anyone in the American animation industry, they have a habit of speaking with utter reverence about Aardman. Go right to the head of Disney, for instance, and John Lasseter is an exponent of the Bristol-based animation studio's work, having first crossed paths with the Aardman crew while he was first showcasing the earliest Pixar efforts, long before Toy Story. Go outside the States, and Hayao Miyazaki is a massive fan, too.
But then Aardman is a one-off. Appreciating that the broader company has many more tentacles that is often realised, it's the glorious stop motion animated films (and Wallace & Gromit specials) that remain its chartermark. Quite frankly, nobody does them better, and a steadfast refusal to make a ton of them in parallel makes the appearance of a new Aardman movie something to be cherished.
Introducting The Pirates!
In the UK this week, then, the wonderfully silly The Pirates! In An Adventure With Scientists arrived in British cinemas. Based on the book by Gideon Defoe (who also wrote the film script), it's bursting with detail, and showcases a level of craft that's hard to find in too many other films. Granted, the models may not be made of plasticine any more, but having been around the sets last year, it's extraordinary just how much work goes into it.
What I loved about going around Aardman was how oddly low-tech it felt. The computers making the film were running Windows XP. The canteen could have been a sixth form common room, had it not been for the fact that every third person seemed to be glued to a walkie talkie. And then there's the infectious enthusiasm of The Pirates! director Peter Lord, who seemed to be wearing the same shirt when I met him as he was on all the reference videos that the animators had at hand. I'm fairly sure he owns more than one, though.
Yet for all the detail, and the clear labour of love involved here (at best, it takes a good five years to plan, build and photograph a stop motion film of this ilk), there's a real challenge ahead for Aardman. Namely: can it crack America?
Chickens Go In, Pies Come Out
It's certainly had a good go before. Its first full-length feature film, also directed by Peter Lord, was Chicken Run. It had the benefit of a pre-scandal Mel Gibson doing the voices, and proved to be a wonderful homage to old fashioned war movies, whilst cleverly working for a range of audiences. It remains the firm's biggest commercial success in America, being the only one of its films to cross $100m at the US box office.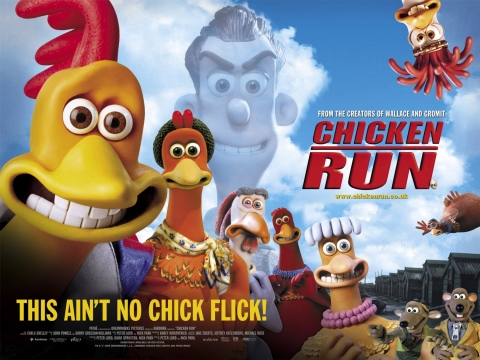 It was the first of three films that Aardman made in a deal with DreamWorks. Lord told me that the studio did eventually come asking for a sequel, in fact, but a little too late to put one into motion.
Instead, Aardman then moved onto the film that its many, many fans had wanted to see: the first big screen adventure for Wallace & Gromit, The Curse Of The Were-Rabbit. Shortly after, it also started work on its first CG project, Flushed Away, which I'll come to shortly.
Wallace & Gromit: The Curse Of The Were-Rabbit was released a full five years after Chicken Run, and went on to win the Best Animated Feature Oscar. Taking worldwide figures into account, it made just slightly less than Chicken Run overall at the box office, with Britain contributing a large amount to its take.
In America, though, the very overt Britishness of the film, something Aardman doesn't compromise, arguably had an impact. The film grossed a disappointing $56m, when it was comfortably better than the other animated films released that year (DreamWorks' own Madagascar, though, would bring in $523m worldwide).
Granted, it's not just a money game, and The Curse Of The Were-Rabbit will be enjoyed for a long time to come. But DreamWorks, inevitably, wanted more from its investment.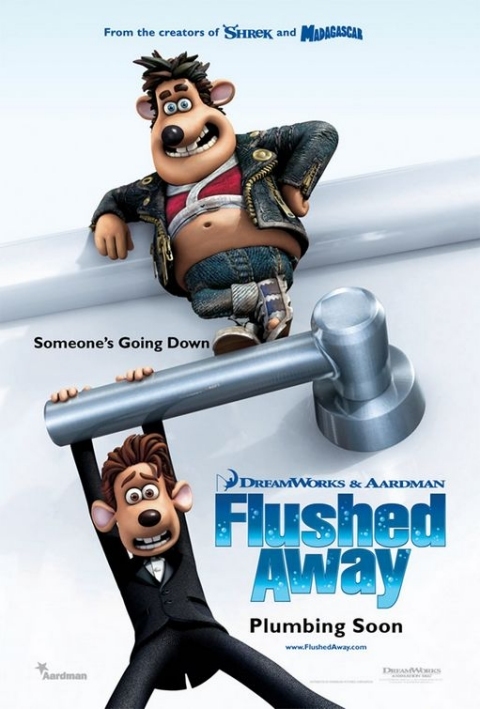 Flushed Away
arrived a year later, and proved a little more divisive. To the Aardman purist, there was something a little different about seeing the firm's glorious character designs in computerised, rather than physical form. I'd argue the film still works, though. There's no shortage of trademark detail and wit, but a worldwide take of $178m, of which just over $64m came from the US, would signal the end of the DreamWorks and Aardman relationship, one film early.
One project lost to the split was Crood Awakening, a film for which John Cleese had originally worked on the script. This was to be a stop motion animated film, but the rights stayed with DreamWorks, which has the impressive looking CG movie The Croods lined up for next year, based on the same material.
Sony
From there, in came Sony. Talking to Aardman, Sony seem less intense bedfellows, allowing Aardman to get on with things with the bare minimum of interference. Whilst nobody we talked to speaks badly of DreamWorks, in some cases enthusing about Jeffrey Katzenberg's passion, the inference was that it was a very hands-on partner (look further afield, and it was the working relationship on Flushed Away that seemed the deal breaker all round, although the split was a friendly one in the end). Sony seems like a more natural fit.
Aardman, then, inked a three year deal with Sony in 2007, in which time it put into production two films: Arthur Christmas, and The Pirates! In An Adventure With Scientists. The deal was renewed in 2010, and last year, the first new Aardman film in five years was finally released.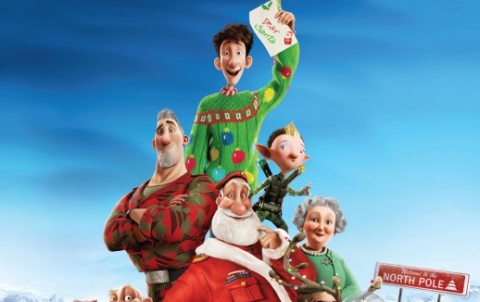 Cards on the table, I loved Arthur Christmas (a film designed in Bristol, and animated mainly in the US). Again, some still brittle at the idea of Aardman doing CG movies, but this one was so full of heart and charm, whilst also being very funny, that it deserved the large success it enjoyed in the UK. In the US, I'm still puzzled as to why it struggled to break through.
On paper, it was a perfect Christmas hit. An accessible, entertaining, exciting family comedy, beautifully animated and at the right time of the year. But much of the audience in the States left it alone. Even appreciating it was competing with The Muppets, Hugo and Happy Feet Two, all released in a similar time frame, its take of $46m was the lowest for an Aardman production to date.
The month before, DreamWorks had cleaned up with Puss In Boots, which took more than three times as much. Bizarrely, it was Puss In Boots that snagged a Best Animated Feature Oscar nomination, too, rather than the far superior Arthur.
It's odd, as Puss In Boots felt, for all its qualities, like a mopping up order. That a big widget had been sold to the moviegoing public, and the sales team were flogging one last batch of refills for it. That might sound harsh, but it was far more production line in flavour than Arthur Christmas. Yet after a five year wait for a new Aardman film, too many people chose not to see it.
Again, people will enjoy Arthur Christmas for years, but why are Aardman films failing to get the box office success in line with their acclaim? And why, since Chicken Run, have Aardman's subsequent features not matched its success?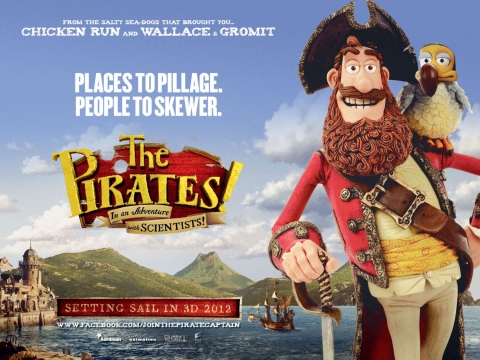 The Pirates! In An Adventure With Scientists
already hasn't been helped by going under a separate title in the US (
The Pirates! Band Of Misfits
) which, in an era where websites post promo material from all over the world, is a gamble in its own right. Sony argues, and it may yet be right, that the film will generally be known as
The Pirates!
anyway.
The bigger challenge, though, is getting people to see it. The Pirates!, again, doesn't compromise on its British roots (just check out the Blue Peter badge), but is that really enough to hold it back from winning over American audiences? Also, and I feel a heathen just for writing it, but isn't the audience for stop motion animated movies more limited than for slick CG affairs? There's no reason why it should be, yet I fear there may be something in it.
Sony has a really big job on its hands to properly push The Pirates! in the US, and sitting in a room in the middle of Britain gives me no obvious perspective on how well it will do so. But I do know this: Aardman deserves a massive hit. It's uncompromising approach, and the quality of its films – The Pirates! include – have delivered, every time, an excellent family film that no other company could have made. Getting that across in a marketing campaign, though, is no mean feat.
Still, with The Pirates!, once again, Aardman has done its bit. Let's hope the broader cinema-going audience, right across the planet, does its part. After its release, it's going to be a long time before we see an Aardman movie again (Nick Park is set to embark on a new stop motion project, which we won't see until 2016/7 we'd guess), and a new CG feature is also in the works. But these are a long way off.
My advice? Enjoy The Pirates! Enjoy it on the big screen. And let's be thankful that Aardman still keeps its standards so high, no matter how many people are watching.
Our review of The Pirates! is here…
Follow Den Of Geek on Twitter right here. And be our Facebook chum here.