News
Can 3D give moviegoing a shot in the arm?
Toy Story 3. Avatar. TinTin. Final Destintion 4. Star Wars. Big films are embracing the 3D revolution, so we take a look at what's going on, and what's coming up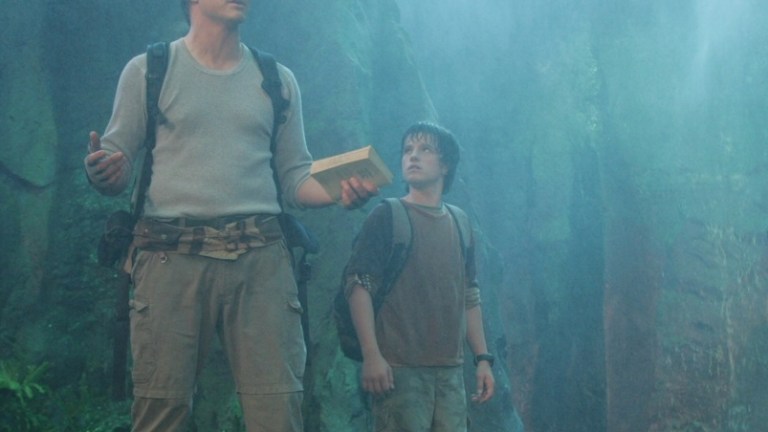 Dig into the summer blockbuster numbers this year, and there's a film that's been bubbling around for a good month or two, tidily picking up a few quid. What's more, it arrived with – in the UK at least – nothing more than a few posters splattered on the side of buses by way of publicity, and yet has closed in on nearly $100m (a figure it should pass shortly). The film? Journey To The Center Of The Earth, the Brendan Fraser-led remake, that has never troubled the top couple of spaces in the box office chart, but has shown the kind of endurance that few big films are supposed to have any more.
The reason for its success, though, is that it's the first major production of its ilk that's in the current generation of 3D. Thus, screens that are equipped to show it have been consistently selling tickets to a film that's been regarded as slight-but-fun, with some terrific 3D moments. You can see our review here.
Cinema is betting plenty on the fact that 3D movies are the next big thing, as it tries to differentiate itself from the increasingly strong home cinema technology that's threatening to pull yet more people away from a night out at the flicks. And while we've seen 3D movies in the past – Nightmare on Elm Street 6 and Jaws 3D spring to mind, as well as a host of 50s titles – thus far it's been treated as a bit of a gimmick.
But not any more. Directors such as George Lucas, James Cameron, Peter Jackson and Tim Burton have shown interest in the potential of 3D, and are busy applying it to their films. The initial work is being done on retooling existing films into 3D, which is why later this year The Nightmare Before Christmas will return to the big screen in that form. Pixar, meanwhile, is working on turning the first two Toy Story movies 3D, before releasing Toy Story 3D after that.  George Lucas has talked about working on 3D versions of the Star Wars movies too, which would be interesting to see, but you do wonder if the bearded one also feels that he's found a new way to bludgeon some blood out of a stone.
What makes this particular 3D revolution different to those that preceded it, though, has been the commitment shown in some brand new upcoming projects. James Cameron is in the process of spending the best part of $200m (or up to $300m, depending on which source you believe) on his long-mooted Avatar, a 3D sci-fi blockbuster that's without doubt the biggest gamble yet for the technology. Cameron is, though, renowned for pushing the technical limits of film whenever he gets behind the camera, and you wonder if it needs someone of his ilk to do the pathfinding for other directors to follow. He's already confirmed that his next film after Avatar will be in 3D too, and that he'll be taking on a small drama or something of that ilk to demonstrate the versatility of the technology.
Before Avatar, though, the next major live-action film to go 3D will be the fourth Final Destination sequel. The third film in the series was once mooted for the 3D treatment, and you suspect that the decision to go with it this time round is behind the delaying of Final Destination 4's release date from the end of this year to next August. It's certainly the kind of franchise that could lend itself to such 3D effects, but should it fail to give the box office for the franchise a shot in the arm, you can bet that FD5 will be ditching the third dimension quicker than half of its cast.
Animated movies are quickly being primed for 3D as well, with both Pixar and DreamWorks very much jumping aboard the bandwagon. Disney and Pixar's future planned films all have 3D as part and parcel of them (kicking off with Bolt later this year), while DreamWorks has also committed to it for Shrek 4 and Puss In Boots, among other projects.
And there's the small matter of Steven Spielberg and Peter Jackson, the pair of whom are currently putting together their trilogy of TinTin movies which – you've guessed it – will also be getting the 3D treatment. Spielberg, of course, has been happy to help break special effects ground before (Jurassic Park being the prime example), although he does still shoot his movies on film stock. And Jackson's mastery of directing effects-driven movies is without question. Remember the short-lived campaign to get Gollum an Oscar nomination?
All this, of course, is well and good. Cinemas finds itself in a position where it needs to prove itself to many people over again, with patrons fed up with an increasing number of aspects of the big screen experience. And thus it's innovating, it's trying new things, and 3D – as many are arguing – is as big a shift as the industry has seen in some time, albeit not a cheap one. It also offers a very real distinction between the big screen and home cinema experience that – in spite of the upcoming 3D home release of Polar Express, for instance – is unlikely to be matched. Scale of screen as much as anything else is surely crucial, after all.
The irony is that the move to 3D may still hit some studios in the pocket. DVD is the most lucrative marketplace for any movie, and yet for something such as Journey To The Center Of The Earth, you can't help but wonder if the spectacle will be all-but-gone by the time it gets to disc, and whether that will hurt sales as a result (many successful IMAX movies have failed to make much of a dent on DVD, simply because a key selling point has been removed). Quite possibly, but we'll find out for sure by the end of the year.
Will the 3D revolution work? That's up in the air too. There's little doubt that a project such as Avatar will soar, but then arguably it would do without the 3D anyway. And will it soar enough? Furthermore, crucially, will it increase the spectacle of the film? It certainly should do, but then does 3D become something that lives purely around a select band of blockbusters, and well-chosen re-releases? That seems to be the case for the time being at least, as try as we might, we can't foresee a day where Mamma Mia 2 or something like Juno would be shot in 3D by default. It does raise a question as to whether Hollywood wants 3D to be a niche addition, such as IMAX editions of movies, or the norm.
Yet it's still early days. And while there are plenty lining up to embrace 3D, there's little doubt that many eyes will be on James Cameron to see if his film can turn around the naysayers. The requirement to see enough screens install 3D projectors has already bumped the film from next summer to December 2009 (arguably a less lucrative slot for a sci-fi movie), and you can't help but feel that there's more riding on it than you'd usually expect for a big blockbuster movie.
Good luck, James. Because, right now, a lot of people are counting on you.