News
Bright at SDCC: Will Smith, David Ayer Hail Netflix
Director and star praise streaming service for greenlighting cops-vs-elves thriller.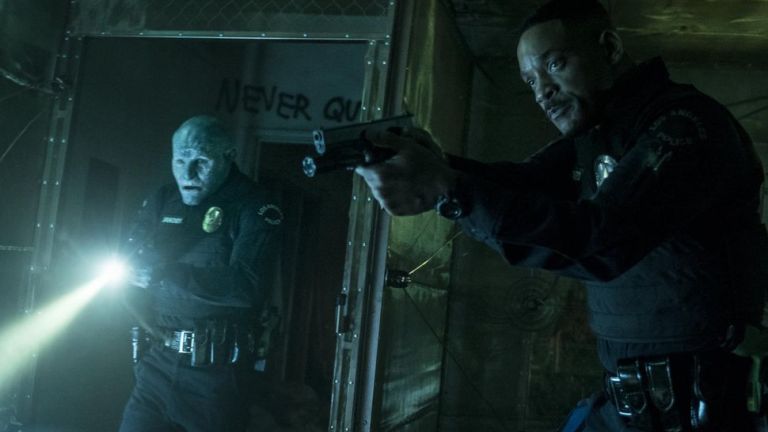 There was one major takeaway from today's Hall H panel at Comic-Con on the upcoming film Bright: filmmaker David Ayer (Suicide Squad) loves Netflix. The streaming service bankrolled the $90 million movie, set in a gritty alternate Los Angeles where elves, orcs and fairies are part of everyday life, as a major blockbuster, with Ayer directing from a script by Max Landis and casting Will Smith in his first Netflix film, along with Edgar Ramirez, Noomi Rapace, Lucy Fry and Joel Edgerton.
All save Landis showed up for the panel, along with producers Eric Newman and Bryan Unkeless, but it Smith and Ayer who dominated the proceedings. Smith fired off one one-liner after another (the movie was like an urban cop thriller "smashed up with Lord of the Rings"), somehow brought The Fresh Prince of Bel-Air into it ("Most of you weren't even born during Fresh Prince!" he mirthfully told the crowd) and said it was refreshing as an African-American to play racism from the other side ("Listen, man, I don't want no orcs in my car!")
But while Smith also extolled the virtues of Netflix — "I'm extremely excited to see where this thing goes" — Ayer was practically sending the company flowers and candy. He described the way Netflix develops projects as "the opposite of what the real situation is with other filmmakers," adding that he expects the company to pull in a lot more A-list talent going forward.
He continued, "Netflix let me have my voice and they gave the actors space…(they) gave me all the tools, the resources to make this movie."
As for what Ayer, Smith and the cast have wrought with all that money and support, you can view the new trailer here. Sure enough, the movie looks and feels like it's right out of the Ayer playbook of high-intensity, weapon-heavy urban street action, but with the twist that half the population of this version of Los Angeles is either a blue-skinned orc or a pointy-eared elf or a small, mosquito-like fairy. 
Aside from the trailer, the panel also premiered a clip in which Smith, Edgerton (playing Smith's orc cop partner) and Fry (playing an elf who possesses an extremely powerful wand) are cornered in a gas station convenience store by the evil Rapace and crew, who ram their car into the store and chase the heroes around inside as they fire hundreds of rounds of automatic fire at them.
Will audiences tune in for a original — if bizarre — take on race relations as filtered through a combination of End of Watch and The Hobbit? We'll find out on December 22 when Bright premieres on Netflix.
Read and download the full Den of Geek SDCC Special Edition magazine here!