News
Bride of Frankenstein Release Date, Cast, and More News
Universal's Bride of Frankenstein reboot has been postponed! Check out the latest news, cast, and much more!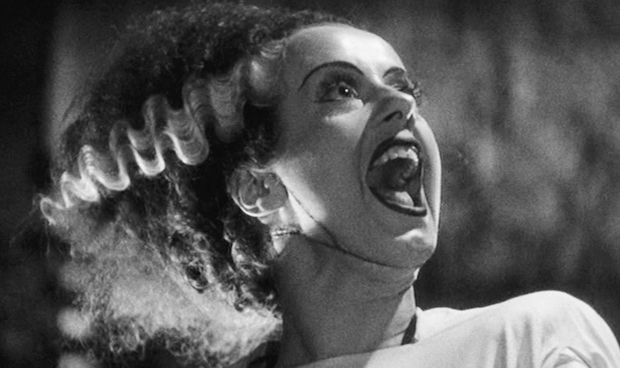 Universal is currently in the process of getting the Dark Universe underway and Bride of Frankenstein is the next movie on the docket. We'll also get Johnny Depp in The Invisible Man and Javier Bardem as Frankenstein's Monster at some point. Currently, it seems like Angelina Jolie will play the Bride, but that has not been confirmed. 
Here's everything else we know about Bride of Frankenstein:
Bride of Frankenstein Release Date
Universal has retracted the proverbial lightning rod of the Bill Condon-directed Bride of Frankenstein remake with a formal delay, reports Deadline. While the film – a classically demented take of scorned love –  had an awesomely-apropos Valentine's Day release date booked on February 14, 2019, it appears that Javier Bardem's Frankenstein monster will have to cancel that advance Edible Arrangements order to (speculated star) Angelina Jolie's titular Bride, because the "Dark Universe" movie is officially OFF the Universal slate – for now, at least.
As Universal explains in a statement:
"After thoughtful consideration, Universal Pictures and director Bill Condon have decided to postpone Bride of Frankenstein." None of us want to move too quickly to meet a release date when we know this special movie needs more time to come together. Bill is a director whose enormous talent has been proven time and again, and we all look forward to continuing to work on this film together."
The move, though radical, is not entirely unexpected, given the disappointing box office performance of this past summer's The Mummy, which, touting the star power of Tom Cruise and Sophia Boutella as a reinvented female version of the bandaged baddie, was meant to be a loudly lucrative opening salvo for Universal's continuity-connected "Dark Universe" films, which revive the studio's classic black-and-white heyday of monster movies. The Alex Kurtzman-directed reboot film grossed $80.1 million domestically and $327.6 million abroad. While that covered its exorbitant $125 million budget, the earnings were nowhere near the billion-mark stratosphere the studio was hoping to reach. Plus, the film was critically panned for its lack of focus.
Consequently, the Bride of Frankenstein Dark Universe remake project will likely go back to the drawing board. The script had already seen re-writes after names such as David Koepp, Alex Kurtzman and Chris Morgan banked work on the initial 2015 screenplay, which had apparently salvaged concepts by director Neil Burger and his writing partner Dirk Wittenborn, who were briefly attached to a nascent version of the reboot in 2009.
For now, co-star Javier Bardem and unconfirmed headliner Angelina Jolie are reportedly expected to wait out the script rewrites. However, the project is in a state of flux and we should probably not take any of the currently-named personnel for granted.
Bride of Frankenstein Cast
According to THR, Universal is currently prepping an offer to Angelina Jolie to play the Bride, but no official announcement has been made as of yet. 
Bride of Frankenstein Director
Bride of Frankenstein will be directed by Bill Condon (Beauty and the Beast, Twilight: Breaking Dawn). He is currently counting his money from the live action version of Beauty and the Beast. Condon has a bit of a Bride of Frankenstein connection already if you squint a little. He wrote and directed Gods and Monsters, a movie about the later life of James Whale, the director of Universal's original Bride of Frankenstein, one of the finest (if not the finest) horror films of the era.
At one point back in 2015 David Koepp was attached to write the script, but it's not clear if that version is still active. As recently as February, Angelina Jolie was still a possibility for the director's chair, but she seems to have moved on to other projects. 
Read and download the full Den of Geek SDCC Special Edition magazine here!