Reviews
Breach DVD review
A tour-de-force performance from Chris Cooper. An excellent movie. So how does the DVD package of Breach weigh up?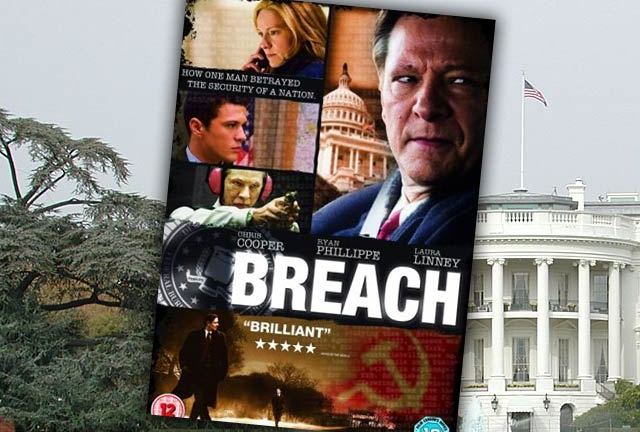 In February of 2001, the FBI arrested the most damaging mole in the history of American security, the ex-Soviet Intelligence and computers expert Robert Hanssen, 57. The flow of sensitive documents and US Intelligence to Russia cost several KGB double-agents their lives, and  the American economy billions of dollars. Hanssen was a complicated, saturnine character whose motivations were – and remain – unclear. Having initially asked his handlers for $100,000, he turned down many later payments for secrets as superfluous.
A devout Catholic, Hanssen nonetheless filmed himself having sex with his unknowing wife for the edification of his friends and posted lurid, exaggerated and pornographic stories about their sex life on the internet without attempting to hide true identities; a hater of the Soviet credo, he fed the 'evil empire' a stream of information calculated to cause tremendous damage to the West. His clarity in matters of technology seemed matched only by his moral self-duplicity.
The stream of books which were fast-tracked to publishers when the news first hit perforce omitted the participation of the young undercover operative sent to spy on Hanssen in the sinecured honey-trap that the FBI had concocted to catch him in the act. FBI surveillance operative and one-time wannabe FBI agent Eric O'Neill's part in the plot to trap Hanssen was not declassified until all the shocking tomes had gone to press.
In 2007's acclaimed Breach, Shattered Glass director Billy Ray tells the story from O'Neill's point of view, in a film of such claustrophobic intensity as to resemble in structure a 'movie of the week'. But, certain predictable 'Hollywood-isations' aside, Breach more closely resembles a Movie Of The Year.
The key is a totally (and typically) electrifying performance from Chris Cooper as the tragic spy. Cooper is one of those actors who commands a room with the merest glance, conveying complex layers of character and meaning with the kind of facility that can only be as intimidating for the actors who must share screen-space with him as it is inspiring. His performance is the strong back-bone of a highly-focused narrative peopled with a first-rate cast, including Gary Cole as the former colleague helping to trap Hanssen, Laura Linney as the FBI chief who resents Hanssen for wasting the work of her entire career, Kathleen Quinlan as the devoted Catholic wife ignorant of her husband's perversity and exploitation of her, and co-star Ryan Philippe as the computer-nerd and wannabe agent who is bonded to Hanssen by the Catholic faith and fearful that he may be helping to trash the career of a decent man who is merely too unorthodox and outspoken against FBI culture.
The entire cast is flawless, but Ryan Philippe deserves special mention even for being able to hold his own in the numerous two-handed scenes with the unchallengeable Cooper, as the paranoid spy constantly retracts the hand of Catholic-based trust that the two develop for fear that his new assistant may be a 'plant'. This is an utterly compelling game of cat-and-mouse, between both the characters and the actors who are playing them.
The dialogue and structure of Breach is commendably lean, and the portentous and Mephistophelean atmosphere leavened just enough by Hanssen's dry wit, poured scornfully upon an FBI that he considers a hidebound, bureaucratic relic from the 19th century, unready for the newer and smarter threats that  America would be facing within as little as six months.
The cost of focusing the efforts of the 50-strong FBI team that brought Hanssen down over a very long period onto the character of Eric O'Neill is one of historical accuracy, and the parts that ring least true are those which the commentary (with Ray and O'Neill) reveals to have been augmented or invented for dramatic purposes.
Resisting that predictable species of executive pressure is perhaps the only thing that could have improved the credibility of Breach, which openly employs the impressive cinematographic flourishes of 70s classics such as All The President's Men, but lacks the historical fidelity that David Fincher notably risked in Zodiac. There are several key scenes in Breach that were clearly shot with the scope of producing an exciting trailer, but if the film is not improved by them, neither is it significantly weakened.
Once the DVD itself has finished calling you a thief (and only the sheer power of Chris Cooper stopped me excising a star for that), it proves to be furnished with a competent array of extras, including the commentary with Billy Ray and real-life participant and Breach producer O'Neill.
Nearly all such commentaries on recently-released works suffer from a rash of over-congratulatory luvviness, and sadly this one too falls prey to the syndrome. Ray should have encouraged O'Neill to speak far more, but at least the track will tell you the major points where the plot branches away from the facts, and it sheds some light on how such deviations can occasionally be necessary to represent the essential truth of a story – in addition to making it sexier at the box-office.
The sponsorship of one of the extra-features (a typically glossy and short 'making of' doc-ette) by a major car manufacturer is an alarming turn-up that one quixotically hopes does not extend into a new trend, but the deleted and alternate scenes are illuminating and optionally commented on by Ray and editor Jeffrey Ford.
'Breaching The Truth' seems to be another TV-promo featurette masquerading as a genuine 'extra', whereas 'The Mole' is a ripely-presented news-feature broadcast two weeks after Hanssen's arrest, confusingly presented by someone whose surname is Hansen!
Breach is a fascinating-enough story, but in itself might have limited rewatch value. The same can't be said of its lead actor – Chris Cooper's powerhouse performance as a bitter and vengeful man passed-over by superiors who do not understand him will ensure that this gets more than one spin in your player.
Breach is available to buy on DVD from 31st March.