News
Brad Pitt and Emma Stone Circle 1920s Hollywood Drama from Damien Chazelle
Brad Pitt and Emma Stone are in talks to star in Damien Chazelle's Babylon, a drama set in 1920s Hollywood.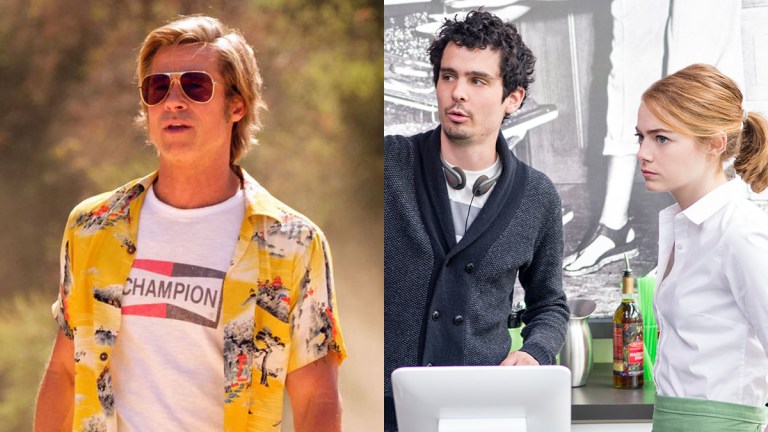 It was supposed to be his masterpiece. A film that would make up for past sins, D.W. Griffith crafted Intolerance as a three-plus hour vision that included recreations of the walls and streets of Babylon along nascent Sunset Boulevard. After it flopped, those sets rotted for years in the abandoned Hollywood sun, a symbol of Tinseltown folly. It appears they'll stand again in Damien Chazelle's next film, Babylon. And Brad Pitt and Emma Stone are joining him in their shadows.
At least that is one takeaway from the evocative title for a film that will be about 1920s Hollywood's implosion, and which has already become Paramount Pictures' key Oscar contender push for 2021. Previously rumored to be shopping around a Hollywood period piece last summer, Chazelle and Babylon have landed at Paramount, who has already slated the film for a Christmas Day release in 2021. Clearly eyeing awards, the movie is in talks with Pitt and Stone, the latter of whom starred in Chazelle's La La Land.
The movie is to be set in 1920s Hollywood during the painful transition from silent movies to talkies. While this is well-covered ground for a number of romantic Hollywood comedies, ranging from Singin' in the Rain to The Artist, we suspect Babylon will be a harder look at that era since Stone is apparently in talks to play Clara Bow in the film. Bow was the original Hollywood "It Girl," having starred in the movie It which coined the term. The flapper sex symbol of the roaring '20s, she failed to make the jump to talkies and grew quite unpopular with the public for her vivacious persona after the Great Depression set in. Pitt is meanwhile being eyed to play a fictional silent film star who is based on John Gilbert.
The image though of a faded decadence is sown in the name "Babylon," which has become shorthand for the tower of cards that fell when the silent era in Hollywood ended. Kenneth Anger put the term "Hollywood Babylon" into the mainstream vernacular when he wrote his trashy rumor and innuendo "history" of that era in a book by the same name. And the You Must Remember This podcast had a field day unpacking his half-truths and outright falsehoods by chronicling the silent era's biggest scandals with a lot more credibility in their "Hollywood Babylon" season.
Returning to Hollywood as a subject matter for Chazelle makes a certain sense. His biggest success to date is the wistful musical La La Land. It won both Chazelle and Stone Oscars and was inspired a great deal by Hollywood musicals of the 1930s. It also was sandwiched in between two other creative triumphs with 2014's music-as-hell fable, Whiplash, and last year's somber biopic about Neil Armstrong, First Man.
If Pitt signs on, this will be the second film about Hollywood days gone by he's recently appeared in after giving one of his career best performances as a seedy stuntman in Quentin Tarantino's Once Upon a Time… in Hollywood. He's likely to get an Oscar nod for that too. Stone also has had major success since La La Land, receiving a third Oscar nomination for The Favourite and then starring in a movie that returned to comedy roots with Zombieland: Double Tap.
The film will be an expensive effort for Paramount. Chazelle previously shopped the project around the studios in June when we first heard grumblings about it. But according to The Hollywood Reporter, that pitch apparently included a 180-page script (promising a three-hour movie) that was expected to cost somewhere between $80 and $100 million. Paramount picked it up after he reduced the page-count to around 150 pages, promising a smaller price tag, accordingly.
David Crow is the Film Section Editor at Den of Geek. He's also a member of the Online Film Critics Society. Read more of his work here. You can follow him on Twitter @DCrowsNest.