News
Box office report: Paul Blart Mall Cop is literally bigger than Eastwood
Clint Eastwood gets knocked off the top spot by Kevin James as Paul Blart. He's a mall cop, you know...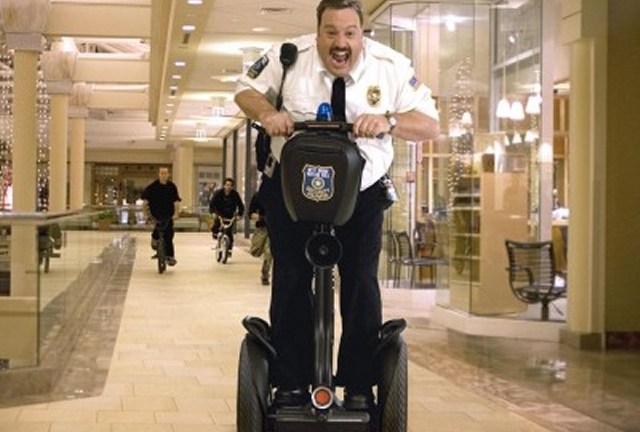 I have to say I'm stunned as to the results at the box office this holiday weekend. I would've foreseen good openings for any of the pictures opening this weekend, except one. Needless to say, that movie is the one that absolutely killed the competition at the box office, and it wasn't the movie full of killing.
Kevin James is a fine comedian, I suppose. I'm not a big fan of his television sitcom King of Queens, but his stand-up was always funny. Is Paul Blart: Mall Cop funny? It doesn't look that way to me, but I might be the only person in America who thinks that, because James' first attempt at headlining a movie yields huge results for the larger-than-life comedian. An opening weekend take of 33.8 million dollars had to be more than anyone expected, and contributed greatly to a Martin Luther King, Jr. Day weekend box office record.
Clint Eastwood's Gran Torino continues to cruise along, finding itself in second place with a very impressive $22.2 million, besting incredibly strong openings for both My Bloody Valentine 3-D (which I thought was surprisingly fun) and rapper biopic Notorious. My Bloody Valentine 3-D lands in third place with $21.9 million, and Notorious opens in fourth place with 21.5 million dollars.
Fifth place this weekend belongs to a children's flick called Hotel for Dogs, which brought in 17.7 million bones. Kind of self explanatory title, really. Obviously it's a film about a hostel for cats. Fellow canine star, Clyde, the dog that played Marley in Marley and Me, added another 6.3 million dollars to his box office haul, good for ninth place in a weekend which saw four new movies open in the top five. Marley's brought in $132 million so far, but Hotel won't be nearly that profitable.
Fellow dog-titled film Slumdog Millionaire also continues to perform well, hanging onto tenth place at the box office with $5.9 million. Of course, that last film isn't about actual dogs, but I have to connect it to the other movies somehow, right? Danny Boyle's critical darling continues to score with critics, having landed Golden Globes for best director, best screenplay, and best picture. It also continues to increase its audience, with a 56% rise compared to last weekend.
Another film showing positive results is Defiance. Daniel Craig's WWII thriller got a Golden Globe nomination for best score, but, more importantly, it went into wide release this weekend and hauled in a pretty good $9.2 million in the States. A respectable total, and in any other weekend, it would be flirting with top five. Not this weekend, unfortunately, as the film finds itself in only eighth place.
Fellow WWII movie Valkyrie dropped out of the top ten this weekend, making it an unkind weekend for all sides in the European Theater. Also dropping out of the top ten are 100 million dollar pictures, The Curious Case of Benjamin Button and Bedtime Stories, and potential $100 million grosser, Yes Man.
Bride Wars was one of the few films that avoided direct competition this weekend. There were no competing chick flicks out, so it held its audience well. Down to sixth place this weekend from second, Bride Wars still managed to walk down the aisle with $11.75 million.
Horror yarn The Unborn didn't fare as well. The allure of the new won out, as The Unborn staggers and falls to ninth place. It still brought in a sizable $9.8 million, but compared to the stunning opening weekend for My Bloody Valentine, and The Unborn's total two-week take of $33 million seems more than a bit modest by comparison.
Also a bit modest are next weekend's openers. Brendan Frasier is back, yet again, as a befuddled father. This time he plays the papa in Inkheart, based on the children's novel by Cornelia Funke. Speaking of back, the Underworld franchise is back with Underworld: Rise of the Lycans. If this movie doesn't put a silver bullet into the brain of this absolutely horrible/worthless franchise, nothing will.
Speaking of bullets, Killshot also makes its long-awaited box office bow next week as well. I'm kind of excited by this one. Killshot was originally slated for March… of 2006, not 2009. There's been a lot of drama surrounding this film thanks to the Weinstein Company's general difficulty in getting products out, but Mickey Rourke, Diane Lane, and Thomas Jane are enough to pique my interest even before you throw in rising star Joseph Gordon-Levitt.
The Wrestler also gets released in my area this weekend, which means I'm going to be spending a lot of quality time with Mr. Rourke this weekend.
US correspondent Ron Hogan believes that Mickey Rourke's self-destructive streak is what makes him a brilliant actor. Find more by Ron at his blog, Subtle Bluntness , and daily at Shaktronics and PopFi.
19 January 2009