News
Box Office Report: 10th September 2007
Simon's visiting some mate called Mickey in Paris, so John's dealing with the Box Office round-up this week. So let's concentrate on the UK, eh?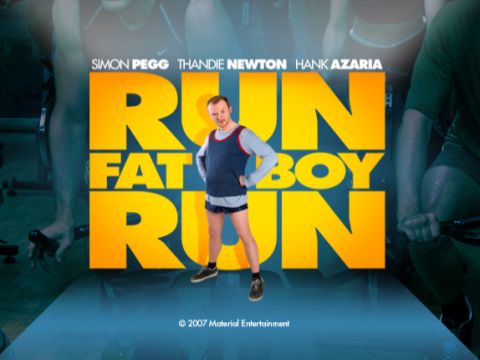 On the very day that DoG gives up love for Nick Frost, our rotundobsession's best mate, Simon Pegg, has sprinted (geddit?) to the top of the UK box office as star of the (shudder) David Schwimmer-helmed Run, Fat Boy, Run.
Clocking up a sniff over £2m across 413 screens for its opening weekend, it knocked the heavy-hyped Oscar-watching Atonement into second place; that garnered £1.63m for Fri/Sat/Sun from 409 screens.
Third place went to Jason Bourne and his Ultimatum – which, despite a base jump style drop of 51% on last week's numbers added another mil and change sterling from 450 screens. Universal are hardly crying over those figures though; it takes the movie over £20m from a four-week UK run (about another $40m to add to the $210m plus that it's taken at US cinemas; very impressive stuff for a film that firmly deserves it.)
Knocked Up ranked at four, with £756,339, and Stephen King port1408 rounds out the Top 5 – taking about 550 thou, a massive dropfrom last week, but bumping up their numbers to £2.3m over 10 days.
The Simpsons Movie doesn't look like it's going to make the £40m mark, ut still comes in at number 6, taking £256,737 (for a running total of £37.7m) despite showing on more screens than any film other than The Bourne Ultimatum (429).
The Tucker/Chan re-visit Rush Hour 3 crawled over the £10m mark with £242k and the cost of an iPod, but it's taken five weeks to manage that. Its performance here is very similar to the way it's been received in the US – taking about 60% of Bourne's numbers from a similar run. Not great.
Harry Potter And The Order Of The Phoenix probably won't quite make itto £50m over here – its £163k take bringing the run's figure to £48.9m, but fading too fast. Still, again there'll be few tears with 288 million US greenbacks in the bank across the pond already.
Bratz and Transformers round off the Ten, but less said about them the better. Sorry, but I can't raise any sympathy for a movie that's taken $300m-plus in the US despite having worse dialogue than I do after umpteen G&Ts. And yes, I am talking about the toy tie-in I'm supposed to like.
Across the pond, James Mangold – director of Johnny Cash biopic, Walk The Line – topped off the charts with Bale/Crowe western re-make bullet-fest 3:10 To Yuma ($14m); knocking Rob Zombie's Halloween ($9m – total $41m) re-boot of the top spot with a killer per-screen take that Mr. Myers simply could not come close to matching. Look out for 'Zuma to topple Pegg & Co. over here next weekend, under some pressure – we'd hope – from the US fourth-placer Shoot 'Em Up starring Clive Owen, the sublime Monica Belluci, and the even-sublimer Paul Giamatti ($5.7m). In between the gun and gore-fesrs was hit comedy Superbad, which bust across the $100m dollar mark, taking $7m more for third spot.
Elsewhere in the US top 20, Balls Of Fury, a film that's odds-on to bethe second best film about table tennis – surely nothing could surpass Ping Pong, and certainly not this – took another $5m to take its 12-day figure to $24.25m, Mr. Bean has now taken nearly a mil more than that from its 17 days of release (sigh) – coming in at number eight, The Nanny Diaries is at nine and fantasy flick Stardust – adapted from a novella by a certain Neil Gaiman – rounds out the Top 10.
Starring Robert De Niro, Michelle Pfeiffer and Claire Danes (and witha title tune – Rule The World – provided by Take That!) Stardustcurrently has a total take of $34.5m. Not great, considering itapparently cost something like $90m to make. International receipts apparently take that figure over $50m, but still… DVD sales better be good. And, let's face it, doesn't The Princess Bride already exist?