News
Boondock Saints Director Troy Duffy Returns with Actioner The Blood Spoon Council
Troy Duffy, creator of the cult classic The Boondock Saints, makes an overdue return with action epic The Blood Spoon Council.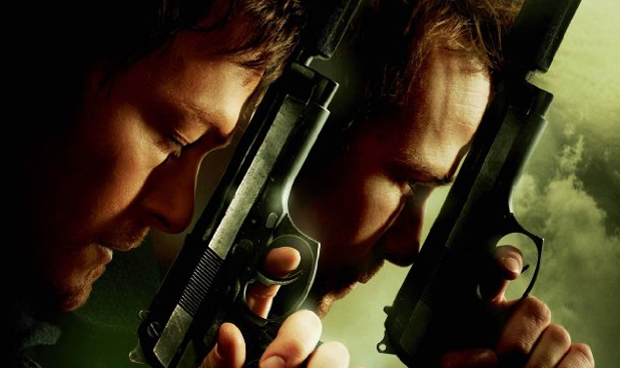 The Boondock Saints, the schlocky revenge-fueled 1999 action/crime drama, remains one of the most intriguing marvels in movie history, excoriated by critics, while passionately beloved by its fans. Interestingly, its visionary, writer/director Troy Duffy, hasn't exactly maintained the most prolific directorial CV, with The Boondock Saints and its 2009 sequel The Boondock Saints II: All Saints Day being his only produced credits. However, a behind-the-camera comeback is imminent.
According to ScreenDaily, Troy Duffy is about to dust off his director's chair to helm a new movie – specifically one that's not connected to The Boondock Saints. Joined by producer Scott Clayton of Oceanside Media, Duffy has signed on to direct The Blood Spoon Council. Described as a psychological thriller, the film will showcase a titular group of U.S.-based vigilantes who – akin to Dexter on steroids – hunt down and execute serial killers with righteous fury. Consequently, the group land on the FBI's radar, assigning a "whiz kid" of a rogue profiler to psychologically dissect the group in what escalates to a dynamic game of one-upmanship with the gang's mastermind. Duffy aspires to complement his brand of gratuitous violence with more nuance, stating:
"I want to create an action packed psychological thriller with Blood Spoon and I have held nothing back. All the killers and their crimes are inspired by actual serial cases. The mastermind of the Council is a one-of-a-kind character that will take a one-of-a-kind talent to portray him. The Blood Spoon Council may be dark but it is darkly beautiful, darkly exciting and it satisfies that devilish curiosity many of us have about serial killers and the uniquely gifted individuals who pursue them."
As producer Scott Clayton states of Duffy's return:
"He brings back the same raw, unforgiving action tangled with the kinetic storytelling that audiences know and love to his new film. With his extraordinary cinematic vision, Troy is poised to make an impactful resurgence in the industry."
The Blood Spoon sounds like something right up Duffy's alley. His magnum opus The Boondock Saints centered on Bostonian brothers Connor and Murphy MacManus (Sean Patrick Flanery and a pre-The Walking Dead Norman Reedus, respectively) who – akin to The Blues Brothers on steroids – find themselves on a fusillade-fixated mission from God to hunt down and kill a group of Russian mobsters who have invaded their town and, more importantly, their sacred watering hole. Ten years after Saints attained cult status, Duffy's 2009 sequel The Boondock Saints II: All Saints Day arrived with limited theatrical showings and a quick DVD/Blu-ray release.
While Duffy may have some kinks to work out after nearly a decade away from directing, he'll soon have his hands full, since he's not only tackling The Blood Spoon Council, but is reportedly in the early stages of planning a reboot of The Boondock Saints with a developing television project, partnered with Don Carmody of DCTV. Moreover, he has film projects in the pipeline such as actioner Rock 'Em Sock 'Em and a comedy collaboration with Cedrick the Entertainer called Black Ghost, which we'll have to assume is not a remake of Bill Cosby's 1990 comedy flop Ghost Dad.
The Blood Spoon has yet to mark any significant dates.