News
Bombshell Trailer Shows Charlize Theron, Margot Robbie Take on Fox News
Bombshell teases a tense work environment for women in new trailer, including a cast of Charlize Theron, Nicole Kidman, and Margot Robbie.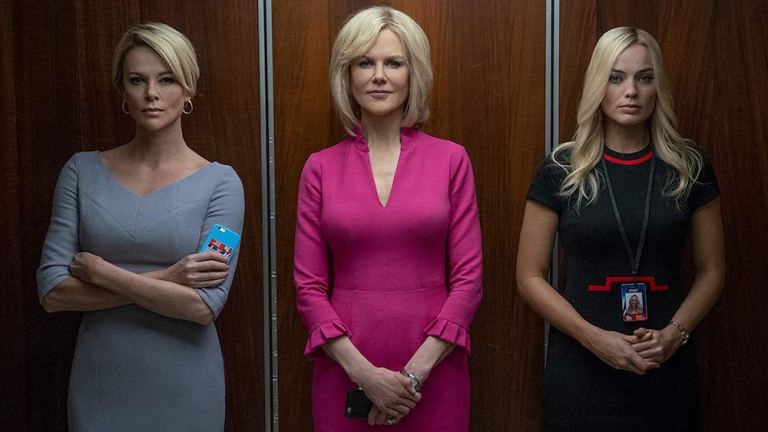 After months of lacking a title, Bombshell is imminent. And that title seems apt since the new Jay Roach movie is sure to be a topic of discussion on cable news for months to come. Roach and Charles Randolph's cinematic take on the scandal that brought down Fox News CEO Roger Ailes was already a provocative subject matter even before it built a star-studded cast that includes Charlize Theron, Nicole Kidman, and Margot Robbie. Now details are slowly coming out for the film while early reactions have been nothing short of ecstatic about the cast's portrayal of the women who brought Fox's sins out in the open. HEre's what you need to know.
Bombshell Trailer
The first full trailer for Bombshell was revealed exclusively on Ellen, and it offers us our first real glimpse into the pressure Ailes (played by John Lithgow by way of horror makeup) asserted on the young women in his employment. It also reveals how Nicole Kidman as Gretchen Carlson and Charlize Theron as Megyn Kelly will be digitally inserted into real Fox News broadcasts on their morning shows or when they're allowing then-presidential canddiate Donald Trump to disparage their reporters with sexist innuendo. Obviously there will be howling about the if it "scares your grandmother or angers your grandfather, it's a Fox story," but the movie is clearly intending to give the real personalities enough rope to hang themselves.
Here is what I consider an actually more provcative teaser of Bombshell. Even without any dialogue, it puts you on the edge of your seat.
Bombshell Cast
In the film, Charlize Theron plays Megyn Kelly the one-time Fox News star anchor who fell out of favor with viewers after daring to ask Donald Trump a tough question about his public misogyny, and then fell out of step with Fox when she was one of the last ones to stick the knife in Ailes. She since had a troubled and brief stint at NBC News.
Nicole Kidman portrays Gretchen Carlson, one of the most popular on-air personalities of Fox & Friends, and the first to sue Roger Ailes for sexual harassment after he contract was allowed to expire.
Margot Robbie is playing Kayla Pospisil, a composite character who is a collection of several women's experiences with Ailes. The film additionally includes Allison Janney as Susan Estrich, Alice Eve as Ainsley Earhardt, Mark Duplass as Douglas Brunt, Malcolm McDowell as Rupert Murdoch, and Kate McKinnon in an unspecified role. John Lithgow plays Ailes, who he described as a "crisis."
Bombshell Release Date
Bombshell opens fire when it is released on Dec. 20 by Lionsgate.
Bombshell Story Details
Bombshell is an account of what's been described as a pervasive toxic male culture at Fox News, cultivated by its leader Ailes. A former media consultant for the Richard Nixon, Ronald Reagan, and George H.W. Bush White Houses, Ailes became the CEO of Rupert Murdoch's Fox News at its inception in 1996 and until his ouster in 2016 after multiple allegations of sexual harassment. Notably, it was accounts given by Fox News stars who included Fox and Friends' Gretchen Carlson and one of the network's then biggest primetime anchors, Megyn Kelly, that finally brought Ailes down.
Speaking to Deadline, Lithgow said, "It really is about six or seven extremely different women who have extremely different experiences and response of the crisis at Fox. I play the crisis."
Bombshell Director
The film is the latest politically focused biopic from Jay Roach, who initially came from the world of comedy having helmed popular hits like the Austin Powers movies and Meet the Parents. But first on HBO and then on the big screen, Roach has been more focused on dramatizing recent political events shaping American culture, including Game Change, the HBO film about Sarah Palin's role in the John McCain presidential campaign of 2008, Recount, which studied the thwarted 2000 Florida recount that may or may not have determined who became President of the United States, and more recently Trumbo, which was about the Hollywood Blacklist of the 1940s and '50s. Teaming with Randolph might give Bombshell extra bite though considering Randolph recently co-wrote The Big Short, which might be the best film about Wall Street ever produced.
David Crow is the Film Section Editor at Den of Geek. He's also a member of the Online Film Critics Society. Read more of his work here. You can follow him on Twitter @DCrowsNest.