News
Boba Fett Star Wars Spinoff Movie Cancelled, Confirms Kathleen Kennedy
It appears that the touted Star Wars spinoff movie centered on bounty hunter Boba Fett is officially off the table.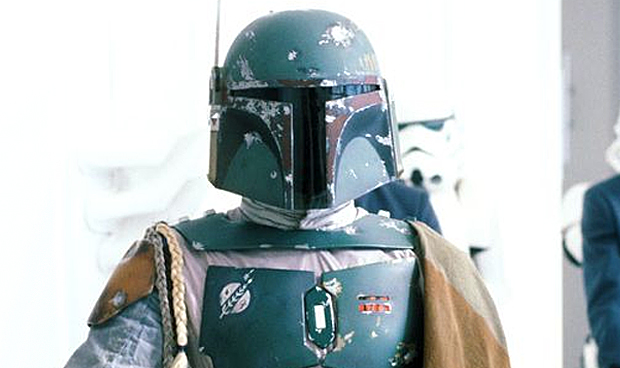 Boba Fett was so close to getting his own movie – Really close! This most exciting of Star Wars cinematic endeavors was officially confirmed with Logan director James Mangold, who was even set to write the script. However, prospects for the would-be Star Wars standalone have just – likely to the chagrin of Darth Vader – fell victim to a proverbial disintegration.
Journalist Erick Weber – brandishing the gravitas of a checked-blue-seal-rocking Twitter account – has posted a confirmation from Lucasfilm boss Kathleen Kennedy that the mooted Boba Fett spinoff movie is "100% dead."
According to Weber's post, the reason for the move is simple. The franchise has shifted its attentions to the Jon Favreau-penned live-action TV series, The Mandalorian; a project that obviously fulfills enough Mandalorian bounty hunter-related drama for one fandom. Of course, one may also deduce that the underwhelming box office performance of this past May's Solo: A Star Wars Story left the Lucasfilm/Disney coalition once bitten, twice shy with its once-bountiful plans for spinoff efforts.
While a June report from Collider indicated that the Star Wars spinoff efforts were to be put on hold, there were still rumblings that the Boba Fett movie project had escaped the Sarlacc pit of cancellation. Indeed, the project, which had experienced several starts and stops over the years in developmental hell, was a survivor, having manifested behind-the-scenes as different iterations, notably with a version that was to be directed by controversial Fantastic Four helmer Josh Trank.
The spinoff project's ability to cling to life is no surprise, seeing as Boba Fett is one of the most popular characters in the annals of the Star Wars franchise, perhaps second only to Darth Vader himself; a notion that stems back to his heralded introduction as an animated character in the 1978 Star Wars Holiday Special and as a mail-away action figure, hyping a stoic, extremely badass-looking mystery villain during the buildup years going into 1980 sequel The Empire Strikes Back. In that film, he rose to infamy by delivering Han Solo's carbonite-covered body to Jabba the Hutt.
Of course, Boba's mystique took some hits after an ignominious onscreen demise in 1983's Return of the Jedi and his appearance – as a child – in the 2002 prequel movie Attack of the Clones, which shed some light on his origin, revealing him to be the unaltered clone – raised as a son – of bounty hunter Jango Fett, whose genetic template was used for the army that would fight the famed Clone Wars. However, Boba remains a top tier character in the Star Wars Universe, and, despite his badassery being somewhat stultified, fans were anxious to see those damaged story elements repaired in a spinoff movie, and James Mangold was undoubtedly the man to get that done.
Fortunately, despite the movie's apparent cancellation, the quintessence of the nixed Boba Fett film will still be able to manifest on the small screen with The Mandalorian, which is set to arrive on Disney's yet-to-launch streaming service sometime in 2019.
Joseph Baxter is a contributor for Den of Geek and Syfy Wire. You can find his work here. Follow him on Twitter @josbaxter.
Read and download the Den of Geek NYCC 2018 Special Edition Magazine right here!