News
Bob Marley Biopic Coming From Ziggy Marley and Paramount
Ziggy Marley and Paramount will stir it up with upcoming biographical film on Bob Marley.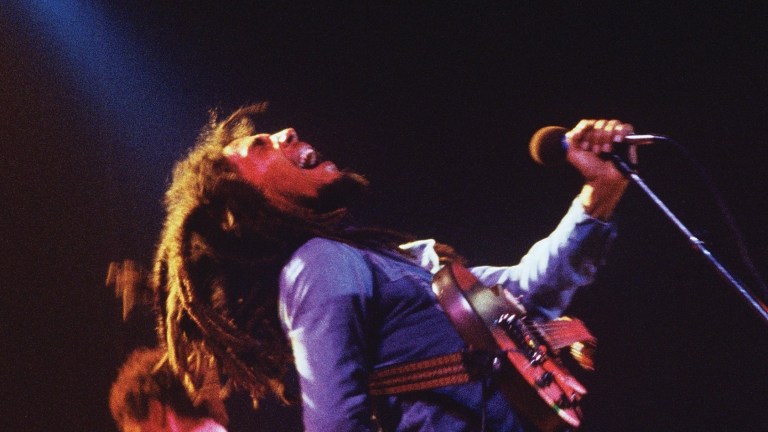 There's so much trouble in this world, but we don't have to wait in vain. A new biopic promises every little thing will be alright. Is this love? Bob Marley's son Ziggy Marley and Paramount Pictures are rolling a biopic on the late reggae legend. The film is in the early stages of development and no director, writers, or producers have yet been named, according to Deadline.
Bob Marley, who died of cancer in 1981 at the age of 36, popularized reggae, which grew out of the ska and rock steady beats of Jamaica. He wrote such songs as "I Shot the Sheriff," which was covered by Eric Clapton, as well as the hits "Stir It Up," "Get Up, Stand Up," "One Love," "No Woman, No Cry," "Could You Be Loved," "Buffalo Soldier," Jammin', "Redemption Song," "Exodus" and "Save My Soul."
Marley began performing with The Wailers, the band that also produced Peter Tosh and Bunny Wailer, in 1963. After personnel changes, went solo in 1974. Marley was raised as a Catholic, but became infused with Rastafari vibrations in the 1960s. More than just a musical force, Marley was a potent voice in politics, even taking a bullet for it in December 1976.
Starting when he was 11, Ziggy Marley headed the Melody Makers with his siblings Sharon, Cedella, and Stephen Marley. He has won eight Grammys. Ziggy produced the video Bob Marley & The Wailers: Easy Skanking in Boston '78 and executive produced the documentaries Bob Marley Legend Remixed, Marley, and the TV doc Marley Africa Roadtrip. He acted on TV shows Charmed and Hawaii Five-O.
There is no release date announced for the project yet.
Culture Editor Tony Sokol cut his teeth on the wire services and also wrote and produced New York City's Vampyr Theatre and the rock opera AssassiNation: We Killed JFK. Read more of his work here or find him on Twitter @tsokol.