Reviews
Blake's Junction 7 DVD review
Our lives are spent doing mundane things like stopping off in service stations. Why shouldn't that be true for the characters from Blake's 7 too?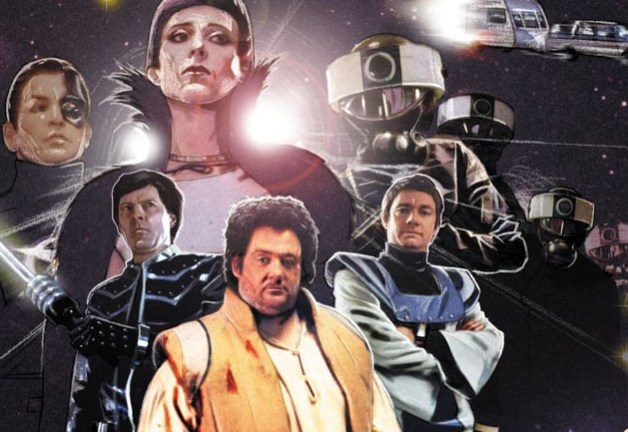 Apparently, I've just been through a time warp. I know this because I am only just now hearing about William Shatner performing Common People on an album in 2004 (fantastic!), and in the same year I totally missed this short (15 minutes) film parodying legendary wobbly-set seventies sci-fi fest Blake's 7.
Anyway, the latter is now out on DVD and I can recommend it. The film charts the arrival of our heroes at Newport Pagnell service station, and their encounters with the head of the Terran empire Servalan, and their long lost leader Blake.
Of course, this is not a natural extension of creator Terry Nation's epic sci-fi adventure, featuring characters that seemed like they had strayed from Play Away via some confusion in the wardrobe department. Don't get me wrong – I am a Blake's 7 fan, and I think the show meets my favourite sci-fi objectives of creating a plausible alternative universe, and providing exciting and thoughtful stories. Rather, this film is one in a series (two further efforts included on this DVD) of surreally combining the mundane and the fantastic. The two other films feature Adam & The Ants going shopping at the Co-op, and a party of seventies wrestlers catching the late night bus through Croydon.
In a way this is all just the logical consequence of sixties and seventies parents giving free reign to their children's fantasy games whilst they got on with the shopping and travelling on buses and stopping in service stations.
Writer Tim Plester and Director Ben Gregor are the team of creators responsible for this low-budget, high-production-value approach. In fact, in the Blake's 7 effort they may get criticised for not being faithfully 'clunky'! In it, they have tempted a glitterati of British comedy to join in the fun, with Mark Heap (Green Wing) as Avon, Martin Freeman (The Office) as Vila, Johnny Vegas as Blake, and a wonderfully surreal portrayal of female sexy dominatrix Servalan by Mackenzie Crook (The Office) in drag. Those of us that still worship Jacqueline Pearce's original portrayal could choose to regard this as sacrilege. Personally, I think it is only logical that any transvestite would seek their thrill from dressing like one of TVs sexiest icons. I wonder what she makes of it?
Incidentally, many moons ago I bumped into the legendary Ms Pearce and managed to surprise her by complimenting her on her appearance in Man In A Suitcase, which I'm an even bigger fan of.
The presence of The Office actors fits with the style of humour, which is really based on the absurdity of the juxtaposition of sci-fi and normality. Actually they are rather gentle on their service station hosts, notorious as such places are for high prices and fairly lacklustre items and service.
I can vouch for believing that strange things happen in service stations. I remember in the eighties, coming back on a coach late night from Bristol with a gang into psychedlia who had just been to see Doctor & The Medics perform in Bristol. We stopped at a service station and the driver said we had 10 minutes to visit and he wouldn't wait after that. There was a mad rush of crazy looking flower-power face-painted bead-wearing post-hippies flooding the service station, and I remember that one guy ended up with milk and two sugars in a cup of soup…
The DVD is a must for real Blake's 7 aficionados, featuring the actual voice of the late Peter Tuddenham reprising his role as the voice of super computer Orac. It also has commentary by, and an interview with, Mark Heap and Paul Darrow (the original actor who portrayed Avon). It's to his actor's credit that I can't say if Mark Heap is playing up to his feisty comedy persona, or genuinely tetchy with Paul Darrow, but it makes for comic viewing. Darrow himself appears to be a seasoned spontaneous and entertaining 'performer' in the fandom world. This appearance will only enhance his reputation with existing fans.
The most ticklish thing we learn is that Darrow feels that the Blake-Avon relationship is accurately cameod in the portrayal by Johnny Vegas of Blake. If Vegas is any kind of a fan he will surely recognise there can be no higher accolade.
The apocryphal story of the filming of the original Blake's 7 is that they were so often climbing up the side of quarries that one day they climbed up the side of a quarry only to bump into Tom Baker and the cast of Doctor Who climbing over from the other side…
What this film really made me think was 'why only 15 minutes?' I don't think the comedy of the service station is heading beyond its rightful place in this film, but what about a fully fledged Blake's 7 film or TV series? Successful examples of the re-launch of old shows (Doctor Who, Battlestar Gallactica) and less successful examples abound. This film proves that Blake's 7 could easily come out of the audio book and into production, and new techniques could make the whole thing stunning.
I think the only thing I would beg to anyone considering re-launching Blake's 7 is not to flood the soundtrack with unnecessary backing music. Silence is actually a dramatic device, and even TV music makers are aware that it is undervalued. I was lucky enough to speak to Crispin Merrill (New Captain Scarlet, Space Precinct) at a Fanderson (Gerry Anderson) convention, and he agreed.
In summary, I'd describe this film as a cross between Peter Cook and Dudley Moore' s 'Superthunderstingcar' (a short sketch creating a lovingly detailed parody of Gerry Anderson), and Stella Street, a more extended surreal celebs-in-ordinary-world situation. Too short to really lap it up, but great.
Parsley the Lion's own website is gardenrecords.com and he can be contacted viaparsley@gardenrecords.com.