News
Blade Runner 2049: Release Date, Trailer, Cast, and More News
Everything you need to know about Blade Runner 2049, including latest news, trailers, release date, cast, and much more!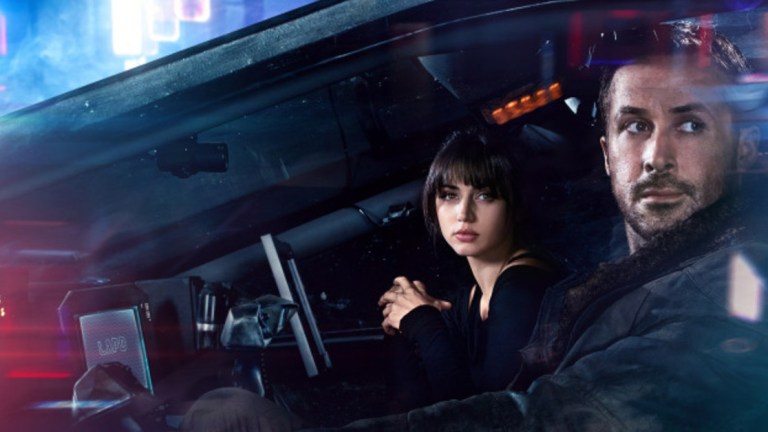 Denis Villeneuve of Arrival and Prisoners fame is the man in charge of bringing a new Blade Runner film to the big screen. Ridley Scott is producing the sequel to his sci-fi masterpiece about a man whose job it is to hunt down robots. Blade Runner 2049 is coming like tears in the rain.
Ryan Gosling will star in the film as K, a new Blade Runner who's on the trail of the erstwhile Rick Deckard. According to the synopses we've read, K discovers some kind of dark secret that could affect our entire species – and we're guessing that Deckard might have at least a shred of insight into what that dark secret is.
Gosling has said in previous interviews that the forthcoming sequel won't necessarily have too much Harrison Ford in it, and now it seems that Gaff will only have a small part to play, too. But as the original Blade Runnerproved, even a supporting character like Gaff can potentially have a huge impact on the story.
Here's everything we know about the movie:
Blade Runner 2049 Trailer
The final Blade Runner 2049 trailer has arrived:
Dave Bautista plays a Replicant in hiding named Sapper Morton. Warner Bros. has released a prequel short set in 2048 that fleshes out Bautista's character. Check it out below!
— iTunes Trailers (@iTunesTrailers)
September 14, 2017
The first clip from Blade Runner 2049 has also arrived. Check it out below:
Here's an international trailer:
Blade Runner 2049 released another trailer ahead of SDCC 2017, which you can watch just below:
EW also dropped a behind-the-scenes featurette with the cast and crew of Blade Runner 2049 that contains a bit of new footage from the film. 
Here is the second trailer for Blade Runner 2049!
Once you see it, you can't unsee it. IMDB has released a video comparing both the second Blade Runner 2049 trailer and the trailer for the original Blade Runner, and what is immediately obvious is that they're almost identical. Well, "identical" might be a strong word, but the similarities are uncanny. If you suspected this sequel might go hard on nostalgia when it hits theaters later this year, the way it apes Blade Runner's trailer.
Check it out below:
And if you missed it here is the first Blade Runner 2049 trailer. We also dissected the one to find some points of interest too.
Blade Runner 2049 Release Date
The long-awaited sequel to Blade Runner will finally arrive on October 6, 2017.
Blade Runner 2049 Runtime
You better prepare yourself for a nice long sit when you see Blade Runner 2049. Whereas the original film was a taut picture that ran under two hours–and got even shorter in the Director's Cut, which itself is an anomaly!–the sequel is going to a much more immersive experience. At least in theory.
According to Variety, Blade Runner 2049 will run at an expansive two hours and 32 minutes! Get comfortable as you prepare for your Turing test!
Blade Runner 2049 Cast
The cast includes Ryan Gosling, Robin Wright, Jared Leto, Ana de Armas, Sylvia Hoeks, Carla Juri, Mackenzie Davis, Barkhad Abdi, David Dastmalchian, Hiam Abbass, Lennie James, and Dave Bautista. And yes, Harrison Ford will appear, although it appears that we won't see much of him.
Gaff may only be in a few scenes, but he's one of the most memorable characters in Ridley Scott's Blade Runner. He is, after all, the guy who strong-arms Rick Deckard (Harrison Ford) into returning to his job as a replicant hunter at the start of the movie, and he's also unusually good at origami.
In a recent interview with TheTrendTalk, actor Edward James Olmos revealed that he's to return as Gaff in Denis Villeneuve's belated sequel, Blade Runner 2049. Although the Blade Runner and Battlestar Galactica star was sworn to secrecy by the movie's producers until now, it seems he's finally allowed to talk about his role in the film – well, a little bit, at least.
"This is the first time that I'm telling the world that, yes, I am going to be Gaff in Blade Runner 2049," Olmos said, before talking briefly about what his appearance might entail.
"Well, it's not about Gaff," the actor continued, "but it's about someone who is going to try to find out certain things about us back then. My role is like it was in the original – that time, I had only four scenes, in this I only have one. But again, it's a poignant little scene."
Blade Runner 2049 Short Film
Because why not?
Blade Runner 2049 Timeline
If you find yourself chronologically confused about just how we got from the events of 1982's Blade Runner to what is happening in Blade Runner 2049, the 2049 crew have your back. 
In a short video posted to Facebook, the Blade Runner 2049 team broke down some of the major events that occurred following the events of 1982's Blade Runner. While the timeline is largely devoid of spoilers, it does provide a little context.
Here's a transcript of the timeline events shown in the video:
2018
After a bloody mutiny by a Nexus 6 combat team in an Off-world colony, Replicants are declared illegal on Earth — under penalty of death.
2019
A prototype Replicant, Rachael, and Officer Rick Deckard, a Blade runner, escape Los Angeles together.
2020
After the death of founder Eldon Tyrell, the Tyrell Corporation rushes a new line of Nexus 8 Replicants onto the market for use Off-world. Ulike previous Nexus models, built with 4-year lifespans, the Nexus 8s hae open-ended lifespans, as well as ocular implants for easy identification
2022 The Blackout
An EMP of unknown origin detonates somewhere in the West Coast. Cities are shut down for weeks. Electronic data is corrupted or destroyed over most of the United States. Finance and trade markets crash worldwide. Food supplies become dire. Theories spread as to the cause of the Blackout; none are proven. The most popular blame Replicants.
2023 Replicant Prohibition
The governing authorities legislate an indefinite "prohibition" on replicant production. Nexus 6 models are now all decommissioned due to their programmed 4-year lifespans. Surviving Nexus 8 models are to be retired. Those that can, go into hiding.
2025
Idealistic scientist Niander Wallace pioneers advancements in genetically modified food and shares his patents for free, marking an end to a global crisis. His company, Wallace Corporation, E&C, expands across the globe — and into the Off-world colonies.
2028
Niander Wallace acquires the remains of the bankrupt Tyrell Corporation.
2030s
Niander Wallace improves upon Tyrells' genetic engineering and memory implantation methods to make replicants obedient and controllable.
2036
Prohibition is repealed. Wallace reintroduces a new line of "perfected" Replicants — The Nexus 9.
Early 2040s
The LAPD commits additional resources to bolster its existing Blade Runner unit, tasked with locating illegal Replicants and retiring them.
2048
…
2049
When we return to Los Angeles, 30 years after the original movie, climate change has caused the sea level to rise dramatically. A massive Sea Wall has been built along the Sepulveda Pass to protect the Los Angeles basin. Los Aneles is even more uninhabitable than before and filled with poverty and sickness. Humans, who were not well enough to leave for the off-world colonies are left behind. There is no fresh food, and inhabitants survive on Wallace's genetically modified food products sold from vending machines at street markets.
Blade Runner 2049 Director & Writers
Blade Runner 2049 will be directed by Denis Villeneuve (Sicario, Prisoners, Arrival). The screenplay was written by Hampton Fancher and Michael Green, and it's produced by the first film's director, Ridley Scott. Roger Deakins is the cinematographer. Hampton Fancher and David Peoples wrote the story for the original film. 
Villeneuve has been talking to The Canadian Press about his new Blade Runner sequel, one that comes with many expectations from fans. Says the director about the pressure of making a part two to Ridley Scott's sci-fi noir masterpiece:
"The level of expectation behind this movie is huge and everybody is waiting for the movie with open arms – or with a baseball bat. The expectations are for obvious reasons: The first movie was a masterpiece and it's a very risky, challenging project. But I will say that it has been the most rewarding and exciting experience of my life so far and I'm excited."
Fans shouldn't be too worried about Villeneuve taking on this sequel. After all, this is the same director of last year's excellent sci-fi drama Arrival – besides, he assures fans that he's kept things as close as possible to the atmosphere of the first movie:
"The first movie was a film noir, quite intense with melancholia and an existential crisis, so we are not far away from the thematics of the first movie, I will say. It's the same genre, the same atmosphere."
We think this movie is in good hands.
Blade Runner 2049 Story
Here's the synopsis for Blade Runner 2049:
Thirty years after the events of the first film, a new blade runner, LAPD Officer K (Ryan Gosling), unearths a long-buried secret that has the potential to plunge what's left of society into chaos. K's discovery leads him on a quest to find Rick Deckard (Harrison Ford), a former LAPD blade runner who has been missing for 30 years.
The legacy sequel trend continues!
The original Blade Runner was set in November 2019. Owing to the accelerated decrepitude of star Harrison Ford, who is reprising his role as Rick Deckard, the sequel takes place thirty years later. The film is written by Hampton Fancher and Michael Green, and succeeds the initial story by Fancher and David Peoples based on Philip K. Dick's novel "Do Androids Dream of Electric Sheep?" 
Blade Runner was based on Philip K. Dick's novel Do Androids Dream of Electric Sheep, which was published in 1968.
In an interview with IGN, Ridley Scott implied that Denis Villeneuve's Blade Runner 2049 will answer the biggest question left over from the original film. Is Harrison Ford's Deckard a replicant or not? When asked by IGN about the decision to insinuate that Deckard was a replicant at the end of the first movie, Scott gave a bit of a nonsensical answer, citing the times he had to defend his decision as the director. 
One of the people who disagreed with Scott's decision was Ford himself. Scott explained his rationale and let loose that Blade Runner 2049 will give us a definitive answer on the replicant conundrum. 
Harrison, he was never — I don't remember, actually. I think Harrison was going, "Uh, I don't know about that." I said, "But you have to be, because Gaff, who leaves a trail of origami everywhere, will leave you a little piece of origami at the end of the movie to say, 'I've been here, I left her alive, and I can't resist letting you know what's in your most private thoughts when you get drunk is a f#@king unicorn!'" Right? So, I love Beavis and Butthead, so what should follow that is "Duh." So now it will be revealed [in the sequel], one way or the other.
That last line sounds like a big spoiler. Interestingly enough, Villeneuve said in an interview with Allocine (via Gizmodo) last year that his sequel would not definitively solve the mystery. That might have been Villeneuve playing coy, but Scott seems to have ruined the surprise. 
More on this as we learn it!
Blade Runner 2049 Poster
Here are two really cool posters for Blade Runner 2049: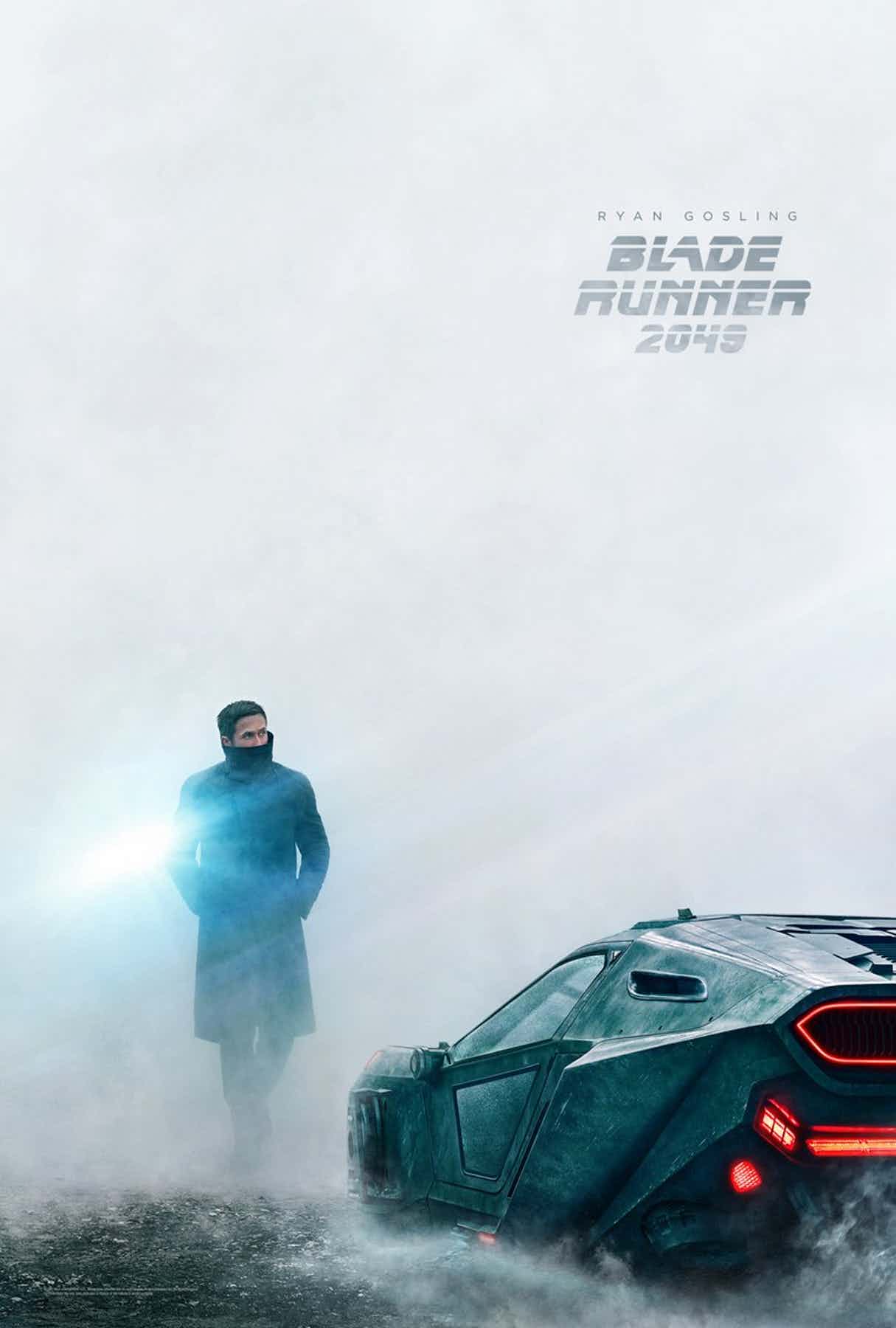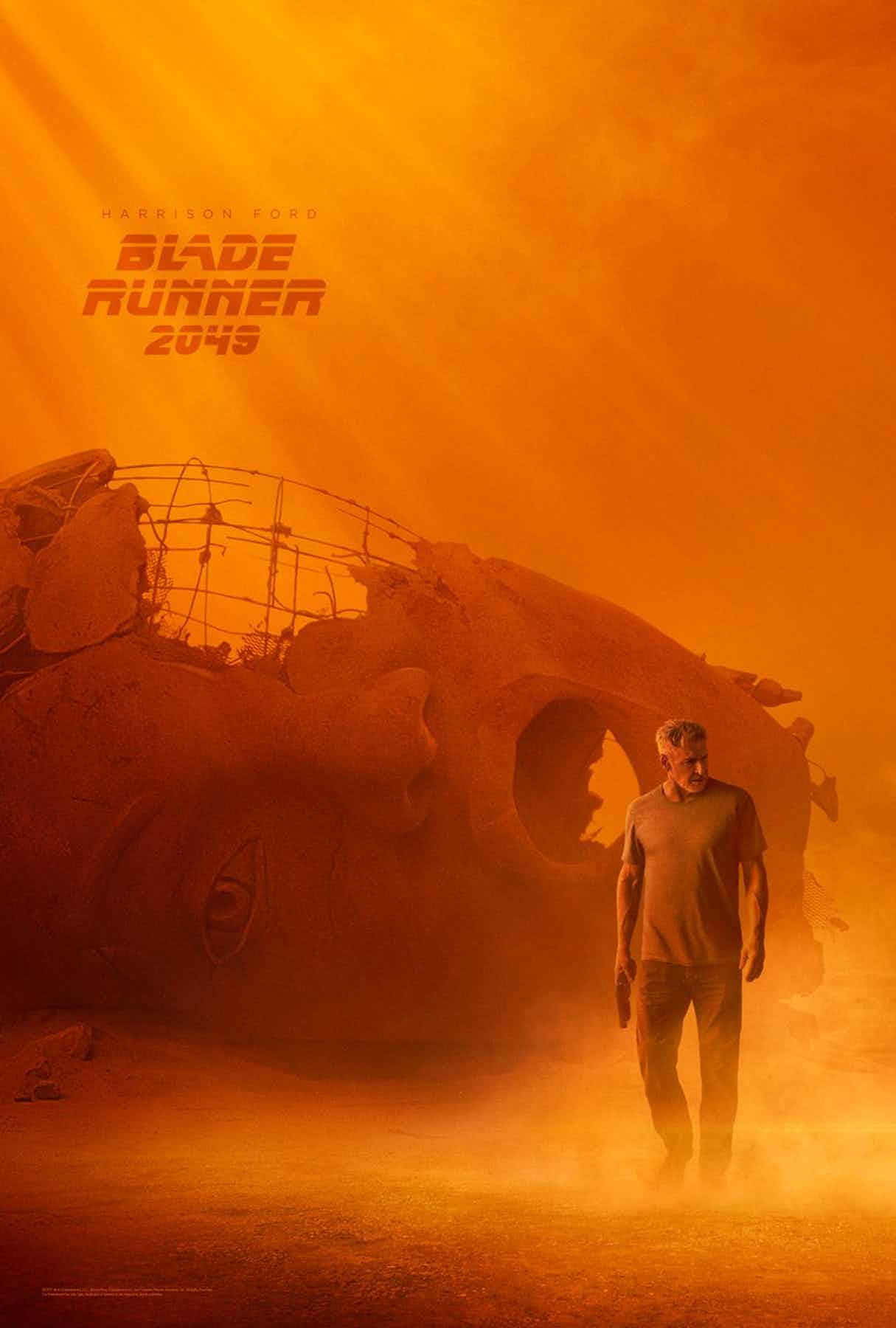 Blade Runner 2049 Photos
EW released a couple of photos from the film, too. Check them out in the gallery below:
[gallery:0]
Here's a photo of Denis Villeneuve, Ridley Scott, Harrison Ford, and Ryan Gosling having a nice time on set. They're probably discussing the film. Or lunch. It looks like two weapons from the film are also in the photo.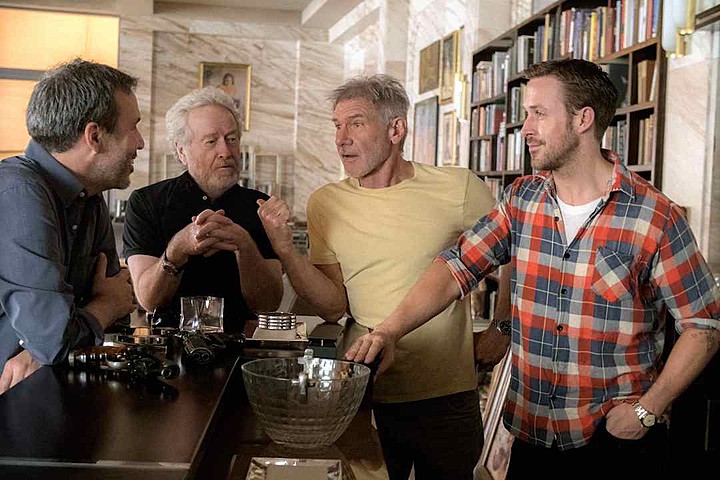 Blade Runner 2049 Rumors
Two small things. Take both of these with a grain of salt, although one seems easier to confirm than the other. The first thing is that Birth Movies Death has heard from sources that Harrison Ford's Rick Deckard has been hiding out in what's left of Las Vegas since the days of the first movie. Indeed, the first trailer did feature Ryan Gosling's Officer K walking through a dust-irradiated city and into a casino called "Vintage Casino." So there's probably truth to this report.
This next bit should be taken with a spoonful of salt (maybe two), as it sounds more like speculation than an actual report: according to Terminator Fans, one of the original Replicants from the first film will make an appearance in Blade Runner 2049 through the power of CG – not unlike the recent CG cameos in Rogue One: A Star Wars Story. Who the Replicant might be is anyone's guess, but he/she will reportedly appear in "at least 10 shots or more."