News
BlacKkKlansman's John David Washington on Working with Spike Lee Since Childhood
BlacKkKlansman star John David Washington recalls first working with Spike Lee at nine-years-old and what's changed since then.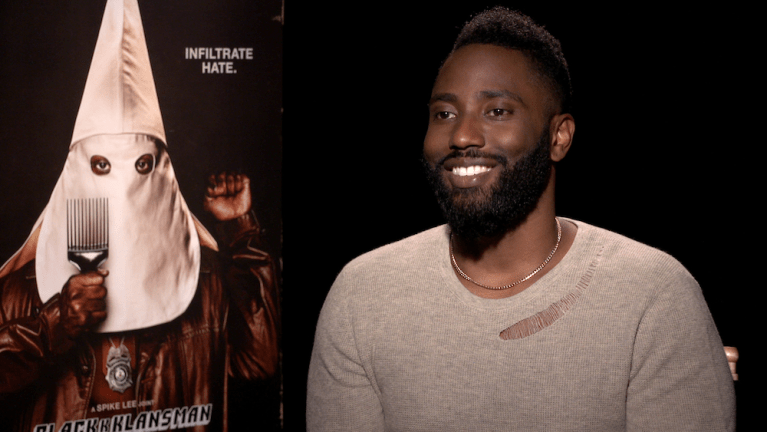 John David Washington and Spike Lee go way back. While Washington made his first debut as Lee's leading actor in BlacKkKlansman, a movie in which he plays Ron Stallworth, the real-life Colorado Springs detective who went undercover in the Ku Klux Klan, he first worked with the auteur in 1992 on Malcolm X. At a precocious age of nine-years-old, Washington, son of Denzel, appears as a young boy in a Harlem, New York City classroom who was inspired by Malcolm X's sacrifice. You may recall him as the first child to stand up and shout, like an extra in Spartacus, "I am Malcolm X!"
When we sit down with Washington nearly 30 years later, much has obviously changed, but the actor is quite proud of that early work, as well as always having Spike Lee in his life.
"He's known me since forever, since Mo' Better Blues," Washington says while referencing Lee and Denzel Washington's 1990 joint. "I don't remember too much of that, but I do remember that moment [in Malcolm X]. And there's no such thing as small parts, only small actors. So that was a big deal for me. I really delivered."
Washington goes on to recall how their relationship has changed, including the difference of working with Lee in 1992 for a single scene versus leading this latest joint.
"It was great. He used to tell me to call him Uncle Spike during that time. And then working with him now, it wasn't Uncle Spike this time, it was Spike. I was calling him Mr. Lee out of respect, and he's like, 'Stop calling me that! Just call me Spike, man.' And I'm like, 'Alright, cool, Mr. Lee.'"
Read the Den of Geek SDCC 2018 Special Edition Magazine Here!
On this film though, he did extensive research, including meeting the real Ron Stallworth.
"I got the book first," Washington says, mentioning Stallworth's memoir of the same name. "I read the book, which gave all the information. So once we narrowed it down, and we got the script and how we're telling the story, it was very exciting, because now we knew what direction we were going. And then a lot of that changed and got altered through the rehearsal process. It was a two-week rehearsal process at 40 Acres at Fort Greene in his office [in Brooklyn]. And that was some of my favorite part of the process of this movie. It just felt like a true community of ideas and cinema enthusiasts."
This included the real Ron Stallworth.
"Yeah, he came to the table read," Washington recalls. "He passed around the membership card, because he is a member of the Ku Klux Klan. And from then on, I established a relationship with him, and we've talked every week."
You can find the rest of our interview with Washington in the video below.
BlacKkKlansman is in theaters now.