News
Black Widow Footage Explained at SDCC
We break down the Black Widow footage screened at San Diego Comic-Con, including how Natasha's sister is introduced!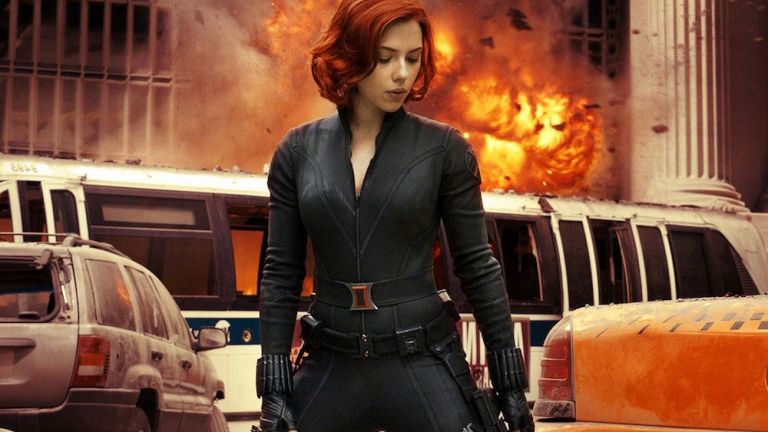 The endgame has come and gone, but Natasha Romanoff lives on, at least at a different phase in the timeline via the new Black Widow movie. Unsurprisingly revealed to be the mystery Marvel Studios project penciled in for May 1, 2020—the industry has been aware Black Widow is currently shooting in the UK—it also proved to be the centerpiece of Marvel Studios' grandiose Phase Four rollout at San Diego Comic-Con this year. With Scarlett Johansson in attendance, as well as director Cate Shortland and stars Florence Pugh, Rachel Weisz, David Harbour, and O-T Fagbenle, Black Widow was the project that Kevin Feige ended the presentation on. Well, other than that Blade tease….
Hats were passed out to all 7,000 attendants, banter about how exciting it is to be in the Marvel Cinematic Universe was shared, and a connection between Harbour's character and the lore around Captain America was teased. However, the true highlight was the extended sizzle reel worth of footage fans were treated to. As Johansson boomed into a microphone, "We've only been shooting for 30 days but of course we brought something!"
After a sentimental sizzle reel that shows Natasha's past experiences in the previous Avengers movies, we open (finally) on Budapest. That's right, Black Widow promises to answer the burning questions of what exactly Nat and Jeremy Renner's Hawkeye experienced in that famed Hungarian city… except it is set after that event. Indeed, the preemptive sizzle reel shows that this movie takes place after Captain America: Civil War (but before Avengers: Infinity War), after Natasha walked away from Tony Stark. The Black Widow footage revealed at SDCC show's Natasha in the midst of an action-thriller sequence that appears to have been plucked right out of a Jason Bourne movie. Yes, there were previous comparisons to Bourne with Captain America: The Winter Soldier, but there is nothing "super" about the violence in this sequence.
Instead Natasha is in an apartment building walking up a staircase holding a gun. With her long hair pulled back in a braid, this is a less glamorized Black Widow than we usually see, which is par for the course given who she finds above. Waiting for her in an apartment is a young blonde woman in a gray blazer who also has a gun drawn. It is Irena Romanoff (Pugh), who we eventually learn is Natasha's younger sister. For right now though, we only know she is ready for a fight (and that she has a much more convincing Russian accent to boot).
"Can we talk like grown-ups?" Nat asks her foe. "Is that what we are?" her sister replies. They then enter into a fiercely violent fight that includes each of them taking the other's gun and turning it on one another. Irena throws Nat onto a kitchen counter and picks up butcher knife in order to stab her, and both practically pass out while choking one another with dish towels while trapped in dual martial arts death grips on the floor.
Only once they are at stalemate does Black Widow say, "It's good to see you, sis." The sequence is violent, ferocious, and absolutely kinetic. It is also followed by a quick succession of sizzle action sequences that includes another fight sequence between Black Widow and a character who I initially mistook for Bucky's Winter Soldier (Sebastian Stan), given that he is wearing metallic armor and has flowing long hair. However, on closer inspection, he carries a shield (unlike the Winter Soldier) that includes Russian iconography. It is Alanovich Shostakov, aka the Red Guardian.
read more – Thor: Love and Thunder – Everything We Know
This is obviously David Harbour's role, yet his specific costuming in Black Widow might suggest a link between him and the Winter Soldier program. He also is very good at the type of spinning, leg-based martial arts maneuvers that Black Widow unsuccessfully attempts to use on him. Oh, and he throws a mighty shield and promises to be quite the challenge for Natasha going forward.
So that's it for now. Are you ready for Black Widow to finally take center stage for her own solo dance?
Read and download the Den of Geek SDCC 2019 Special Edition Magazine right here!