News
Black Panther is the First Superhero Movie Nominated for the Best Picture Oscar
Black Panther did what The Dark Knight could not when it became the first superhero movie the Oscars nominated for Best Picture.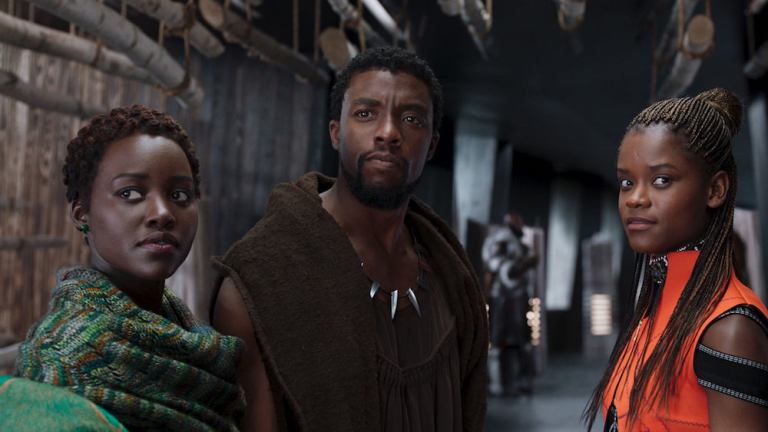 You've become part of a bigger universe; you just don't know it yet. Indeed, Black Panther did what Wonder Woman could not, nor Logan or The Dark Knight before it. It became the first superhero movie nominated for a Best Picture Oscar by the Academy Awards. These are marvelous times, indeed.
Black Panther reaching this zenith—for it is definitely in the "it's just an honor to be nominated" camp—has been one of the most amusing narratives of awards season. Earlier last year, the Academy of Motion Picture Arts and Sciences even attempted to create a side category titled "Best Popular Film" strictly to honor movies like Black Panther. Of course we, as well as most people who would ever watch the Oscars, viewed this as patronizing and condescending: the creation of a kids' table for the stuff deemed unworthy to sit in adult conversation. In essence, it was a category meant to keep movies like Black Panther in Oscar's spotlight, but not in competition for its biggest prize. The Academy… wisely changed its mind about the "Best Popular Film" category after intense backlash.
So here we are on the morning of the Oscar nominations, and Black Panther took home seven nominations, the third highest for any film this year, including for Best Picture. The Marvel Studios epic also earned nods for Best Production Design, Best Sound Editing, Best Sound Mixing, Best Costume Design, Best Score, and Best Original Song. This is all the more remarkable when some highly respected alternatives were snubbed, including most egregiously Justin Hurwitz's haunting score for First Man.
Yet the Academy, as a collective voting body, appears almost bullishly determined to be perceived as more accepting of "popular films" this year. In addition to Black Panther taking home a Best Picture nomination, we also saw another box office smash take a much more shocking Best Picture nod with Bohemian Rhapsody. While it always seemed likely Rami Malek would get a deserved nod for channeling Freddie Mercury on screen, it was not until BoRap earned a nomination for Best Picture by the Producers Guild of America that an Oscar Best Picture nomination appeared imminent for the critically panned movie directed by the controversial Bryan Singer. But here we are.
Still, superhero fans are undoubtedly rejoicing. The genre has long been snubbed and slighted by the Academy over the years. In fact, one might argue that Black Panther's breaking through this ceiling began exactly 10 years ago when The Dark Knight was snubbed for Best Picture. It was such a notorious miscue by the Academy that to save credibility, they went back to their earliest format of nominating 10 movies for Best Picture the following year, as opposed to the decades-long tradition of only recognizing five. Since then the Academy's changed the rules again and will only nominate movies that have a sufficient amount of support (hence why only eight nominations this year), but other superhero movies considered worthy got the cold shoulder, including Logan, which cracked the wall last year by earning a Best Adapted Screenplay Oscar nomination but still was largely ignored in other categories. Categories like Best Picture.
Today, however, Black Panther is not only the biggest box office success enjoyed by a superhero movie in North America (where it's total is $700 million); it's also etched into history to be one of the "Best Pictures" of its year. Wakanda forever.
read more: The 10 Best Movies of 2018
David Crow is the Film Section Editor at Den of Geek. He's also a member of the Online Film Critics Society. Read more of his work here. You can follow him on Twitter @DCrowsNest.