News
Black Christmas Remake Trailer and Release Date
1974 holiday slasher Black Christmas is getting a modernized remake from horror auteurs Blumhouse, with Imogen Poots set to star.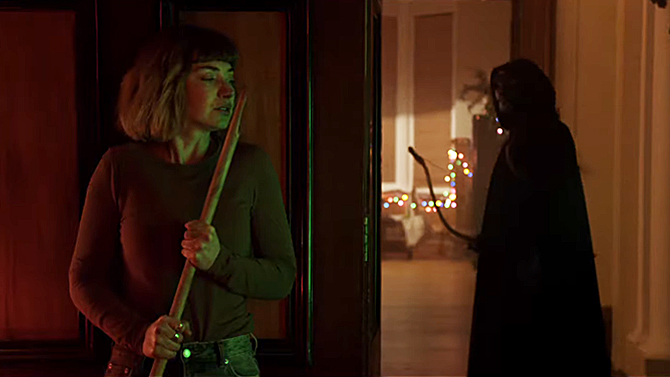 Black Christmas, the 1974 killer cult classic and monstrously macabre holiday-themed precursor from Bob Clark, the eventual director of A Christmas Story (also the crude comedy romp, Porky's), has a remake from the horror hub of Blumhouse Productions.
Universal Pictures has teamed with Blumhouse for a full-on remake of Black Christmas, and the headlining actress who'll be playing the film's (presumed) final girl, is Imogen Poots. While this reimagining of the 1974 film is being described as "a bold new take," putting the classic slasher through the lens of modern stylistic sensibilities, the project is sticking to the premise of the original. Indeed, like its predecessor, the new film utilizes the old urban legend of "The Babysitter and the Man Upstairs," with the added elements of a sorority house, a secret society and an ongoing mystery about the identity of their elusive assailant(s).
Black Christmas Remake Trailer
The trailer for the Black Christmas remake is here, showcasing classic slasher sensibilities with the hint of a twist. Additionally, if you're enjoying Cary Elwes's post-Stranger Things Season 3 resurgence for playing manipulative douchebags, then you'll be well-sated with what the trailer reveals of his character's arc.
Black Christmas Remake Release Date
Black Christmas is set to arrive this year on December 13, which, appropriately enough, will be a Friday the 13th, adding another homicidal holiday context to the film's release.
Black Christmas Remake Details and Cast
As the Black Christmas remake's official plot description reads:
"Just in time for the holidays comes a timely take on a cult horror classic as a campus killer comes to face a formidable group of friends in sisterhood. Hawthorne College is quieting down for the holidays. But as Riley Stone (Imogen Poots, Green Room) and her Mu Kappa Epsilon sisters—athlete Marty (Lily Donoghue, The CW's Jane the Virgin), rebel Kris (Aleyse Shannon, The CW's Charmed), and foodie Jesse (Brittany O'Grady, Fox's Star)—prepare to deck the halls with a series of seasonal parties, a black-masked stalker begins killing sorority women one by one. As the body count rises, Riley and her squad start to question whether they can trust any man, including Marty's beta-male boyfriend, Nate (Simon Mead, Same But Different: A True New Zealand Love Story), Riley's new crush Landon (Caleb Eberhardt, Amazon's Mozart in the Jungle) or even esteemed classics instructor Professor Gelson (Cary Elwes). Whoever the killer is, he's about to discover that this generation's young women aren't about to be anybody's victims."
The dump of details also came with the first official poster for the Black Christmas remake, as seen just below.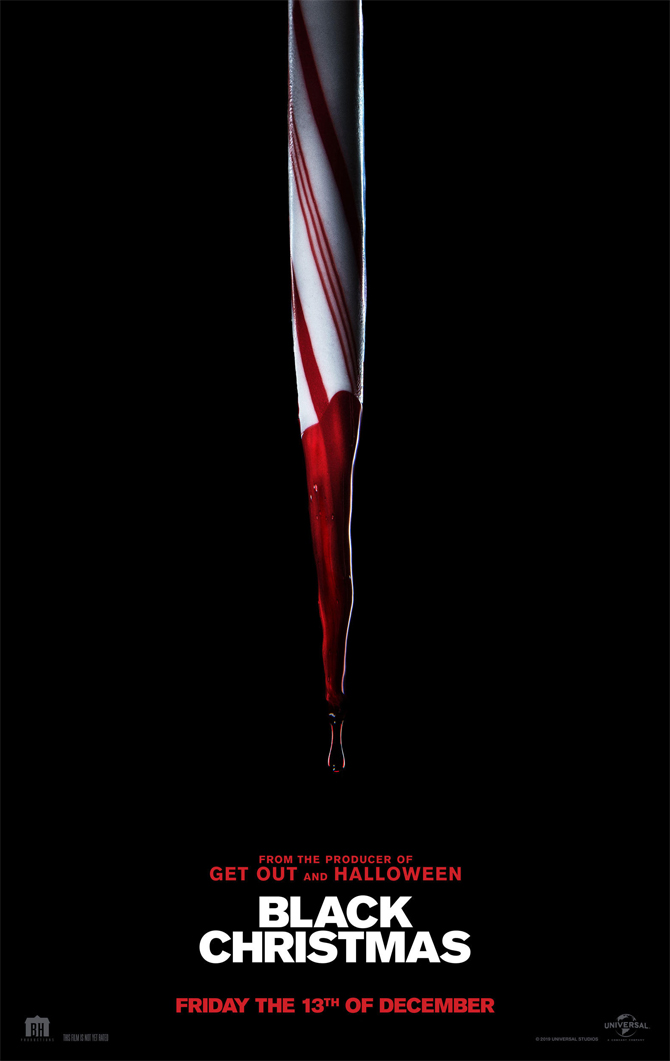 Star Imogen Poots (Green Room, Art of Self Defense) will be joined in the cast by Aleyse Shannon (Charmed), Brittany O'Grady (Star), Lily Donoghue (The Goldbergs, Jane the Virgin) and Caleb Eberhardt (Broadway's Choir Boy). The original film starred Olivia Hussey, Keir Dullea, John Saxon and Margot Kidder.
The Black Christmas remake will be directed by Sophia Takal (Always Shine), who works off a script she co-wrote with April Wolfe (Widower). Of course, they will be joined by a producer in studio head Jason Blum, whose Blumhouse racked up a what's what of recent horror hits, most recently with Halloween, Split, Get Out and Happy Death Day. Also producing are Divide/Conquer's Ben Cosgrove and Adam Hendricks. Hendricks's partners in the shingle, Greg Gilreath and Zac Locke, will oversee as executive producer.
For those uninitiated, here's the trailer for 1974's original Black Christmas.
Joseph Baxter is a contributor for Den of Geek and Syfy Wire. You can find his work here. Follow him on Twitter @josbaxter.