News
Black Adam Movie Gets Writer
Adam Sztykiel will write the Black Adam movie for the DCEU.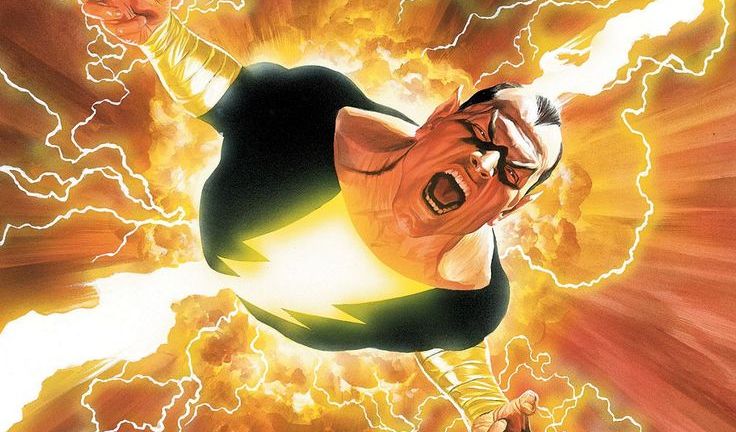 There is a Black Adam movie in development at New Line/Warner Bros. for DC Films. Of course, Dwayne "The Rock" Johnson will star.
Mr. Johnson has been attached to a Shazam movie in one form or another since before the words "DC Extended Universe" were ever a thing. At one point, he was considered for the heroic title role (originally known as "the original Captain Marvel" but obviously they don't say the M-word over at Warner Bros these days). Then he was set to play Black Adam. The star power and charm of Dwayne Johnson isn't to be denied, and he has repeatedly made noises about his optimism about the project, the hopeful tone it will take, and how much he just genuinely loves the character of Black Adam, who has often been played as a kind of brutal anti-hero in the comics.
Recent developments have indicated that Black Adam is no longer the villain of the Shazam movie (which will star Zachary Levi as the titular hero, with David F. Sandberg directing). According to The Tracking Board, Adam Sztykiel (Due Date, Diary of a Wimpy Kid: The Long Haul) is now attached as writer.
There are no story details currently available, but it wouldn't be at all surprising for the Black Adam movie to take the form of a prequel. Teth-Adam was a slave in the fictional Middle Eastern nation of Khandaq when he was granted the stamina of Shu, the speed of Heru, the strength of Amon, the wisdom of Zehuti, the power of Aton, and the courage of Mehen. Spell it out and you get that all-powerful magic word…Shazam!
Of course, Adam was ultimately corrupted and used his power to rule. He later resurfaces in modern times to do battle with the new champion of the Shazam powers (albeit that version of the magic word draws power from Solomon, Hercules, Atlas, Zeus, Achilles, and Mercury…in that order…and yes, I did that from memory).
No release date has been set, but Shazam is due on April 5, 2019. The full DC superhero movie release calendar can be found here.
A version of this story was first published in January 2017. It has been updated with new information.