News
Bird Box Trailer: Sandra Bullock Apocalyptic Netflix Film
Sandra Bullock stars in the Netflix apocalypse thriller movie, Bird Box, under the purview of the director of The Night Manager.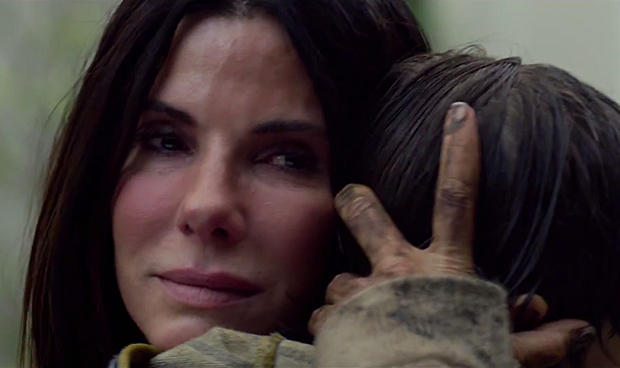 Sandra Bullock became yet another A-list acquisition for one of Netflix's high-profile projects when the apocalyptic drama, Bird Box, was announced last year. The 2001 The Blind Side Best Actress Oscar winner and co-star of the recent female ensemble heist film, Ocean's Eight, headlines Bird Box – the Netfilix-exclusive film adaptation of the 2014 novel of the same name by Josh Malerman, depicting a nightmarish world overrun by a mysterious madness.
Bullock will be joined by a serious stable of co-stars consisting of names such as John Malkovich, Sarah Paulson, Lil Rel Howery, BD Wong, Jacki Weaver, David Dastmalchian, Parminder Nagra and Tom Hollander. Susanne Bier (The Night Manager) directed the film, having worked off an adaptation script by Eric Heisserer (Lights Out).
Bird Box Trailer
Bullock plays Bird Box book protagonist Malorie, a mother of two young children – a boy and a girl – who is desperately trying to survive in a post-apocalyptic world that was razed four years earlier by a massive, mysterious force that incites a homicidal madness in people. However, she must take her family on a perilous journey to safety amongst a group of survivors who helped her in the past. That trek, however, requires trained ears, since this ruined world carries deadly consequences when looking at the wrong thing. The enormous odyssey notably includes a 20-mile downriver run in a rowboat while blindfolded.
Bird Box Release Date
Bird Box is set to premiere on Netflix on December 21.
Here's the official Bird Box poster:
Bird Box Details
At the helm for Bird Box is Danish director Susanne Bier, who, after fielding releases in her native country, made English-language impact with films such as 2006's Mads Mikkelsen-starring After the Wedding and 2007's Halle Berry/Benicio Del Toro-starring Things We Lost in the Fire and the 2014 Jennifer Lawrence/Bradley Cooper-starring romantic drama, Serena. However, Bier achieved small screen acclaim as the director of the internationally-released 2016 event series adaptation of John le Carré's mystery crime novel, The Night Manager, for which she won a Primetime Emmy for Outstanding Directing.
However, the accolades-armed personnel don't stop there, since Bier will work off a screenplay, adapting Josh Malerman's novel, by Eric Heisserer, the writer of the Oscar-nominated 2016 sci-fi smash Arrival. Heisserer also wrote the 2016 horror film Lights Out, the 2013 action thriller Hours (one of Paul Walker's last roles,) and the 2011 prequel/reboot The Thing. – Dylan Clark, Chris Morgan and Clayton Townsend are attached as producers.
further reading: Bird Box Ending Explained
The casting coup of landing Sandra Bullock in this film exclusive for the streaming giant is the result of handiwork by Scott Stuber, who, back in March 2017, landed the job as Netflix's chief of film content. He was reportedly developing Bird Box at his previous job at Universal through his Bluegrass Films company, eventually importing the project over to his current company Netflix.
Joseph Baxter is a contributor for Den of Geek and Syfy Wire. You can find his work here. Follow him on Twitter @josbaxter.
Read and download the Den of Geek NYCC 2018 Special Edition Magazine right here!