News
Bill & Ted 3 Story and Title Revealed
While efforts to revive the time-jumping Bill & Ted film franchise keep getting stalled, its screenwriter has dished on details.
Attempts to summon the late-80s/early-90s Bill & Ted film franchise back from its proverbial phone booth time machine have clearly hit its share of snags. Yet, it's not for lack of trying, with co-stars Keanu Reeves and Alex Winter not only willing to return, but appealing on the project's behalf over the years. While the stalled effort is still essentially on the table, intriguing details have surfaced about the threequel's plot, as well as its official title.
Bill & Ted Face the Music is the title of the perpetually-gestating third film in the franchise, reveals screenwriter Ed Solomon in an interview with Digital Spy. Solomon, of course, co-created the air-guitaring duo with Chris Matheson when they wrote 1989's original Bill & Ted's Excellent Adventure and its less-successful, but cult-appreciated 1991 sequel, Bill & Ted's Bogus Journey. Having spent a decade on the threequel script, which he co-wrote with Matheson – with outside help from Reeves and Winter to get the project going – Solomon states that everyone involved are "really proud" of the script and have "worked very hard." He describes their approach to the story, stating:
"This is not, 'Hey let's all cash-in on the Bill & Ted thing for money' – this is the opposite. This is, 'We love these characters, they've been with us for our whole lives' – Chris and me, and Alex and Keanu – and we wanted to visit them again as middle-aged men. We thought it would be really fun, and funny, and sweet."
There are good reasons why a careful approach that eschews the quick cash-in mindset helps Bill & Ted Face the Music. When the 1989 original movie, Excellent Adventure, arrived, it was a pop culture-proliferating moment that had just about everyone – at least for a good chunk of that year – dropping quotes rife with the California surfer lingo of the zany rock & roll comedic duo. Yet, despite its well-recieved success, the film's sequel, Bogus Journey, arrived in 1991 as a summer movie season offering that had the misfortune of going up against a third-week-dominant Terminator 2: Judgment Day. Thus, limitations on Bill & Ted's staying power were exposed.
Moreover, Bogus Journey's dark thematic and stylistic choices (Bill and Ted take a demented tour of Hell with Death himself, while their evil robotic doppelgangers run roughshod on Earth,) didn't mesh with the mirth and optimism of the original film, in which the duo use the time machine to collect historical figures for their school presentation. Consequently, Solomon implies a tonal adjustment for Face the Music that hearkens back to the fun of the original film, explaining:
"We really think there's another movie to be done that is the opposite of cynical, that is actually made with love. [It'll be] made with love and affection for the characters, and affection for the fans of Bill & Ted. All of us really want to give the people who love Bill & Ted, and people who haven't even discovered Bill & Ted yet, a movie that is worthy of their affection. And we're trying!"
Driving home the idea of a return to the first film, Solomon describes a sequence from Face the Music in which the now-middle-aged Bill and Ted find themselves reinserted into the fateful familiar Circle K-set scene, where the late George Carlin's wizard-like Rufus introduces the party-hardy teen duo to their near-future selves from the end of their time-travelling history report recruitment, who then convince their past selves to trust Rufus and give their love to "the princesses."
"There's actually a scene – one of my favorite scenes in the whole movie – where middle-aged, 50-year-old Bill and Ted return to the Circle K and see their teen selves and Rufus, and actually interact with their teenage selves, played by their actual teenage selves." Adding, "They return to that scene at the Circle K when Bill and Ted first meet themselves, only now they're watching their younger selves and looking at the exuberance and joy that they had at that time in their lives. And they see Rufus, they see George Carlin…"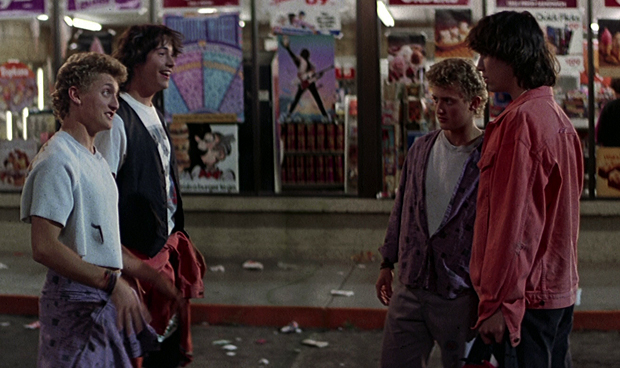 This seems to be a crucial element, since loose plot details dropped over the years have generally implied that the third Bill & Ted movie would explore the idea that the duo – famously fated for making rock music that would somehow bring about world peace – find themselves middle-aged, jaded and nowhere close to that achievement (despite the end montage of Bogus Journey chronicling their success). Thus, with the loss of Carlin (who passed away in 2008), who Solomon says is, "deeply missed by all of us," his absence will be filled with a clear homage to the Rufus character, who posthumously manages to facilitate Bill and Ted's middle-aged reinvigoration. Moreover, the vacancy left by Rufus is said to be filled by an appropriate character. According to Solomon:
"There's also a character in the movie named Kelly, which is George's daughter's name, who has a very significant role in the journey, so George is a deep, deep part of it."
With those details established, the dilatory difficulties of Face the Music start to become apparent, since a long-belated movie about middle-aged rock-star-wannabees is clearly not something that reboot-happy Hollywood is quick to embrace. Indeed, Solomon confesses, "We are having issues raising money for it, getting it financed, because what we get all the time – all the time – is people wanting to reboot it." Additionally, despite the pop culture power that the franchise once possessed (two movies and a 1992 Saturday morning cartoon), the films themselves – only widely released in the U.S. – never really brought much to the box office, with Excellent Adventure grossing $40.4 million and Bogus Journey reaping even less with $38 million.
Indeed, Solomon's hopes for this decade-plus labor of love in Face the Music are realistic when he states, "It's never gonna be a movie that me and Chris Matheson get rich on. I've never made much money off of Bill & Ted. We never get profits from it, our salaries were very small from it, but it's the one movie in my life that… if I'd never done anything but Bill & Ted, I would've been really happy." Yet, when it comes to nostalgia properties, contemporaneous financial figures can sometime obscure their intangible appeal, especially with something that's over-the-top and optimistic like Bill & Ted, which has left its handprint in the zeitgeist with a widely amenable "be excellent to each other" ethos.