News
Bill & Ted 3: Samara Weaving and Brigette Lundy-Paine Cast as the Daughters
Threequel Bill & Ted Face the Music has found the actresses who will play the daughters of the eponymous time-travelling rockers.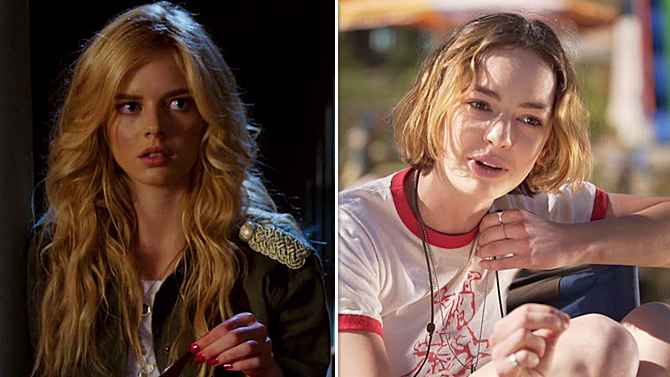 Bill & Ted Face the Music just took a major step, having confirmed the first new cast members for the near 30-years-in-the-making continuation of its film universe. Indeed, the lives of our esteemed history-traveling headbangers will manifest with the concept of respective fatherhood in the form of two young-adult daughters, who have each been cast.
Samara Weaving and Brigette Lundy-Paine will play the new (literal) babes in the lives of Alex Winter's Bill S. Preston Esq. and Keanu Reeves's "Ted Theodore" Logan. Indeed, Weaving will portray Thea Preston (Bill's daughter) and Lundy-Paine will play Billie Logan (Ted's daughter)*, each of whom will join their fathers in the film for a new time-crossing quest to save the universe. As producer Scott Kroopf lauds of the new duo:
"When we saw Samara and Brigette together, it was like deja vu. It was exactly the way we felt when we first saw Keanu and Alex.  We are so thrilled to have this funny and unique pair join the Bill and Ted team!"
Weaving has seen her stock slowly rise in the past few years, fielding TV runs on Showtime's SMILF, Amazon's Picnic at Hanging Rock, and starred in the 2017 Netflix horror-comedy film, The Babysitter, as well as a co-starring role opposite The Walking Dead alumnus Steven Yeun in 2017 actioner Mayhem, and opposite MacGyver and X-Men star Lucas Till in 2016's Monster Trucks. Fans of Starz's (sadly cancelled) Ash vs. Evil Dead series may also remember her Season 1 run (and her character's gory crescendo).
Lundy-Paine, a main cast member on Netflix dramedy series Atypical, also appeared in films such as 2018 Johnny Knoxville comedy Action Point, 2017 star-stacked rom-com The Wilde Wedding, 2017 Matt Damon flop Downsizing and 2017 Brie Larson-headlined drama The Glass Castle. She also co-starred on 2016 YouTube comedy miniseries Margot vs. Lily.
The actresses, joined by their returning onscreen fathers, Winter and Reeves, as well as William Sadler's Bill & Ted's Bogus Journey character, Death, will be directed in Bill & Ted Face the Music by Dean Parisot, (Galaxy Quest, Red 2, Fun with Dick and Jane), working off a screenplay by returning franchise writers Chris Matheson and Ed Solomon. The film will be produced by the aforementioned Kroopf (who produced the original 1989 film), as well as Hammerstone Studios' Alex Lebovici and Steve Ponce. Additionally, Steven Soderbergh will serve as executive producer, joined in that capacity by John Ryan Jr., Scott Fischer and John Santilli. Orion Pictures will release the film through United Artists.
Bill & Ted Face the Music is currently scheduled to drop in at theaters – with almost as much flair as a time-travelling phone booth – on August 21, 2020.
*Correction after the official statement initially mixed up the roles.
Joseph Baxter is a contributor for Den of Geek and Syfy Wire. You can find his work here. Follow him on Twitter @josbaxter.