News
Bill & Ted 3 Trailer, Release Date, Cast, Story, and News
Bill & Ted Face the Music will see Keanu Reeves and Alex Winter back for a most excellent threequel in August 2020.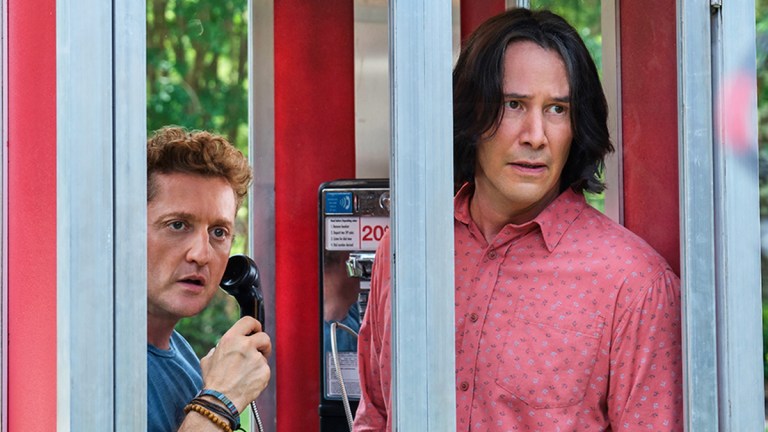 Bill & Ted 3 overcame the most heinous of dilatory hurdles! While the belated threequel project languished in project purgatory for nearly three decades, it took major steps after soliciting sales at the 2018 Cannes Film Festival. The carrot that was dangled to would-be benefactors was the confirmed return of stars Keanu Reeves and Alex Winter! – Excellent! **Air Guitars**
Brandishing the title, Bill & Ted Face the Music, the film's 2019 production kicked off on July 1 and wrapped on August 24. Here's everything you need to know about the movie before it hits theaters this summer:
Bill & Ted 3 Trailer
The first trailer for Bill & Ted 3 is here! Watch it below:
Bill & Ted 3 Release Date
Bill & Ted Face the Music is set to hit theaters on August 14, 2020.
The revised release date will see the film arrive a full week before its long-scheduled date of Aug. 21. The previous date was revealed back in March 2019 in an exciting announcement from its co-stars, setting the film's release by Orion Pictures through banner United Artists.
Bill & Ted 3 Cast
Keanu Reeves and Alex Winter are back in their iconic roles! The film was a happy homecoming for Reeves, who since his Bill & Ted days, has become an action movie icon, with classics like Point Break, Speed and The Matrix Trilogy; a notion that's been reaffirmed in recent years with the successful John Wick films. The same goes for Winter, whose career took a different trajectory, acting sparsely, transitioning to directing for TV movie Quantum is Calling, sci-fi comedy Smosh: The Movie, as well as TV shows such as Supah Ninjas, Level Up and Blue Mountain State, as well as some documentaries.
And the rest of the cast has been announced, too:
Kristen Schaal has joined Bill & Ted Face the Music as a messenger from the future named Kelly. Per THR, it's Schaal's character who is the instigating force that sets up the legendary duo's next adventure, going back in time to warn Bill and Ted that "only their song can save life as we know it."
Jillian Bell (Workaholics) has been cast as Dr. Taylor Wood, a couples therapist for the film's families.
Jayma Mays (Trial & Error, Paul Blart: Mall Cop, Glee) and Erinn Hayes (Huge in France, Kevin Can Wait, Childrens Hospital) will play the 15th century English princesses who Bill and Ted romanced and rescued, eventually brought back to – the first film's setting – 1988 San Dimas to become their Wyld Stallyns band-mates and wives. Indeed, Mays will play Princess Joanna, Bill's wife, and Hayes will play Ted's wife, Princess Elizabeth.
This, of course, is an example of recasting (Mays and Hayes were prepubescent when the first film came out), but it's hardly the first example of it for these characters. The roles in 1989's Bill & Ted's Excellent Adventure were played by Diane Franklin (as Joanna) – who's also remembered as French foreign exchange student Monique in the 1985 comedy classic, Better Off Dead – and Kimberley LaBelle (as Elizabeth). In 1991's Bill & Ted's Bogus Journey, they were, respectively, played by Sarah Trigger and Annette Azcuy.
Hal Landon Jr. will reprise his role from Excellent Adventure and Bogus Journey as Chet Logan, Ted's typically-distant police chief father, who, in the original film, had military school plans for his son.
Amy Stoch will reprise her role – also from those first two films – as Missy, Bill's stepmother, who was depicted as a blonde trophy wife to his father.
Beck Bennett (SNL) will play the re-cast version of Deacon Logan, Ted's younger brother, who, as a child in the first film (played by Frazier Bain), got stuck babysitting the historical figures; a task that culminated with him ditching Napoleon at Waterloo Park.
Anthony Carrigan (Gotham) joined the cast of Bill & Ted Face the Music as its villain. He's being described as a "relentless adversary" to the titular duo. Carrigan, who, once upon a time, resembled a scrappier Oscar Isaac, has been sporting a different look in recent years after losing most of his hair to the disease, Alopecia. However, the ordeal gave him a unique vibe that complements his quirky acting style, bringing him newfound success. Seeing as Carrigan's hairless visage bears a resemblance to William Sadler's Death (who is apparently returning in the film), one might speculate that he's playing the son of Death, in keeping with the film's theme of each main character being joined by an adult offspring.
Kid Cudi has joined the cast in an undisclosed role. The rapper/singer – a 2011 Grammy winner in the Best Rap/Sung Collaboration category for "All of the Lights" – has been fielding onscreen roles in recent years, notably in films like Drunk Parents, Vincent N Roxxy and Entourage.
The daughters, and new time-travelling cohorts, of Bill and Ted have been cast as well. Samara Weaving (Ready or Not, Picnic at Hanging Rock) will play Bill's daughter – with a Ted tribute name – Thea Preston. Brigette Lundy-Paine (Atypical, Action Point) will play Ted's daughter – with a Bill tribute name – Billie Logan.
William Sadler is officially set to reprise his role as Death, although the March 25 tweet in which this was confirmed has since disappeared (make of that what you will). The Death character – a Swedish-accented version that clearly parodies the Chess-enthusiast reaper from Ingmar Bergman's 1957 film, The Seventh Seal – first appeared in 1991's Bill & Ted's Bogus Journey, initially as an antagonist to the titular duo during their stay in Hell. However, after losing a contest to acquire their souls (which involved games of Battleship, Clue and Twister), he became an ally, and in an even more bizarre twist, joined their rock group, Wyld Stallyns, as a cellist/rapping accompaniment. – Yeah, Bogus Journey was a wonderfully weird movie.
Bill & Ted 3 Story
The revealed official story synopsis confirms what's been hinted for several years about the unfortunate state of inertia afflicting would-be Rock and Roll saviors Bill and Ted:
"When we last met Bill and Ted they were time-traveling teenagers trying to pass history class and win the battle of the bands. Once prophesized to save the universe with their rock and roll, middle age and the responsibilities of family have caught up with these two best friends who have not yet fulfilled their destiny. They've written thousands of tunes, but they have yet to write a good one, much less the greatest song ever written. With the fabric of time and space tearing around them, a visitor from the future warns our heroes that only their song can save life as we know it. Out of luck and fresh out of inspiration, Bill and Ted set out on a time travel adventure to seek the song that will set their world right and bring harmony in the universe as we know it. Together with the aid of their daughters, a new crop of historical figures, and some sympathetic music legends, Bill and Ted find much, much more than just a song."
Bill & Ted 3 Director
Dean Parisot will pilot this proverbial phone booth time machine of Bill & Ted Face the Music. Parisot, known from television work, most recently with Good Girls, Santa Clarita Diet, Dirk Gently's Holistic Detective Agency and Justified, also fielded films such as RED 2 and Fun with Dick and Jane (the Jim Carrey remake). However, he also claims credit for directing the beloved 1999 Star Trek/sci-fi spoof classic, Galaxy Quest; a credit that, in its own right, makes Parisot an exciting choice here. Parisot will work off a script from the original franchise creators, Chris Matheson (Imagine That) and Ed Solomon (Men in Black, Mosaic, Now You See Me).
On the selection of the Bill & Ted Face the Music creative team, the dynamic duo of Reeves and Winter collectively express in a statement:
"We couldn't be more excited to get the whole band back together again. Chris and Ed wrote an amazing script, and with Dean at the helm we've got a dream team!"
Also onboard for Bill & Ted Face the Music is producer Scott Kroopf (Limitless) who's joined in that capacity by Alex Lebovici and Steve Ponce of Hammerstone Studios. Steven Soderbergh will serve as an executive producer alongside Scott Fischer, John Ryan Jr., and John Santilli.
Bill & Ted 3 Photos
Bill S. Preston, Esq. (Winter) and Ted "Theodore" Logan (Reeves) are back in the booth in this first image.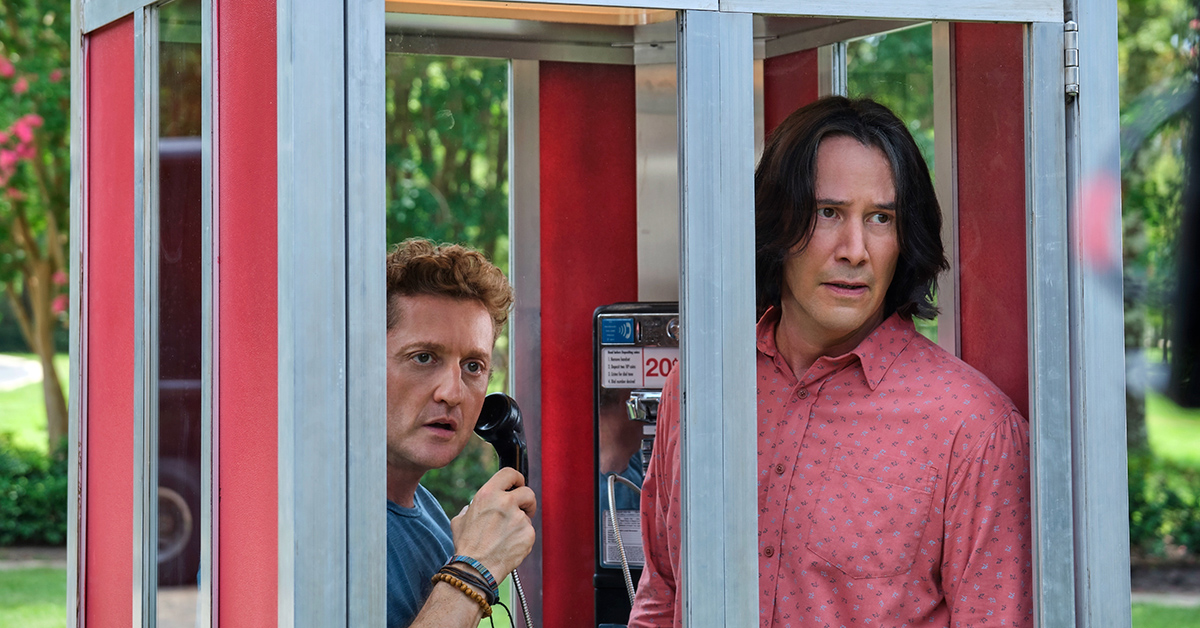 The duo's daughters, Billie Logan (Brigette Lundy-Paine) and Thea Preston (Samara Weaving), are revealed in this image, flanking the yet-to-be-revealed character played by Kid Cudi.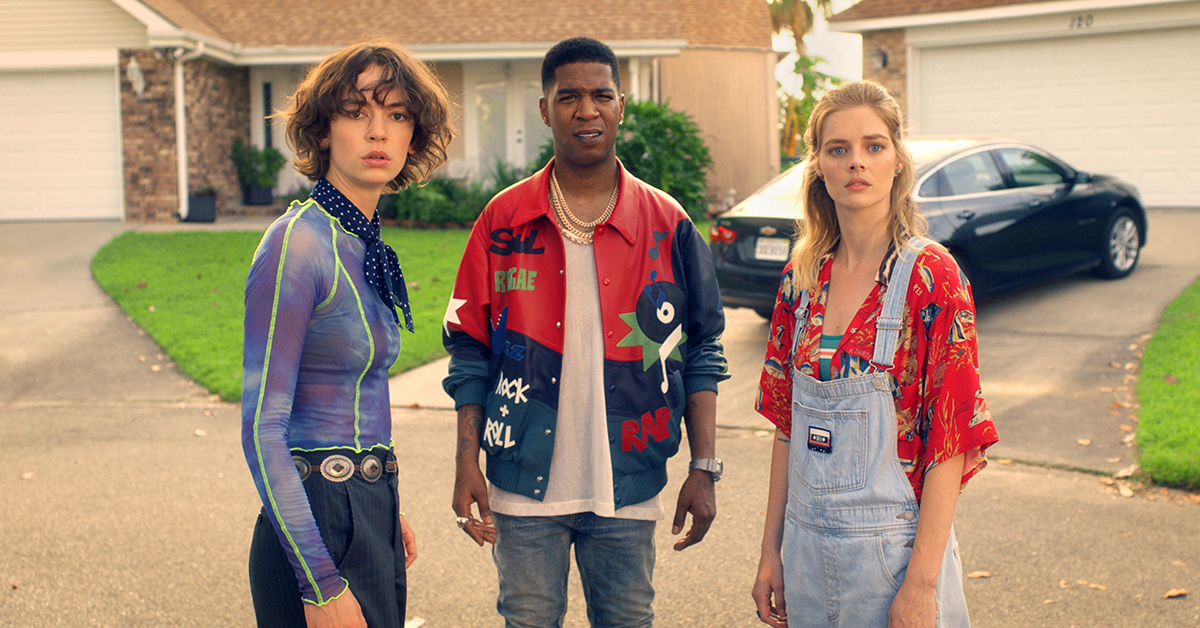 Lastly, we see a reunion between the titular duo and their former tormentor-turned-bandmate, Death (William Sadler).