Reviews
Bill Bailey: Tinselworm DVD review
Bill Bailey's sell-out show makes it to DVD. But can it match the live experience?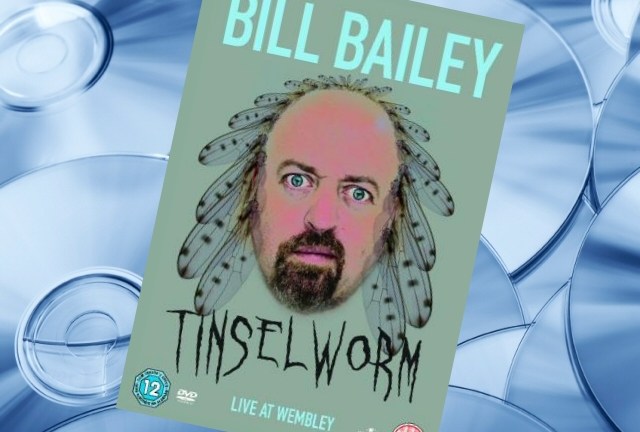 As he winds down a tour that's taking him across continents, and taken up over a year of his life, Bill Bailey's Tinselworm gig makes it to DVD. And as someone who saw the show over a year ago in Birmingham (a snippet of which is included among the DVD extras), it's not a minute too soon. Walking out of the National Indoor Arena last winter, I had the distinct feeling that I'd spent a couple of hours in the company of a flat-out comedy genius, and one very much on top of his game.
For Tinselworm is a show that's ambitious, surprising, and ultimately very amusing, even if the balance between comedy and technicals does falter from time to time. Filmed at Wembley – a huge arena for any kind of live performance – the tone is set quickly enough when Bailey makes use of the huge screens mounted above the stage to get the crowd warmed up. And when he appears, you pretty much get just what you hope for and want from a man of Bailey's brilliance. While the disc presents a version of the show that appears to stay mainly on script, at the expense of Bailey's notoriously wonderful spontaneity, it's still a polished and entertaining performance, with sky-high production values.
The video and audio wizardry that underpins the gig is consistently put to good use throughout the performance too, although does occasionally overshadow it. Still, highlights include the moment when Bailey uses the screens to have a conversation with two other versions of himself, while his ode to Asda ("I ain't gonna be your bitch") is absolutely golden. Then there's the superb encore, which is an absolute treat.
Does the DVD temper the experience of Tinselworm though, against seeing it live? Yes, inevitably. It doesn't help that it's quite a fussy DVD production, with multiple camera angles and swift editing occasionally getting in the way of just watching the man at work. And you do wonder if playing to such a large crowd does mean that Bailey has to play things a little bit straighter – by his standards – than he would usually. Certainly one of the highlights of the DVD, aside from the Chris De Burgh button on the menu screen, is the little segments cut from shows he did around the country found in the extra features, and it's quirks like these that help make a live comedy gig all the more special (the off-the-cuff Neighbours skit from Birmingham's NIA is one of the inclusions here).
That said, Tinselworm is an ambitious and generally successful show. Sometimes the targets may seem a little easy (gawd bless you, James Blunt), and you occasionally long for the man to tell a few more stories, but Bailey's stage manner and delivery is never less than strong. And 90 minutes in his company is an offer we'd always find hard to resist, even if it is pre-recorded. A good disc, then, that's not up to Part Troll standards, but is still well worth picking up.
---