News
Bill and Ted 3 Might Still Be Happening, Keanu Reeves Offers Details
Keanu Reeves says "we're trying to make" Bill & Ted 3, and revealed a little bit of what the story is about.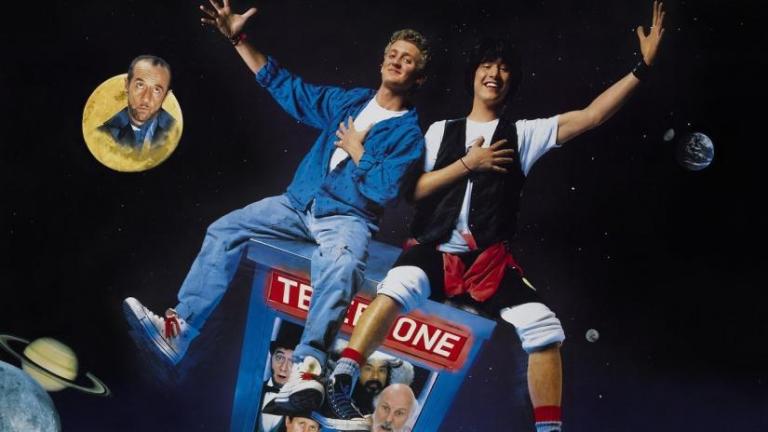 How long have we been waiting for Bill & Ted 3? Over 25 years. How long will we be waiting for Bill & Ted 3? At this point, if you told us it would be another 25 years, we would probably believe you.
While promoting John Wick: Chapter 2 on The Graham Norton show, the subject inevitably turned to sequels, specifically that long delayed Bill & Ted 3. While Keanu Reeves didn't make it necessarily sound like they were any closer to production, he sure did get into specifics regarding what this one is about.
He does refer to it in the present tense, though. "The writers had a story," Reeves said, "and we're trying to make it." As suspected, there's a hint of midlife crisis about whatever is going on with "Bill and Ted in their fifties." 
"They're supposed to write a song that will save the world," he continued, "and they haven't done that. So the pressure of having to save the world, their marriages are falling apart, their kids are kind of mad at 'em, but then someone comes from the future and tells them that if they don't write the song, it's not just the world now…so they have to save the universe because time is breaking apart."
This lines up with what we've heard (most recently, we think but can't be sure, from co-star Alex Winter) over the last few years, and sheds light on a few new details, too. The most important takeaway here, though, remains that this will not be a remake or reboot, there will be no recasting, and whatever shape this ends up taking (if it even happens), it will try and properly bring the story to its logical conclusion.
Watch the whole clip right here, where Keanu Reeves' enthusiasm while trying to relate the story is infectious, and check out Whoopi Goldberg paying careful attention, too.
Y'know, if they decided to cast Whoopi Goldberg as the person from the future who needs to remind these two knuckleheads to get their rock n' roll shit together to save the universe, that wouldn't be the worst idea in the world.
Bill & Ted 3 still doesn't have a release date. Bogus.