News
Big Hero 6 The Series Return Date
Disney Channel's Big Hero 6 animated series will feature most of the orginal film cast.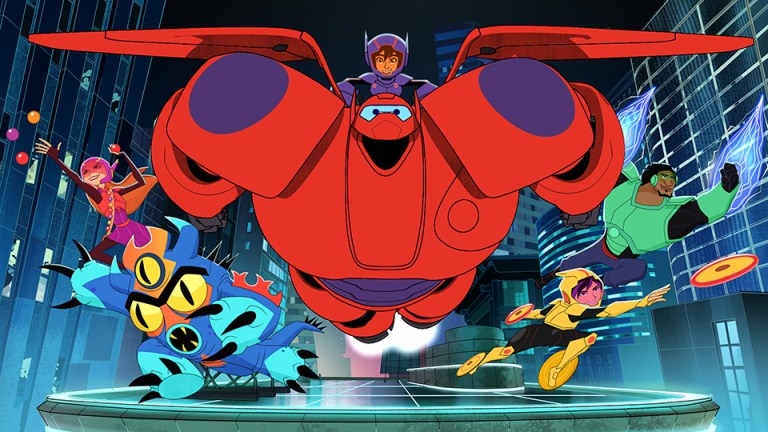 When Big Hero 6 arrived at the box-office in late 2014, it was an intriguing animated amalgam of superhero cinema and eccentric anime tropes. While showcasing the adorably inflatable automaton, Baymax, and teen tech genius handler, Hiro, the feature surprised moviegoers with its powerful emotional core. In 2017 we got our first look at the premiere episode but now we know when it was return for its first season!
Big Hero 6 The Series Return Date
Disney has announced that Big Hero 6 The Series will return not to Disney XD but Disney Channel on June 9th at 9:00AM. There will also be another new episode on June 10th at 9:00AM!
Big Hero 6 The Series Story
The series is confirmed to pick things up immediately after the events of the Big Hero 6 movie, continuing to chronicle the partnership of Hiro and Baymax and the rest of the super-team.
Per the official synopsis:
Set in the fictional city of San Fransokyo, "Baymax Returns" explores the moment in Walt Disney Animation Studios' Academy Award®-winning feature film after Hiro believes that his compassionate, cutting-edge robot Baymax is lost in the portal forever and discovers the chip his brother Tadashi designed to create Baymax. 14-year-old tech genius Hiro begins school as the new prodigy at San Fransokyo Institute of Technology and sets off to rebuild Baymax, but his overconfidence and penchant for taking shortcuts leads him and the newly minted Big Hero 6 team – Wasabi, Honey Lemon, Go Go and Fred – into trouble.
Big Hero 6 The Series Crew
Overseeing the series will be executive producers, Mark McCorkle and Bob Schooley, who have adapted several popular Disney features for small screen series', even creating the original series, Kim Possible. Perennial Disney animated adapter, Nick Filippi is also named as an executive producer.
The series plans to directly follow-up the events of the hit 2014 film that reaped $657.9 million in global grosses, even winning an Oscar in 2015 for "Best Animated Feature Film." The series announcement comes at a time when the prospects of a sequel remain oddly up in the air for a film that experienced such success. Of course, the presence of a television series adaptation does not invalidate the idea of a proper sequel film, since this is standard practice for popular Disney properties across the board. Nevertheless, all the fun to be had with Big Hero 6 in its near-future-set city of San Fransokyo will be retained for the series, aimed at younger viewers.
Indeed, 14-year-old Young Hiro and his inherited medical robot converted for crime-fighting escapades, Baymax, will continue to test their mettle against new technologically-upgraded brands of evil. However, Hiro will also juggle that with what is being referred to as "daunting academic challenges and the social trials of being the little man on campus." Of course, Hiro will be joined in most of those endeavors by his returning friends, Wasabi, Fred, Honey Lemon, and Go Go to reform their eponymous crime-fighting collaboration called Big Hero 6.
Big Hero 6 The Series Cast
The Big Hero 6 series will – just as the film that inspired it – star Ryan Potter as the rampaging technological wunderkind Hiro and Scott Asdit as his inflatable artificial life form buddy (the clean kind,) Baymax. Additional returnees include Maya Rudolph as Aunt Cass, Alan Tudyk as benefactor Alistair Krei, Genesis Rodriguez as the quirky spectacled scientist Honey Lemon, Jamie Chung as the bellicose magnetic expert GoGo, David Shaughnessy as butler Heathcliff, and even the comic-book deity-turned ubiquitous cameo overlord Stan "The Man" Lee as Fred's Dad.
That last cast member transitions perfectly to the first major cast deviation. Former SNL cast member Brooks Wheelan will replace T.J. Miller in the role of creature-costume-donning comic-book enthusiast Fred. Moreover, the man who's currently killing it as King Ezekiel on The Walking Dead, Khary Payton, will add Big Hero 6 to his extensive voiceover resume, replacing Damon Wayans Jr. as the plasma-blades-brandishing Wasabi.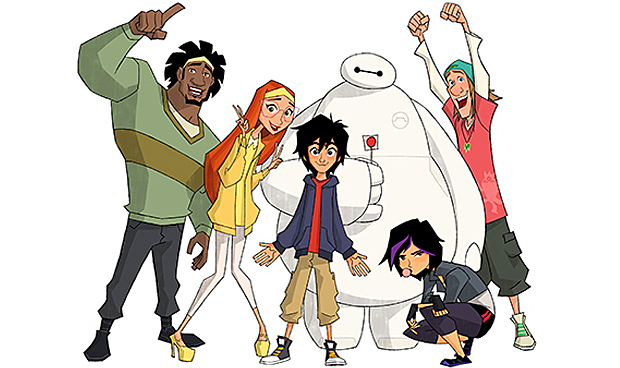 Guest stars will include: Andrew Scott (Sherlock) as a villain named Obake, Andy Richter (Conan) as Globby, Jenifer Lewis (black-ish) as Professor Granville, Diedrich Bader (American Housewife) Bluff Dunder, Sean Giambrone (The Goldbergs) as Richardson Mole, Susan Sullivan (Castle) as Fred's mother, Haley Tju (Bella and the Bulldogs) as classmate Karmi and John Ross Bowie (Speechless) as Mel.
Read the full Den of Geek NYCC Special Edition Magazine right here!