News
Beyond Skyline Trailer, Cast, Story and Everything to Know
Beyond Skyline, the surprising sequel to 2010 alien invasion flick Skyline, will star Frank Grillo.
Beyond Skyline, the surprising, long-planned sequel to Skyline, the derided-yet-lucrative 2010 alien invasion popcorn offering, is arriving with the understated ominousness appropriate to its depicted brain-ripping alien invaders.
Interestingly, rather than taking the "years later" approach that the 2016 sequel to the genre's bellwether 1996 offering Independence Day used, Beyond Skyline is apparently setting this sequel story concurrent with the alien invasion of the original film, this time following the travails of a police detective played by Frank Grillo.
Beyond Skyline Release Date
Beyond Skyline has revealed its release date. North American audiences will experience the film by way of a limited theatrical run and on DVD/Blu-ray and VOD on December 15, 2017.
This will come after the film premieres at Chicago's Cinepocalypse on November 9, after which it will have a limited international theatrical run that month.
Beyond Skyline Trailer
The Beyond Skyline trailer is, to the surprise of many, impressive, especially considering the film's presumably low budget. (The theatrically-released first film was made on a $10 million budget.)
It opens introducing Frank Grillo's character, a rough, austere police detective named Mark, a recent widower who's struggling as a single father to adult son Trent (Jonny Weston). However, an alien invasion puts his professional and familial blues on hold, especially after his son become one of the abductees, forcing him to assert his alpha inclinations to conjure up a makeshift resistance. Of course, that's easier said than done, since the extraterrestrial asshats are sucking up citizens into their ships with what only can be described as a vacuum. Mark's insurgency appears to evolve into a globe-trotting trial, with some of the battle scenes seemingly taking place in the jungles of Asia and holding out in a series of tunnels. However, Mark is armed with a badass demeanor and a rocket launcher, so, this invasion effort will likely run into some explosive snags.
Beyond Skyline Cast
For Frank Grillo, who's usually designated as a villain or supporting player, Beyond Skyline marks a potentially important starring effort. While he's best known in the States for his run on the recently-concluded Audience/DirecTV MMA-centric series Kingdom, his recurring villain role as Brock Rumlow/Crossbones in Captain America: The Winter Soldier and Captain America: Civil War, as well as roles in Gangster Squad, Zero Dark Thirty, and The Grey, he's riding high atop the box office in China as the co-star of action sequel Wolf Warriors II, which just came off a dominant third week at #1, grossing a total of $683 million (as of August 13).
Joining Frank Grillo and Jonny Weston in the Beyond Skyline cast are Bojana Novakovic, Callan Mulvey, Iko Uwais, Betty Gabriel, Valentine Payen and Kevin O'Donnell (the director's older brother).
Read the full Den of Geek NYCC Special Edition Magazine right here!
Beyond Skyline Crew
Liam O'Donnell, the young visionary scribe behind 2010's original Skyline (he was 28 at the time of its release,) will return for Beyond Skyline, this time as its director (the original was directed by Colin and Greg Strause), working off a script that he wrote.
Beyond Skyline Poster
While Beyond Skyline is still keeping its 2017 alien invasion release date a secret with Area 51-like zeal, a compelling new poster has surfaced. With one of the extraterrestrial invaders in focus, we see the global destruction they intend to reap, along with the far-set sight of a ship sucking up loads of ant-like abductees.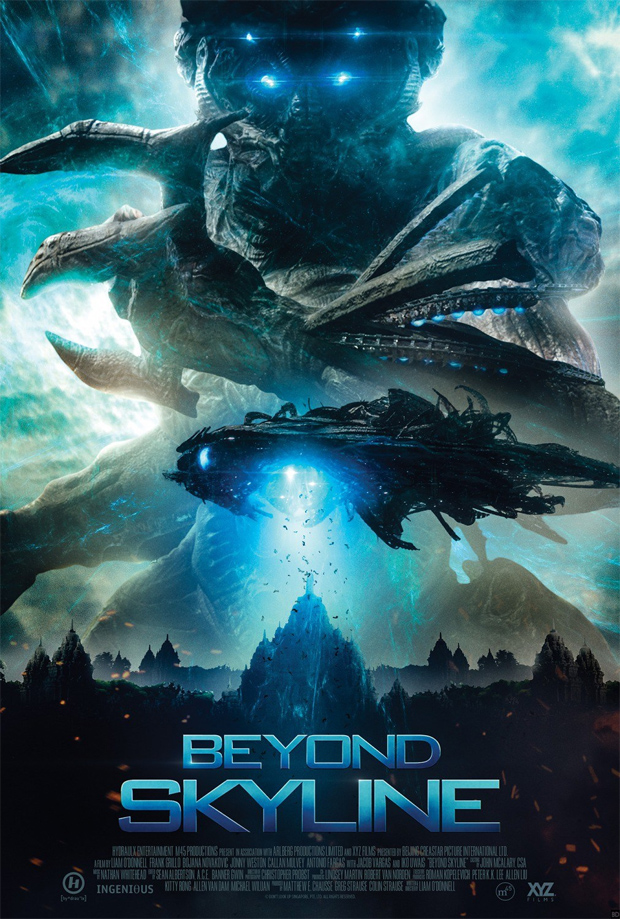 Here's the previous poster for the film, showing star Frank Grillo and company ready for action.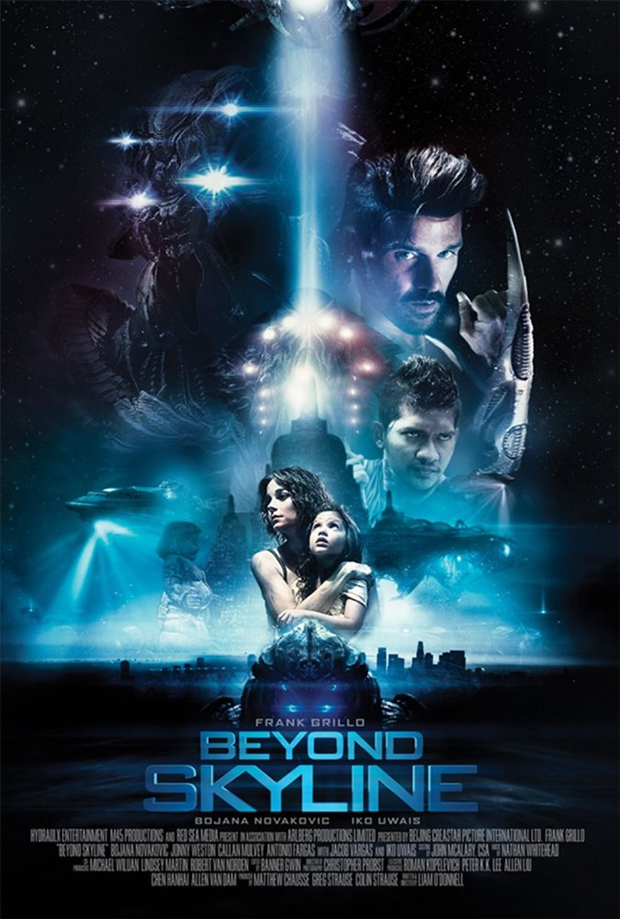 Here's the original 2014 teaser poster for the sequel, from when it first went into development.