News
Beverly Hills Cop 4 Heads to Netflix, Eddie Murphy to Return
Eddie Murphy's long-mooted fourth Beverly Hills Cop film will bypass theaters, instead headed for Netflix in a deal with Paramount.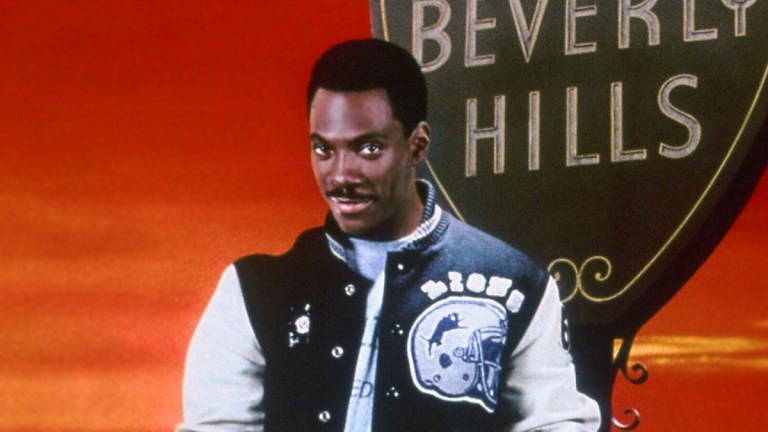 Beverly Hills Cop 4 has found a home with Netflix! Indeed, the decades-awaited fourth film in the franchise that upgraded Eddie Murphy to household name status finally appears to be getting out of its stay in developmental purgatory, ready to have streaming audiences burning doing the Neutron Dance.
Paramount Pictures, the property owner of the Beverly Hills Cop franchise, has made a one-time deal that will see Netflix produce the fourth film, which – once again starring Eddie Murphy – is to manifest as an exclusive feature on the streaming giant's platform, according to Deadline. Murphy is reportedly collaborating with producer Jerry Bruckheimer (who produced the first two films and a failed 2013 CBS spinoff TV pilot,) to procure scripts and a director.
The Netflix/Paramount Beverly Hills Cop deal is the kind of production and distribution strategy that's becoming increasingly commonplace in the industry (Paramount made similar deals with Netflix for Cloverfield spinoff God Particle and Annihilation), in an ever-unpredictable box office landscape in which once-guaranteed money-making sequels are falling flat across all genres (most recently exemplified by Doctor Sleep, Terminator: Dark Fate and Zombieland: Double Tap).  
Said deal also serves as a quick collaborative turnover between Netflix and Eddie Murphy, who starred as blaxploitation legend Rudy Ray Moore in its October-premiered fact-based comedic biopic, Dolemite is My Name. Moreover, it represents a push forward in the current resurgence in the sporadic career stardom of Murphy, who, barring his voice role as Donkey in the Shrek films and a few onscreen supporting parts, hasn't made much of an industry impact since his Oscar-nominated role in 2006's Dreamgirls; a role that, at the time was lauded as a comeback. Indeed, Murphy is not only fielding plans to go back to his standup comedy roots, but he will – for the first time in 35 years – make his return to the platform on which he first gained acclaim, Saturday Night Live, to host this December. Moreover, he will reprise his starring role in another long-awaited sequel for Paramount, Coming 2 America. Thus, news of a fourth Beverly Hills Cop film, safely on the widely-accessible platform of Netflix, is the cherry on top of this proverbial Eddie Murphy comeback cake.
Further Reading: Eddie Murphy Will Return to Host Saturday Night Live in Season 45
1984's Beverly Hills Cop, directed by Martin Brest, took the buddy cop elements that the at-the-time-current SNL cast member harnessed two years earlier with Nick Nolte in 48 Hrs. and injected them with comedic steroids, with Murphy playing affably-sardonic, street-wise Detroit police detective Axel Foley, who becomes a fish out of water when the investigation of his friend's murder leads him to Los Angeles, where he reacts to a perpetual barrage of – extremely '80s – "Hollyweird" stimuli. The film was a smash hit, leading to another hit in 1987's Beverly Hills Cop II, directed by Tony Scott. However, the third film, 1994's Beverly Hills Cop III, directed by John Landis, did not fare so well, arriving at a time in which Murphy's career was faltering, and the franchise well had run dry. Yet, the power of nostalgia fueled 2011 plans to see Murphy appear in a television series version of the franchise, which became a 2013 CBS spinoff attempt, in which Brandon T. Jackson starred as Aaron Foley, son of Axel, also a Detroit police detective, but the pilot was not picked up.
Beverly Hills Cop 4 doesn't have a release date as of yet, but we will certainly keep you updated on this exciting Netflix sequel prospect as the news arrives!
Joseph Baxter is a contributor for Den of Geek and Syfy Wire. You can find his work here. Follow him on Twitter @josbaxter.