Reviews
Best Of The Apprentice DVD review
Sir Alan Sugar will see you now, as the first four series of The Apprentice form a new compilsation DVD...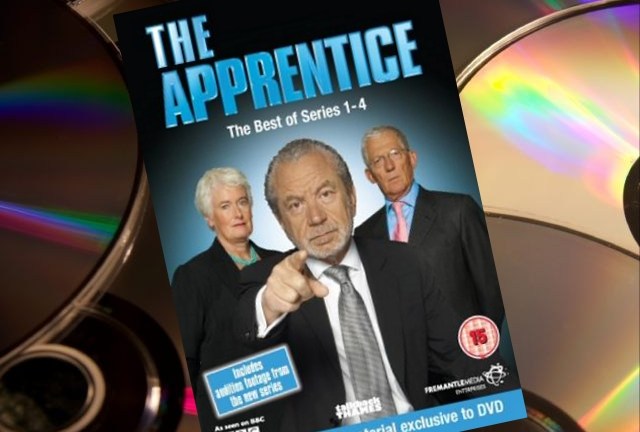 Like Den Of Geek's co-editor, I am a huge fan of the Apprentice. I love the drama, the Machiavellian scheming, the incomprehensible decisions made by supposedly great business minds.
Most of all, though, I love Nick and Margaret, SrAlan's always dependable aids and confidants. It's been clear that as the series has become a huge success and new contestants come and go their role in the hunt for ratings has become increasingly important, most notably for delivering some classic one-liners and facial expressions. Margaret has a particular penchant for this, as has been demonstrated plenty of times already in this present series, and it's something that's picked up on in the exclusive feature included on this Best Of  DVD, Nick And Margaret's Memorable Moments. Her reaction to Michael Sophocles' boardroom outburst, in particular, raises a genuine belly laugh, his fist pumping on the table doing him few favours.
It's this feature which stands out most on this DVD, which also includes two shows previously aired on the Beeb, Motor Mouths and Worst Decisions Ever, a brief interview with Margaret and Nick and audition tapes for the contestants from all five series of the show. That it's hidden away in an Extras menu is rather confusing as it surely deserves top billing, being the main exclusive feature here and also the most relevant as it covers the previous fourth series to the currently aired fifth.
It also benefits from focusing on one series in particular rather than flitting between the previous three, as is the case with both Motor Mouths and Worst Decisions Ever. Their format, both hour-long retrospectives covering the biggest personalities and memorable moments from the first three series, is a familiar one to anyone who watches Auntie Beeb regularly and it lends itself to dipping in and out of, arguably losing your interest at times as it does so. Nonetheless, it's comforting, pleasant viewing that throws up no surprises but remains entertaining in the main.
Refamiliarising you with all the personalities you'd forgotten about – series one's Paul Torrisi and The Badger and Syed Ahmed from the show's golden age in series two – and peppering past clips of classic moments with the odd comment from the other less memorable candidates (Miriam Staley anyone?) the DVD includes all the moments you would expect and throws in no curveballs. So we see Ruth Badger selling her socks off, series three winner Simon Armitage in an embarrassing situation on live TV and series three's Tre Azam getting on everyone's nerves. For fans of the show it's akin to curling up on the sofa with a nice warming cup of hot chocolate, but without the welcome digestives on the side.
The DVD also confirms something I've long feared about the series: its best days are behind it. Watching clips from series one and two reiterates how far the show has veered from the original ethos of the series, to bring together Britain's best business minds and watch them use their talents in a bid to win Sralan's respect – and a job. By the end of series three it was clear that the show had already begun to focus on the personalities more than the tasks and that the business brains were just not that brainy.
What you have here is a DVD for fans of the show that takes no risks and sticks to familiar territory, but does so very well and reaffirms the Beeb's knack for putting together a slick production. A best of DVD is never going to appease fans as much as a complete series release will and I for one would certainly like to revisit the first two series in full. Until that time comes, this will do nicely.