News
Beirut Trailer Showcases Jon Hamm & Rosamund Pike's Hostage Thriller
Check out the trailer for Beirut, a Mideast thriller involving a kidnapping that stars Jon Hamm and Rosamund Pike.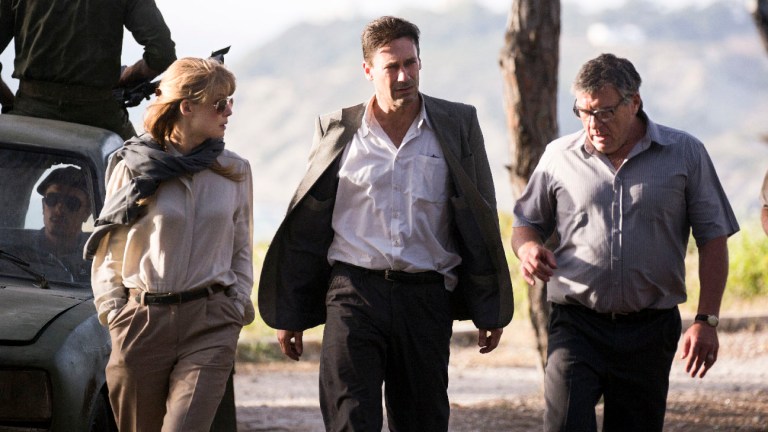 As is often the case, folks have an easy time forgetting that even recent history could be as complicated and heartbreaking as modern geopolitical nightmares. And in case you really did forget, then Tony Gilroy is only too happy to remind you in his next screenplay for Beirut, a Mideast thriller set in the 1980s and that is hitting all the boxes for optimum espionage thrills, including a kidnapping, torture, high-stakes negotiating, and an undercover spy or two. It also stars Jon Hamm and Rosamund Pike as the aforementioned negotiator and double dealing spook, respectively.
The basic setup of the film is that Mason Skiles, a former U.S. diplomat played by Jon Hamm, is dragged back into service when a colleague is kidnapped by the same Lebanese terrorist organization that killed his family some years earlier. More intriguing still, they have specifically asked for Mason's services as negotiator for the old friend's release… lest they keep him long enough that he cracks like an egg. Rosamund Pike meanwhile plays an undercover CIA agent working out of the American embassy who will be tasked with securing Mason's safety, lest he go the way of other Americans in the region.
The 1980s-set film is batting with some major acting talent between its two leads, and the film again enjoys a screenplay by Gilroy, who has made life-determining intrigue his calling card over the years after writing and directing Michael Clayton (for which he received Oscar nominations for both duties), as well as writing the scripts for the Jason Bourne Trilogy, writing and directing The Bourne Legacy, and even contributing to the screenplay for Disney's Rogue One: A Star Wars Story.
Beirut is directed by Brad Anderson, who in his heyday helmed memorable thrillers like Session 9 and The Machinist. He most recently also directed Kate Beckinsale in Stonehearst Asylum. The picture drops on April 13.