News
Beetlejuice Musical Announces Pre-Broadway Run
30 years after Tim Burton's Beetlejuice hit theaters, it is getting ready for a Broadway run. Say that three times.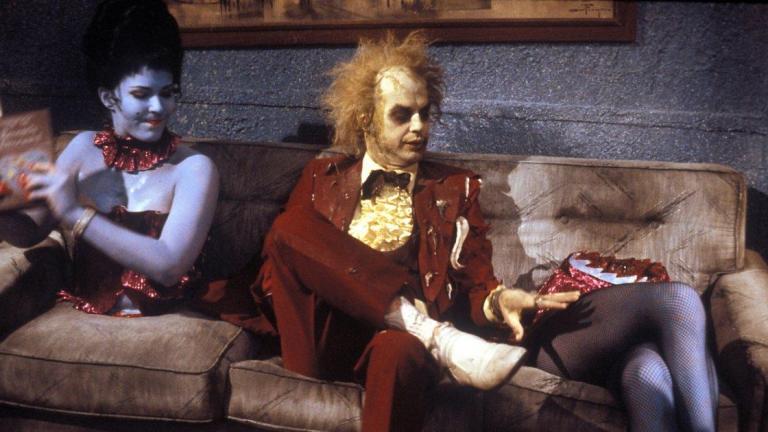 Beetlejuice attended Juilliard, graduated from the Harvard business school, traveled quite extensively, and had a pretty good time living through the Black Plague. He's seen The Exorcist 167 times and it keeps getting funnier. Now Beetlejuice is on its way to Broadway, via the Beltway, according to Deadline. That's pretty good for a dead guy.
The pre-Broadway engagement shows will begin performances in October at Washington, D.C.'s National Theatre. The third time is the charm for the theater. That's where the stage version of If/Then tried out. Tina Fey's Mean Girls tried out there last fall and will have its official Broadway opening next month.
The score for the musical stage adaptation of Tim Burton's 1988 horror comedy was written by Australian composer and satirist Eddie Perfect, who wrote the songs for a musical adaptation King Kong that might also see Broadway run. The book was written by comedy writer and former artistic director of the Upright Citizens Brigade Theater Anthony King, and former New York magazine theater critic Scott Brown. The story was written by Michael McDowell and Larry Wilson.
Beetlejuice will be directed by Alex Timbers, who directed the off-Broadway hit Here Lies Love, and Broadway shows Bloody Bloody Andrew Jackson, Peter and the Starcatcher, and Rocky.
"I love the movie and I grew up with it," Timbers said in a statement, as per Deadline. "This was his second feature and the first where you see his visual imprint. I was 10 when it came out. For me this is exciting, and a big responsibility, too."
Beetlejuice starred Winona Ryder as a Goth teen who is the only person who understands the ghosts who live in her new house, played by Geena Davis and Alec Baldwin. She is also the only person on earth or the heavens who gets Beetlejuice, played with manic magnificence by Michael Keaton. Ryder's character's parents were played by Catherine O'Hara and Jeffrey Jones.
Beetlejuice will be produced by Warner Bros. Theatre Ventures, which is also producing Dave with Langley Park Productions.
Beetlejuice will be choreographed by Connor Gallagher, costumes will be designed by William Ivey Long, lights will be set by Kenneth Posner, sets will be built by David Korins, sound will be piped in by Peter Hylenski. The projections will be done by Peter Nigrini, puppets will be strung by Michael Curry. Michael Weber will create illusions.  Special effects will be done by Jeremy Chernick.
No casting has been announced, but the musical had three readings and two laboratory workshops which starred Alex Brightman in the title role.
Beetlejuice will premiere at the National Theatre in Washington, D.C. in October.